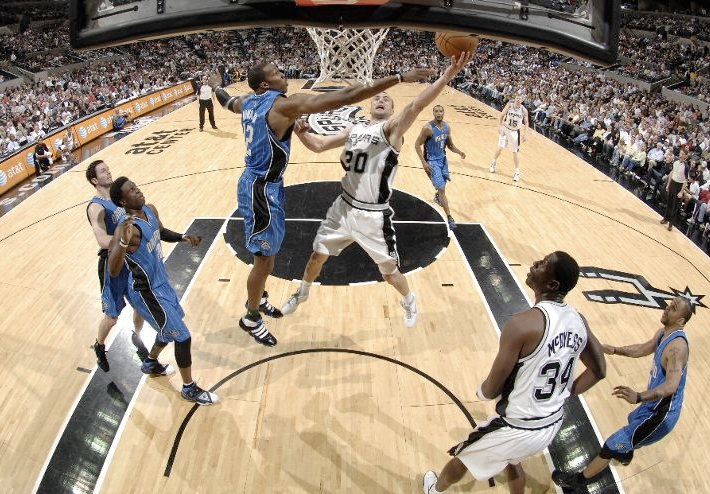 Photo by D. Clarke Evans/NBAE via Getty Images
Matched up with a good opponent on a back-to-back, the Orlando Magic lost to the San Antonio Spurs by the score of 112-100. The Magic played with the requisite effort and energy required to win but a dominant performance by Manu Ginobili, with 43 points, six rebounds, and five assists, allowed the Spurs to come away with the victory. As expected, Tim Duncan returned to form for San Antonio with 23 points in 24 minutes after being held to his worst shooting percentage game of his career the last time these two teams met. Orlando was led by a balanced attack, with six players scoring in double-figures. Rashard Lewis and Mickael Pietrus each had 18 points and shot with great efficiency.
Three things saddled the Magic against the Spurs: free-throws, fouls, and Ginobili. Let's start with Ginobili and move backwards.
Ginobili was — in one word — phenomenal. If there's one thing that Orlando has an abundance of, that's wing defenders, but it didn't matter against Ginobili. Pietrus saw the most minutes against Ginobili, partly due to the fact that he is the Magic's best perimeter defender but also because he practically couldn't miss a shot on offense and needed to be on the floor. Unfortunately for Pietrus, there was almost nothing he (or Matt Barnes) could do to stop Ginobili from doing whatever he wanted to do offensively. Ginobili scored on isolations, pick and rolls, spot-ups … needless to say, it was an offensive clinic from a player that's been performing at an extremely high level lately.
Fouls and free-throws were a problem primarily associated with Dwight Howard.
It's safe to say that Howard has seen better days because he didn't play particularly well against San Antonio. Which is unfortunate for Howard because if it wasn't for his foul troubles, he could have potentially had a field day on offense against the Spurs. Why? Somehow, someway, Duncan picked up three fouls in the first quarter and was forced to sit on the bench until the start of the second half. However, the Magic weren't able to take advantage of the golden opportunity since Howard was, himself, in foul trouble in the first half. That and Howard's presence on defense, where his true value lies, may have been able to slow down Ginobili, given that he routinely attacked the basket and was unintimidated with Marcin Gortat's presence in the lane. Ginobili wasn't alone in that regard, as San Antonio scored 62 points in the paint for the night. Although Gortat is a more than adequate defender, he's no Howard when it comes to changing how an opponent operates offensively.
As for the free-throws, Orlando went 12-of-26 (46.2%) from the charity stripe and Howard certainly didn't help the cause, missing nine of his attempts and opening the door for San Antonio to employ the Hack-a-Howard strategy with the fourth quarter winding down. It worked, as the Spurs effectively erased the Magic's comeback bid as the game came to a close. When looking at the box score, there's no doubt that the free-throw disparity was the ultimate reason why San Antonio won.
Not a bad loss, by any means. Duncan had his struggles against the Magic a few weeks ago. This time, it was Howard's turn. That's the way it goes, sometimes.