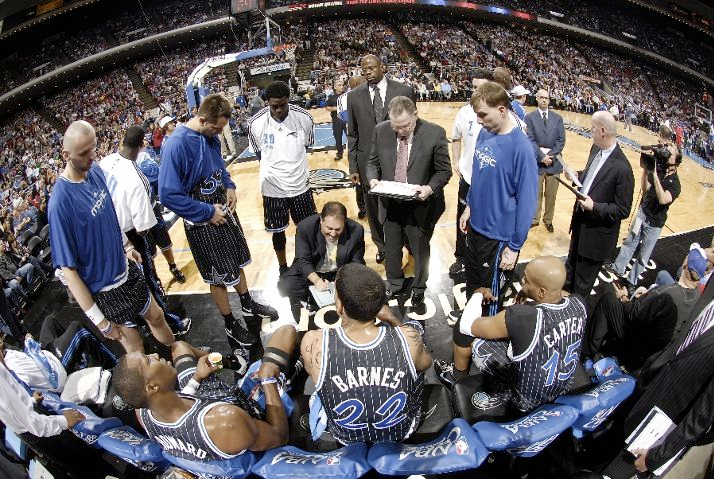 Photo by Fernando Medina/NBAE via Getty Images
Ben Q. Rock is a man that needs no introduction, at least to Magic fans that frequent the blogosphere, but deserves one. Rock covers the Magic at Orlando Pinstriped Post, my former stomping grounds for over a year, and has done excellent work for the past three years. For instance, Rock has been doing a great job of previewing the first round series between the Orlando Magic and the Charlotte Bobcats the last few days. I highly suggest reading what Rock has written, so far, as it's about informative as it gets.
Rock promised, when I left OPP, that he'd collaborate with me from time to time so here we are.
A few days ago, I was able to ask Rock a few questions concerning some of the major storylines surrounding the Magic with the 2010 NBA Playoffs starting on Saturday.
_______
I've always been of the opinion that Jameer Nelson is the x-factor for the Orlando Magic. When he goes, so go the Magic. But certainly the same thing could be said about Vince Carter, given his talents and what he's proven to be capable of in a Magic uniform. So, between Nelson or Carter, who must produce and take his game to another level for Orlando to win a championship?
Well, I mean, both Vince [Carter] and Jameer [Nelson] are important, and I'm not sure there's one who's more key to Orlando's title chances than any other. I suppose you could say that Vince is going to end more possessions and thus will have more responsibilities, and thus he'll have more chances to affect the Magic's playoffs. Thing is, I feel like he's more consistent. He's going to get his 15-to-18 points per night, as he's done for the last few months. Whereas Jameer's been more up-and-down.
Given the choice, most opponents would rather limit Carter and take their chances with Nelson firing away, so Jameer has to answer the call there. To me, the biggest thing for Jameer is to cut the one-on-one play. Get into the teeth of the defense, kick the ball out. He has to take enough of those 18-footers in pick-and-roll situations, but he can't keep settling for them. Vince has to avoid that as well, but you and I both know that Carter's much more likely to put his head down and draw contact than Nelson is.
So now I've talked myself into believing Nelson is more crucial. Fair enough, but it's not a huge margin.
What makes this discussion easier is that J.J. Redick and Jason Williams have been so reliable off the bench. I trust them more than I did, say, last year's version of J.J., or Anthony Johnson. If Vince and Jameer don't have it some nights, I'd be comfortable counting on their backups if I were Stan Van Gundy.
Do you expect J.J. Redick to continue his strong play in the playoffs?
Yeah, I guess the tail end of that last response moves nicely into this one. Listen, J.J. was money in last year's playoffs, as I wrote in my evaluation of his 2008/09 season. More of a playmaker, fewer mistakes, better D… we can sort of trace his development this season to his strong showing last April, May, and June. I just get the sense, from watching him this year and from being around him in the locker room, that he's relaxed, knows his role, and can deliver.
He's going to have at least one game where he comes in and outplays Carter. Wouldn't surprise me at all if he went for 15 points, 3 boards, and 5 assists in 25 minutes in some key game, with a huge trey or two for good measure. Look around the rest of the playoff bracket. Which team, apart from Atlanta with Jamal Crawford, can boast such a reliable backup performer on offense?
There's been some recent chatter about the rotation and the question is whether or not you expect head coach Stan Van Gundy to shorten it in the playoffs or if he's going to continue to play 10 guys, given how strong the Magic's bench has been all season?
No, I expect Stan to stay the same, and go with the 10-man rotation until forced to change it. He's committed to backups at the point, two, three, and five; matchups will determine whether he goes with Ryan Anderson or Brandon Bass at the four. I've read the arguments that deep rotations don't work in the playoffs, that you've got to ride your main guys more, and I get that. Dwight [Howard], Vince, and Rashard Lewis will see their minutes go up big time. But after 82 games, I don't think Stan's suddenly going to cut, say, Mickael Pietrus from the rotation. He's done things this way this season, and it's worked out pretty well so far.
The bigger thing to watch is the Anderson/Bass decision. He's got options there, since he can move Marcin Gortat there and pair him with Dwight if Orlando's getting killed on the glass or in the paint. You know that I believe Anderson's the better player and the better fit, but Bass is useful too in certain situations. It's something to monitor, for sure.
But J.J., J-Will, M.P., and the Polish Machine will all be there, as they should be.
If you had to pick one player from Orlando that has a chance to surprise people and make a name for himself in the playoffs, who would it be?
It's kinda tough to do that with this team, with four All-Stars and a guy like Matt Barnes who's gotten a lot of attention this year for his high-profile run-ins with Kobe Bryant, Paul Pierce, and the like. Barnes and J.J. have already earned themselves lucrative deals with their play this season, so maybe they're exempt. Gortat did that last year. Williams is a known commodity. Pietrus got a lot of attention for the way he came off the bench in the Conference Finals and bombed the Cavs into submission from beyond the arc.
So I'm coming back once again to the power forwards. Anderson seems most likely to me. I'm not sure how often he'll play against the Bobcats, OK, because they've got Ty Thomas and I believe Stan's going to prefer Brandon in that matchup. But against Atlanta or Cleveland down the line, if they get that far? Anderson's going to come up big, and not just with the 3s. He's a fantastic offensive rebounder and doesn't get nearly enough credit for his ability to drive. That spin move of his is becoming lethal.
I'm not willing to guarantee that he's going to impress the hell out of everyone, because there's always the chance the bright lights of the playoffs make him wilt. And Lewis could average 40 minutes per game; Stan's shown a willingness to play him for entire halves at a time, so maybe Anderson won't have as many opportunities. But I can't help but feel like he's the breakout candidate on this Magic squad, though I sort of arrived there by process of elimination.
_______
I like to thank Ben for taking the time to answer my questions.
Stay tuned later today for my roundtable discussion with Kevin Arnovitz of TrueHoop, Tom Haberstroh of Hoopdata, Kurt Helin of ProBasketballTalk, and others.