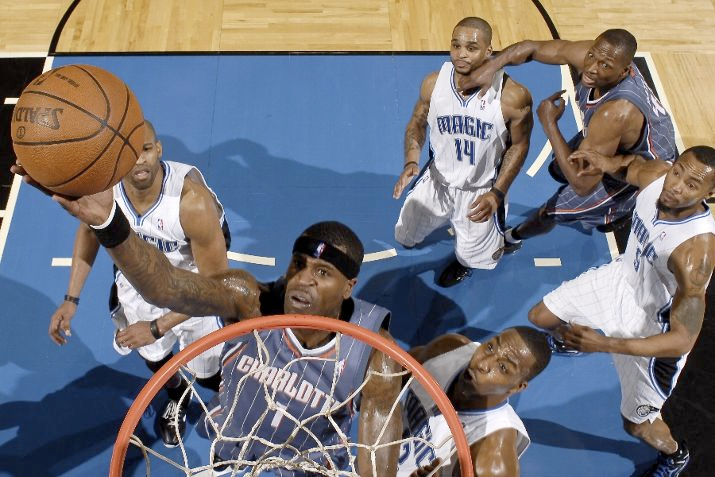 Photo by Fernando Medina/NBAE via Getty Images
When it comes to reading up on everything you should know about the Charlotte Bobcats, there's only two people you need to read — Rick Bonnell of the Charlotte Observer and Brett Hainline of Queen City Hoops. Bonnell is one of the best beat writers in the NBA and Hainline is not only an excellent writer in the blogosphere but also a bright mind when it comes to the numbers. For instance, Hainline created a Swap Tool, which uses a player's Offensive and Defensive Ratings to determine how swapping one player out for another would improve a team's overall performance. If you haven't toyed around with the tool at QCH, you're missing out. I digress.
A few days ago, I was able to ask Hainline a few questions to preview the first round series between the Orlando Magic and the Charlotte Bobcats.
_______
One of the major storylines for the Charlotte Bobcats is that this is their first playoff appearance in franchise history. What does that mean, not only for the team but for the city and the fanbase?
It is a degree of validation for the moves made largely by Michael Jordan, in his role as head of basketball operations. 6 years to get to the playoffs would normally be acceptable to a fan base, but because the Hornets were here previously (and were still pretty good when they left), expectations have been different than they are for most new franchises. A winning season and some bonus basketball are a good start to winning the city over, as evidenced by the significant increase in attendance this season.
Gerald Wallace had an excellent year, particularly on defense. What has he done differently this season to become, undisputedly, the defensive linchpin for the Bobcats?
Gerald Wallace stopped doing a couple of the things that made him so popular – gambling for steals and going for weakside blocks as a help defender. He still does pretty decently, but he picks his spots a bit more judiciously now. This allows him to a better one on one defender and it also gives him the opportunity to showcase an unbelievable rebounding ability for a small forward. Not allowing opponents many second looks is a big part of the Bobcats' defensive strengths and Gerald is the key to that.
Which player, out of everyone for Charlotte, has to play well to make an upset against the Orlando Magic a reality?
Probably Tyson Chandler, as Nazr Mohammed does not seem to have his legs back after missing time with injury. The Bobcats need a few points in the paint and to make Dwight Howard work on defending his man, to keep him from providing the incredible help defense he is capable of. Foul trouble would be a huge help for the Cats in grabbing a couple of wins.
Lastly, what's your series prediction?
Orlando in six.
While both teams are among the league's best defenses, only the Magic maintain that lofty ranking offensively. The perimeter complements the Magic have around Dwight Howard make for a very difficult choice – try to defend Superman one on one or allow someone an open look from deep. Against some teams, proper rotations on defense can make it so the guy taking that open jumper is a liability to the offense – but not that will not be the case with the group surrounding the big man. As the Bobcats offensive game is largely predicated on driving the ball to the basket and getting to the foul, their offense is likely to struggle with Dwight clogging the lane, able to contest shots while fouling (relatively) rarely. 1 win to the Cats from foul trouble and another just to be optimistic.
_______
I like to thank Brett for taking the time to answer my questions.
Stay tuned later today for my interview with Ben Q. Rock of Orlando Pinstriped Post, my old colleague.