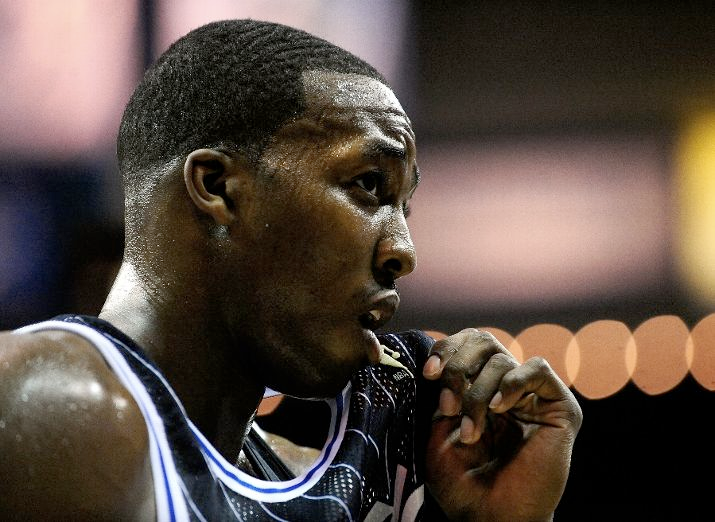 Photo by Sam Greenwood/Getty Images
And the grand finale.
I gathered writers, the best of the best in the blogosphere, to participate in a roundtable discussion and answer some of the most pertinent questions concerning the Orlando Magic as the 2010 NBA Playoffs are set to begin.
So, without further ado, here are the participants:
Kevin Arnovitz, TrueHoop
Tom Haberstroh, Hoopdata
Kurt Helin, ProBasketballTalk
Matt Moore, Hardwood Paroxysm
Kevin Pelton, Basketball Prospectus
Each individual provided his opinion on Vince Carter's potential impact in the playoffs, how things may shake out if the Magic and the Cleveland Cavaliers meet in the Eastern Conference Finals, and more.
_______
Who is the x-factor for the Orlando Magic in the playoffs?
Kevin Arnovitz: The x-factor, as he's long been for Orlando, is Rashard Lewis. If Lewis is accurate from the perimeter, effective at exploiting slower defenders with improved dribble game and able to use his size to post up smaller defenders, then he gives the Magic even more flexibility in the half court.
Tom Haberstroh: Matt Barnes. They'll need him to do the dirty work. Can he neutralize the opponent's top scorers?
Kurt Helin: I wanted to go with someone a little more exotic here — Matt Barnes, Rashard Lewis, and those guys will need to have key moments and games — but in the end it's about Jameer Nelson to me. Dwight is going to be Dwight. But nobody else in the East has a second option as good as a healthy Nelson. Maybe nobody outside the Lakers does (Gasol behind Kobe). And in the playoffs, when things get tight, that second guy comes up huge. Nelson is a shooting guard who can score when the offense breaks down and there are 6 seconds left on the shot clock, and you need that in the playoffs.
If Nelson can come up huge in the playoffs. That'll be the test. When it comes down to Cleveland in the conference finals — and it will — the Magic will need to pick-and-roll them to death because neither Shaq nor Big Z can defend it well consistently. If Nelson is All-Star Nelson, running the P&R as god intended… well, the Great Cleveland LeBron Freak Out will begin earlier than expected.
Matt Moore: The bench, quite honestly. I could drive it down to Matt Barnes or Brandon Bass or Marcin Gortat or Mickael Pietrus or J.J. Redick or Ryan Anderson but that's the whole point. It could be any one of them. They're all capable of producing at an insanely high level, and the 10-15 points they can put in (if SVG gives them time) could be the swing. Mickael Pietrus was the dagger in the ECF last year. In the semis, J.J. Redick's defense on Ray Allen was the tip of the sword. It could be any one of those guys. That's the trouble with the Magic. There's simply no way to stop all of them.
Kevin Pelton: At the risk of copying Kelly Dwyer, this has to be Rashard Lewis. Lewis' ability to stretch the floor was the difference-maker for the Magic in last year's postseason, and you can trace Boston's addition of Rasheed Wallace and Cleveland's move for Antawn Jamison to wanting to have similar presences. Lewis has had a down regular season and Orlando could really use him to step up at both ends of the floor.
Could you briefly analyze the Magic's first round matchup with the Charlotte Bobcats? How do you see that series unfolding?
Arnovitz: It will be one of the more interesting chess matches of the postseason. Orlando is a superior team, but Larry Brown will make Dwight Howard and the perimeter players work for every shot attempt. Charlotte doesn't make many mistakes on the defensive end of the floor. Fortunately for the Magic, the Bobs conserve all those miscues for the offensive end.
Haberstroh: I think it will come down to rebounding. The Bobcats might have edged the Magic for the best defense in the league but Dwight Howard has firmly put the Magic as the best rebounding team in the NBA (22.6 opponent ORR). The one game they lost vs. Charlotte was at Amway when they allowed the Bobcats to collect 32.4 percent of their missed shots. But Chandler's banged up and Gerald Wallace isn't nearly the rebounding force he was in the beginning of the year. I see Howard controlling the boards and Magic move on in 5 in a low-scoring series.
Helin: Bet the under.
Two of the best defensive teams in the league are going to ugly this thing up plenty. Lots of missed shots. I really like what Charlotte has going, they work hard on defense, they are committed to it, and if you watch a lot of basketball that can be a refreshing change. This is a team that plays smart. But in the end they have are seriously outgunned on offense — the Magic are still going to get theirs. Charlotte is not. Probably over in five.
Moore: I struggle with this one. I feel like Felton is probably underrated a bit, and with Nelson's penchant for drifting off to sleep at times, that could be a wash. Cap Jack's defensive contribution at least mitigates Carter's explosiveness somewhat. Barnes versus Wallace just makes my head hurt, and Diaw is a capable matchup for Lewis. So it really comes down to Howard, who will obviously get his, and the three headed center (Ratliff/Chandler/Nazr). It's not a good matchup, but at least they have 18 fouls to throw at him. I see the problem being the Magic's ability to stress the defense to the limit and when the Bobcats' defense does break, it usually busts like a dam. I think the Bobcats might steal a game or two, but the Magic should have control of the series behind a few monster games from Howard.
Pelton: On paper, the strength of the Orlando offense and the Charlotte defense should about cancel each other out. That leaves the question of whether the Bobcats can score on the Magic's own stout defense, and the answer is apparently no. In practice, that's how the four head-to-head meetings played out. Orlando was held to 108.2 points per 100 possessions, well below their usual scoring pace, but Charlotte managed just a 102.3 Offensive Rating (equivalent to the New Jersey Nets' season mark), losing the series three games to one.
The Bobcats have developed into a fairly dangerous team in the second half of the season, but they caught a bad break matching up with the Magic in the opening round. Since February, Orlando has been the league's best team, and no one else has been particularly close. If Charlotte can take two games off the Magic in this series, it will be an impressive accomplishment in the franchise's postseason debut.
All season long, many people have stated that they can't judge Orlando's acquisition of Vince Carter until playoff time. What type of impact do you foresee Carter having for the Magic in the postseason?
Arnovitz: Over the course of the season, Carter has come to grasp the spacing that makes the Magic offense hum. Assuming he sees Gerald Wallace in Round One, Carter will have to work mightily for his shots. That might offer Orlando a positive unintended benefit because it will further integrate Carter into the offense and force him to create for others — something he's capable of doing when motivated.
Haberstroh: All season long, the Magic have risen and fallen with Vince Carter. When Carter had his roughest month in January, so did the Magic. It will be critical for him to be on his game for the playoffs. I do not believe in the school of thought that X Superstar cannot play in the playoffs. Usually those labels occur out of small sample sizes or recent poor play. Vince can play in the post season. How quickly we forget that in 2006, VC put up 29.6 ppg, 7 rpg, 5.3 apg in 11 games for the Nets. How about this: career regular season PER: 22.1, career playoffs PER: 22.4. He won't put up 25 points a night or even 20 points a night but he won't have to on that team. He will be fine.
Helin: I think Vince is now what Vince was, just not having to play the same number of minutes or carry the same load on offense as he did in every other stop in his career. His stats — the good, advanced kind — are what they always were, basically. The last couple months of the season, he seemed to really get blending in and how to pick his spots. I think that will continue into the post season. He's not going to put up Hedo's numbers from last playoffs, but he doesn't have to. He has to fit in.
But we'll see. I wouldn't bet my house on it. I don't trust Vince that much.
Moore: Carter doesn't have to have a night like that 40 pointer he dropped back a few months. He's just got to be consistent. He can't disappear, and he can't take up a high usage. He's got to be willing to trust his teammates when the defense collapses on him in the pick and roll. They're going to bank on Carter wanting to force up a tough shot instead of passing out of that situation, and it's his decision making that will be the difference. He has to play smart and efficient, not gaudy and superstarred. It's a tough assignment, but if his declining talent and rising maturity can intersect at a crossroads, they'll be in great shape.
Pelton: Carter has really settled in the second half of the season and played the kind of basketball I anticipated he would in Orlando. His usage rate went way down and his efficiency went the opposite direction. Because the Magic has multiple weapons, Carter doesn't need to have a great playoffs for Orlando to be successful. The key will be staying within himself in that smaller role and carrying the team for stretches when he has a favorable matchup.
We all know the storylines surrounding a possible Eastern Conference Finals rematch between Orlando and the Cleveland Cavaliers, assuming both teams make it that far. Of course, the question begs to be asked … do the Magic strike lightning in a bottle twice and win that series?
Arnovitz: It's going to be a tough series. If the Magic can bury enough shots from the perimeter, they have an excellent chance. But Cleveland seems far better-equipped to confront the matchup issues that plagued them last spring against the Magic. The new personnel coupled with home court have me leaning Cavs in 7 in what might be among the best conference championship in recent memory.
Haberstroh: If they do indeed match up, I think it will be close but this is LeBron's year. As formidable as the Magic have been, I don't think anything stops LeBron on his quest to enter free agency with that coveted first ring.
Helin: Yes, they can. I picked Orlando to make it back before the season started, and I'm not a quitter. Beside that, people are looking past Orlando, but I think this roster is better built for the playoffs than Cleveland. It's close. The series is going to be a hard, epic struggle. Seven games probably, and every one of them in doubt entering the final six minutes. LeBron has some advantages there, because he's not human. But the Orlando team could overcome that, because they are a team.
I look forward to watching it.
Moore: It's going to be a bloodbath. An absolute bloodbath. Cleveland added size and a stretch four, Orlando added guard talent and depth. A large function will be both team's ability to hold a lead. Either side can get the advantage and hold it for two and a half to three quarters. But often times then the other team starts to put together a run and the leading team falls apart. The Magic have to have some strategies in mind of how to keep the pedal to the floor.
Pelton: Based on point differential and second-half performance, I would have Orlando as the favorite in that series, though it should be even more closely contested than last year's thriller.
_______
I like to thank everyone for answering my questions.