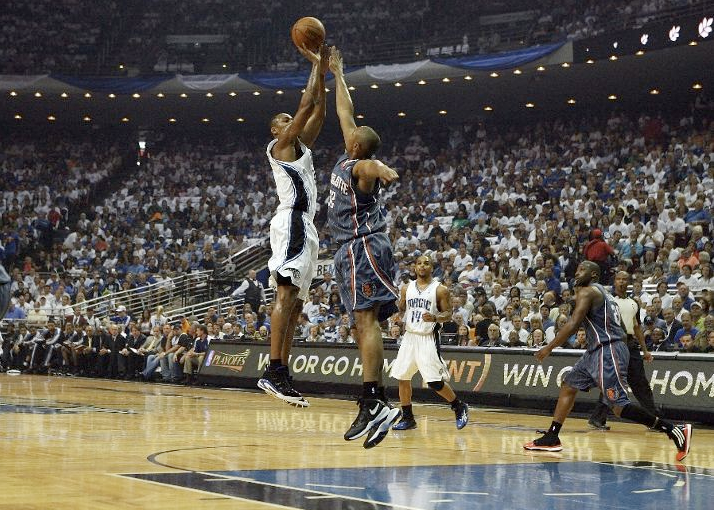 Photo by Doug Benc/Getty Images
In a hard fought, physical game, the Orlando Magic were able to defeat the Charlotte Bobcats by the score of 98-89 to take a 1-0 series lead in the first round of the 2010 NBA Playoffs. Before the game, there were two players to keep an eye on for the Magic and they were Rashard Lewis and Jameer Nelson. There were question marks surrounding Lewis and Nelson as the postseason was gearing up but each player answered the call for Orlando. Nelson led the way for the Magic, setting a career playoff-high by scoring 32 points, as well as chipping in with six assists and four rebounds. Lewis was excellent, playing a very efficient game by scoring 19 points on 8-of-11 shooting. Dwight Howard had a lackluster performance on offense but he was otherworldly on defense, where he tied a playoff-high with nine blocks and set a franchise playoff record with eight blocks in the first half. Gerald Wallace performed magnificently, with 25 points and 17 rebounds for the Bobcats. Monster numbers for Wallace, to say the least.
It was, without a doubt, a tale of two halves for Orlando.
In the first half and even in the first few minutes of the third quarter, the Magic had complete control of the game and that was because the captains for Orlando, Nelson and Howard, were phenomenal on offense and defense, respectively. Nelson, in particular, was a man possessed offensively in the first half, scoring 24 points, and looking every bit the All-Star player that he was a season ago.
FIRST QUARTER
[10:41] Nelson, 25-foot three-point jump shot
[9:30] Nelson, 13-foot jump shot
[8:14] Nelson makes layup
[6:26] Nelson, 26-foot three-point jump shot
[5:56] Nelson makes layup
[3:55] Nelson, 17-foot jump shot
SECOND QUARTER
[4:24] Nelson, 28-foot three-point jump shot (Pietrus assist)
[2:53] Nelson, 13-foot jump shot
[1:02] Nelson makes layup
[0:00] Nelson, 35-foot three-point jump shot
Nelson had his way with Charlotte's defense, whether it was from dribble penetration, fast break chances, shot-up shooting opportunities, the 1/5 pick and roll with Howard, or the 1/4 pick and roll with Lewis. It seemed like Nelson wanted to make up for lost time after missing the majority of the playoffs last year because he was aggressive on offense and doing the things that make him a very difficult player to guard and the Magic an extremely tough team to beat when he's on. For instance, it didn't matter if the Bobcats switched on the pick and rolls because Nelson was hurting them either way. With Nelson making mid-range jumpers, layups, and threes (one of which was from 35-feet to beat the buzzer at the end of the second quarter), it appeared as if Charlotte were going to get embarrassed in their playoff debut in front of majority owner Michael Jordan, who was sitting courtside taking in the proceedings at Amway Arena.
It didn't help matters that Howard decided to have a block party, too. Several players for the Bobcats tried their darnedest to attack the basket and draw contact on Howard but he would have none of it. Ask Theo Ratliff, for example, as he got consumed on a block by Howard in the opening minutes of the game. Howard's defense, especially on help-side, was phenomenal and forced the Bobcats to operate almost strictly from the perimeter when he was on the floor. Eventually, persistence paid off for Charlotte as they remained the aggressors on offense and were able to get Howard in foul trouble.
That's where everything changed in the second half for both teams. The Bobcats were able to have an easier time scoring points, either in the paint or on the free-throw line (particularly in the third quarter), with Howard on the bench for extended periods of time and their defense tightened up, too. As a result, Orlando struggled offensively.
Especially Vince Carter, who had a forgettable game in his first playoff appearance in three years. In the first half, Carter was being aggressive and penetrating into the lane but as the game wore on, he began to settle for jumpers and could never make an impact on offense. In a lot of ways, Carter looked like the player that struggled in January, forcing bad shots and having trouble making plays offensively. Nevertheless, even though it was a bad performance for Carter, it's one game and he'll have a chance to redeem himself moving forward.
The key for the Magic in the second half, though, was the outstanding play from Lewis, Mickael Pietrus, and J.J. Redick. Each player hit a big shot or two in the fourth quarter when Orlando was stagnant on offense and desperately needed points from someone. Fortunately for the Magic, Lewis, Pietrus, and Redick stepped up huge in crunch time.
A final note. Marcin Gortat is going to need to take his energy level up a few notches when he plays extended minutes next time or else Orlando is going to be in bigger trouble than they should be when Howard gets in foul trouble, which — let's face it — will happen again. For Gortat, two points, five rebounds, and iffy defense in roughly 20 minutes isn't going to cut it. The Magic are going to need more from Gortat.