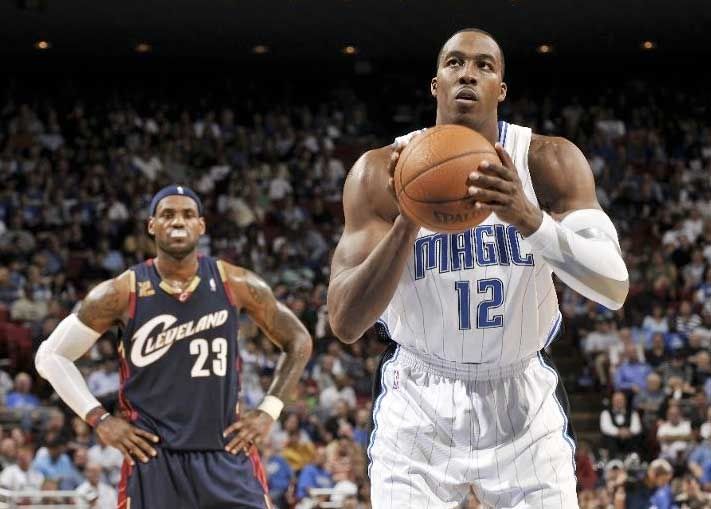 Photo by Fernando Medina/NBAE via Getty Images
Last night, LeBron James was presented with the MVP trophy by commissioner David Stern before the Cleveland Cavaliers faced off against the Boston Celtics in Game 2 of the 2010 NBA Eastern Conference Semifinals. It was a deserving moment for James, capping off a community celebration, of sorts, that began on Sunday when he received the award (open to the public) in his hometown at the University of Akron in front of family, friends, and the media.
Of course, the media has caused quite a stir in the blogosphere the past day or so, when it was revealed that several Orlando-based voters placed Dwight Howard ahead of James on their respective ballots. Even though James received 116 of a possible 123 first-place votes and won the award in a landslide, issues like local bias have been conjured up to explain why Howard (who finished fourth on the ballot) received three first-place votes.
Although Howard is a magnificent talent, a rare breed of player in today's perimeter-oriented NBA, and more than worthy of being named the Defensive Player of the Year for a second consecutive season, there's no way to justify choosing him over James at the MVP. Mind you, this is not an indictment on Howard. Not at all. This is a recognition of an individual that has transcended the sport of basketball. Someone that, according to Larry Bird, will "probably be better than all of us when it's all said and done."
That person is LeBron James.
Again, because it's worth repeating, this is not an indictment on Howard. It's just that James is, and has been, that good.
Overall:
| | adj. +/- | net +/- | stat. +/- | PER | WARP | Win Shares/48 |
| --- | --- | --- | --- | --- | --- | --- |
| LeBron James | +18.52 | +15.8 | +13.68 | 31.1 | 25.3 | .299 |
| Dwight Howard | +24.97 | +10.2 | +7.21 | 24.0 | 19.2 | .223 |
Aside from the adjusted plus/minus numbers, every other linear metric rates James as the better player than Howard. It's not close, either. The argument that Howard deserves to be named MVP carries weight if Howard was within striking distance to James, statistically, like Chris Paul and Dwyane Wade were last season when they were considered for the award. This season, strictly looking at the stats, that wasn't the case for Howard … even when making note that some of his impact on the floor isn't easily quantified.
Plus, James' production during the regular season approached historical levels (as was the case when James won his first MVP). As in, very closely matching the same statistical output as Michael Jordan in his prime. Granted, James' WARP was slightly down this year but if he didn't sit out the last three games, he would have had a chance to surpass his WARP total from last year. Regardless, James had a phenomenal season that could only be compared to a few of his peers. None of them being Howard.
Defense:
| | net def. +/- | dMULT* | opp. PER | TRB% | STL% | BLK% |
| --- | --- | --- | --- | --- | --- | --- |
| LeBron James | -1.13 | .721 | 15.6 (vs. SF's) | 11.1 | 2.2 | 2.0 |
| Dwight Howard | -3.37 | .548 | 13.8 (vs. C's) | 22.0 | 1.4 | 6.0 |
*defensive multiplier
One of the arguments strongly in Howard's favor is that he is the first player ever to lead the league in a.) blocked shots and rebounds in two consecutive years and b.) blocked shots, field-goal percentage, and rebounds in the same year. Truly impressive accomplishments, without a doubt. And Howard does have James beat on defense. Howard's ability to clean up the mistakes of his teammates, excel in defending pick and rolls as well as post-ups, and provide great help-side defense is unmatched by anyone in the NBA.
However, James is an excellent defender in his own right. Of course, James is probably best known for his chase-down blocks but he's shown a willingness to defend, and lock down, an opposing team's best player by using his rare blend of size and strength to his advantage whenever possible. It's true that James has taken a small step back on defense this season but his defensive statistics are still impressive. For instance, James is one of only 13 players this year to average at least a block and a steal per game.
Offense:
| | TS% | eFG% | AST% | TOV% | USG% | ORtg |
| --- | --- | --- | --- | --- | --- | --- |
| LeBron James | .604 | .545 | 41.8 | 12.3 | 33.5 | 121 |
| Dwight Howard | .630 | .612 | 8.7 | 18.7 | 23.9 | 113 |
What's probably most remarkable about James, more than anything else, is the magnitude of his impact on offense. James is, unquestionably, the league's most devastating and versatile playmaker.
Want passing?
This year, James shattered the record for assists per game among forwards. Better than Bird, and by a large margin. James also set a record for assist percentage among forwards, besting his own mark from last year. On a broader scale, James ranked sixth in assists per game and fifth in assist percentage during the regular season. James is a small forward and yet among the league leaders in a category dominated by point guards. What's scary is that James could predominantly play point guard, if he wanted to, and probably lead the league in assists per game.
Want scoring?
Despite the fact he operated mostly around the perimeter and had the second-highest usage rate in the NBA during the regular season, James was more efficient than Howard on offense when looking at Offensive Rating. By the way, this is taking into account the fact that James' shot selection can be sketchy at times, given that he's notorious for falling in love with his jumpshot and is shooting three-pointers at an average percentage. Also, James compares favorably to Howard when looking at True Shooting Percentage, for example, despite carrying a much heavier workload offensively.
_______
Sometimes people get caught up so much with the idea that "their player" has to be the MVP, logic and reason (objectivity, too) be damned. For Howard, though, there's no shame in being touted as the second-best player in the world. None. Eventually, maybe as soon as next year, the time will come when Howard is strongly considered to win the MVP without dispute.
Just can't make the argument this year.