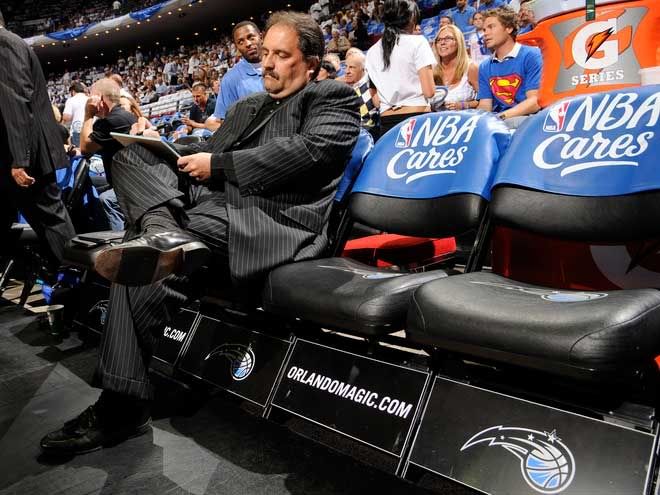 Photo by Fernando Medina/NBAE via Getty Images
Immediately after the Orlando Magic put the finishing touches on a beat down of epic proportions against the Atlanta Hawks in Game 1 of the 2010 NBA Eastern Conference Semifinals, people — unsurprisingly — went goo goo ga ga when the final score read 114-71. Amidst the blowout victory, the Magic put on a basketball clinic that certainly made NBA enthusiasts smile. However, there was another group of people, whether they were aware of it or not, that would have been (or were) equally impressed.
Statistical analysts.
It's no secret that the statistical revolution in the league is gaining momentum year after year and certain basketball philosophies, which were mostly taboo five or ten years ago, have become accepted practices. One of those strategies has been executed by Orlando to near perfection for several years now and it was showcased yet again on Tuesday.
It is, simply, the way in which the Magic execute offensively. Casual fans and mainstream media call it "living by the three and dying by the three" but that is an insult to the grand design of Orlando's offense.
It's no secret, to those that follow the Magic closely, that head coach Stan Van Gundy is an analytical and forward-thinking individual. Van Gundy is a person that is all about the numbers and that's a reason, among other factors, why Orlando has been so successful these past few years. One of the things that Van Gundy has embraced on offense is not only the three-point shot but also the layup and the free-throw. What are the significance of these types of shots? Well, it has been discovered thanks in large part to the work of statisticians, that the three-pointer (specifically, in the corner), the layup, and the free-throw are the three most efficient shots on the court. In contrast, and this is a major reason why the mid-range game is "dying" precipitously, a long two-point jumper is the least efficient and worst shot to attempt.
Game 1 was a perfect mini case study to exemplify the contrasts of these two philosophies going head-to-head. Orlando made two runs in the second and third quarters that blew the game wide open. And they did it by shooting threes, layups (dunks, too), and free-throws. For the Magic, this is nothing new. The Hawks, on the other hand, dug themselves further into a hole by taking long two's. When taking a step back, it really is fascinating how two teams showed a new school and old school approach to scoring.
SECOND QUARTER (17-0 run by Orlando)
[9:55] Redick makes driving layup
[9:06] Redick, 25-foot three-point jumpshot (Pietrus assist)
[8:23] Howard makes free throw 2 of 2
[7:54] Howard dunk
[7:16] Pietrus, 24-foot three-point jumpshot (Redick assist)
[6:52] Pietrus dunk
[6:26] Howard makes layup
[5:01] Anderson makes layup
THIRD QUARTER (18-1 run by Orlando)
[5:47] Nelson makes driving layup
[5:13] Nelson, 23-foot three-point jumpshot (Carter assist)
[4:30] Nelson makes two-point shot
[4:03] Carter, 13-foot jumpshot
[2:25] Carter makes layup
[2:25] Carter makes free throw 1 of 1
[1:38] Lewis dunk
[1:15] Carter, 20-foot jumpshot
[0:03] Barnes makes free throw 1 of 2
[0:03] Barnes makes free throw 2 of 2
In the span of those two runs, Atlanta attempted six shots from 16-23 feet compared to one for Orlando. For the entire game, the Hawks attempted 26 shots from 16-23 feet compared to 11 for the Magic. Looking back at Game 1, it starts to make sense why Orlando was able to win by such a wide margin. The Magic, as has been the case for several years now, took the best shots and their counterpart didn't.
Simple as that.