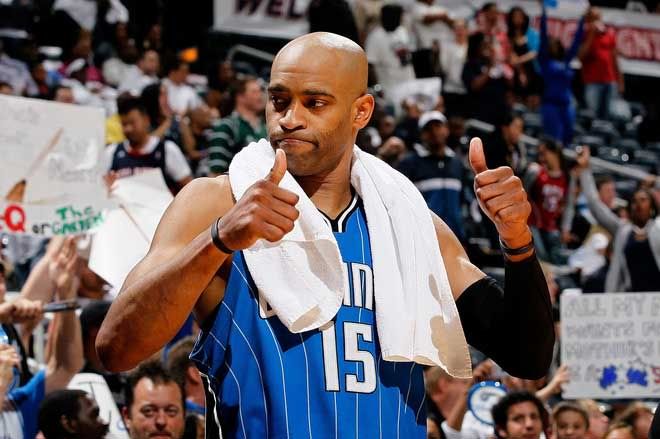 Photo by Kevin C. Cox/Getty Images
As seen on ABC's Sunday Dime.
I gathered writers, the best of the best in the blogosphere, to participate in a roundtable discussion and answer some of the most pertinent questions concerning the Orlando Magic as the 2010 NBA Eastern Conference Finals are set to begin.
So, without further ado, here are the participants:
Kevin Arnovitz, TrueHoop
Kurt Helin, ProBasketballTalk
Matt Moore, Hardwood Paroxysm
Each individual provided a quick breakdown of the series between the Magic and the Boston Celtics, his opinion on the player that has been the most impressive for Orlando in the postseason (up to this point), and more.
_______
With the Orlando Magic having already put the finishing touches on back-to-back sweeps against the Charlotte Bobcats and the Atlanta Hawks in the first two rounds of the playoffs, the question that is invariably being asked is whether or not they are falling in the same trap that tripped up the Cleveland Cavaliers last year? Does that logic apply to the Magic? Why or why not?
Kevin Arnovitz: This logic does not apply to Orlando because the premise defies logic. The notion that a team somehow hurts itself by dominating opponents with brutal efficiency is silly. If Orlando loses in the Eastern Conference Finals, it assuredly won't be because they were too successful in previous rounds. It will be because they failed to execute their stuff.
Kurt Helin: I don't think so, because these Magic understand about winning in a way that Cavs team did not. I'm a believer you have to learn to win in the NBA. Orlando went to the Finals last year. This is a team that learned what it took to get there and a painful lesson from the loss in the Final last year about what it takes to be a champion. That there is another level of commitment (plus having a health Jameer Nelson doesn't hurt). These Magic have come out and taken care of business in a professional way, not letting up.
That Cavaliers team did not lose because of the sweeps in the first two rounds. They lost because they were not the best team, they did not execute as well, they could not get the matchups they liked. These Magic are the best team.
Matt Moore: I think it does. I think that complacency is the worst thing that can happen to a ballclub in the playoffs is complacency. And Orlando's going to have more of it than any Conference Finalist. Swept through the first and second rounds, never challenged. Drew easy opponents who didn't match up well. Lots of time off. This is recipe for disaster against a Boston team that's rolling. The fact that the first games are in Orlando, meaning they have to immediately switch back to high gear because they MUST win their first two games is adding to that. Every team thinks that their dominance is real and valid until it gets blindsided. Then they can't understand why they ever thought that to begin with.
Which player for Orlando has impressed you the most in the postseason, so far?
Arnovitz: Jameer Nelson. He used to be an important part of the Magic's offense. Now he's orchestrating it.
Moore: I think the easy answer is Jameer Nelson, but I expect that kind of play from him. He showed he was capable of it in the regular season last year. I think the biggest impression for me has been made by Rashard Lewis. Lewis didn't have a spectacular regular season, so for him to flip the switch is a big contribution. The Magic could live with Lewis being good not great. Him being great across the board in assists, points, and rebounds just adds to the Magic danger.
What type of matchup advantages do you foresee the Magic having against the Boston Celtics?
Arnovitz: Boston will have a much more difficult time getting Rondo loose through the seams of the Magic's defense. Orlando's pick-and-roll defense is exceptional, but the Magic won't be without challenges. Will Vince Carter be up to chasing Ray Allen along the baseline, or do you switch off those back picks? Can Rashard Lewis check Kevin Garnett on the block, or do you let [Dwight] Howard contend with anything inside 10 feet?
Helin: Depth, for one. The Orlando bench is far deeper and better than Boston's. But I think the matchups in this one among starters will be pretty entertaining. Kendrick Perkins is a good defensive center who will give Howard some problems, but Howard can still get his. Nelson and Rondo will be fun to watch. Ray Allen trying to get away from Matt Barnes. Paul Pierce vs. Vince Carter (who would have seen that coming four years ago?). Rashard Lewis will pull Kevin Garnett and his help defense away from the paint, but a healthy Garnett is a tough cover for Lewis.
In the end, I think the way Orlando has moved the ball — the one way to break down the Boston defense — will get them open threes and win the series.
Moore: Everyone is going to want to say Kevin Garnett will be the difference. Don't buy it. Garnett can't defend the range of Lewis and Lewis' ability to draw him out, then blow by him is well documented. The stretch fours for the Magic are still going to be a huge factor in this game. I like Jameer Nelson to offset Rajon Rondo's impact by doing damage of his own. I like Vince Carter over Ray Allen, who will need even more screens to get free against fresher legs, especially if the Magic sic J.J. Redick on him again. Strangely, the only matchup I don't like is Dwight Howard against Kendrick Perkins. Perkins was a beast in the first two round, muscling out Jermaine O'Neal and Shaq. It'll be interesting to see if Howard picks up where he lefts off or fades again.
To conclude, what's your series prediction?
Arnovitz: Orlando in 5 vs. Boston.
Helin: Boston is playing about as well as they can, and I'll say this series goes longer than I would have guessed before the playoffs. I'll say the Magic in six (which means winning the final game in Boston, but I think Orlando will have figured out how to exploit their matchups by that point).
Moore: I like the Magic in six games, but this could go seven or it could be a sweep and it wouldn't surprise me. But the Magic are the better team.
_______
I like to thank everyone for answering my questions.