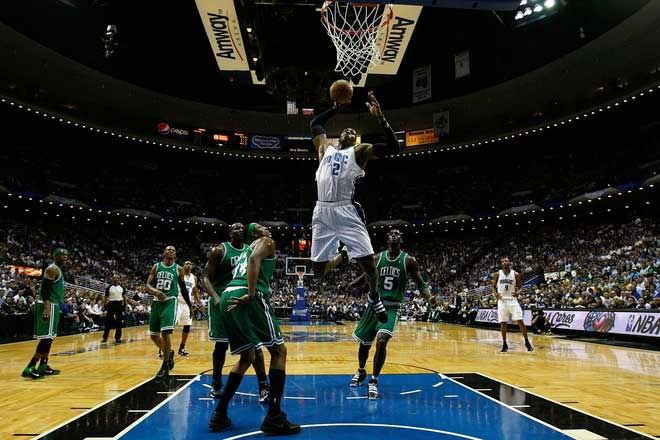 Photo by Kevin C. Cox/Getty Images
In what can only be described as a strange game, the Orlando Magic defeated the Boston Celtics by the score of 113-92 in Game 5 of the 2010 NBA Eastern Conference Finals. The odds are still heavily in the Celtics' favor to close out the series sooner or later, but the Magic aren't going quietly. Orlando was led by their captains for a second consecutive game — Jameer Nelson had 24 points on 10 shots, five rebounds, and five assists, and Dwight Howard had 21 points, 10 rebounds, and five blocks. Rashard Lewis and J.J. Redick chipped in with 14 points each.
Weird.
There's a number of words that can be used to describe Boston's loss but 'weird' is probably the most appropriate one. Late in the second quarter, Kendrick Perkins was ejected — perhaps prematurely — after arguing a foul call with referee Eddie F. Rush and thus, putting himself in jeopardy of being suspended for Game 6 unless one of his technical fouls is overturned by the NBA upon further review. In the third and fourth quarters, Glen Davis and Marquis Daniels suffered concussions and Rasheed Wallace tweaked his back. It was a disastrous set of circumstances for the Celtics, given that they already had their hands full against an inspired opponent buoyed by a raucous home crowd.
The series could very well be over on Friday night but the Magic are going down while throwing punches left and right.
Beforehand, head coach Doc Rivers stated that there would be a game in which Orlando would make their three-pointers against Boston, no matter what. This was the game that Rivers prophesied. For the first time in the series, the Magic were really humming along offensively and, even taking into account Perkins' ejection, there wasn't much the Celtics could do about it.
In the first quarter, like in Game 4, Orlando ran staggered pick and rolls with Nelson to jumpstart the offense. Boston tried to trap and be more physical with Nelson, but the strategy didn't work very well. On one possession in the period, for example, the Celtics elected to double-team Nelson in the pick and roll but he was able to find Howard cutting to the basket for a dunk. And even if Nelson or Howard didn't score in the pick and roll, the Magic were able to generate points (like corner threes) from the play many times. This trend occurred throughout the game.
One of the things that's been missing from Orlando in the series has been, more than anything, the ball movement that has befuddled opponents. The Magic are at their best on offense when the basketball is moving from side-to-side, and that's what was happening against the Celtics. At almost every juncture, Orlando was able to move the ball or drive-and-kick and Boston had trouble rotating quickly enough. That and the Magic were aggressive offensively by pushing the pace whenever possible, not allowing the Celtics' defense to set up.
Nelson, more than anyone else, did an excellent job of attacking Boston in transition and either scoring at the rim or on the perimeter. Nelson was fearless and he'll need to display the same type of aggression if Orlando wants any chance at winning Game 6.
Howard played like "Superman," without a doubt. Howard was able to get things going on offense in pick and rolls, and even post-ups, but his energy on defense was truly phenomenal. Defensively, Howard was a force and made life difficult for Rajon Rondo and others to penetrate into the lane like they normally would. As a result, the Celtics had to score mostly from the perimeter and, more often than not, the Magic were prepared to contest each and every shot.
Boston was able to stay within striking distance until the final period, when the battle of attrition was too much to overcome, and Orlando was able to overwhelm them. Early in the fourth quarter, the Celtics were forced to play with a lineup that saw Paul Pierce play power forward. The move, whether it was calculated or not, didn't work out so well for Boston after Lewis was able to have his way against Pierce in a few possessions. By then, the lead for the Magic was 13 points and after a few minutes of trying the "Hack-a-Howard" strategy, the Celtics threw the white flag and the game was over.
For Boston, it was certainly a frustrating loss.
For Orlando, they live to play another day.
Head coach Stan Van Gundy has to be pleased, not only because the Magic are playing well with their backs against the wall but it seems like he has settled on a rotation that is able to have success against the Celtics. For example, even though Vince Carter is starting, Redick is seeing more and more meaningful minutes early in games. Brandon Bass, seemingly forgotten a few weeks ago, has been able to provide Orlando with the effort and energy they've needed against Boston. This isn't to say Bass has been perfect because he hasn't, given that he continues to struggle on defense, but he's doing some positive things on the court (eight points in 12 minutes!) when paired with Howard. Most importantly for the Magic, though, is the fact that the bench is starting to come alive.
Is Orlando's sudden rejuvenation too little too late? Or is this comeback the start of something special for the Magic? It's hard to be too optimistic because even with two straight losses, the Celtics have control of the series and will have a chance to close things out in Game 6 at home.
Still … anything is possible.