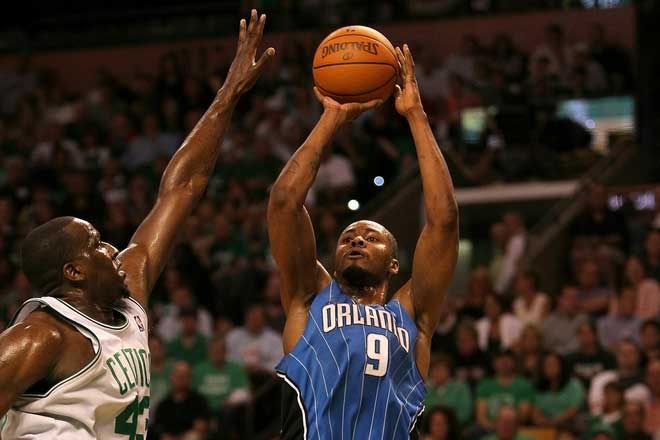 Photo by Jim Rogash/Getty Images
First in a three-part series, I'm going to analyze this year's playoff performances of several Orlando Magic players. These posts will be offense-centric, given that I will be writing up player evaluations next week, so I'll reserve analysis on the defense of Dwight Howard – for example — until then.
Today's subject?
Rashard Lewis.

_______
Overall:

| PER | TS% | eFG% | TRB% | AST% | STL% | BLK% | TOV% | USG% |
| --- | --- | --- | --- | --- | --- | --- | --- | --- |
| 14.1 | .584 | .559 | 9.6 | 11.4 | 1.6 | 1.6 | 14.0 | 17.3 |
| vs. Charlotte Bobcats | MP | PPG | RPG | APG | FG% | 3P% |
| --- | --- | --- | --- | --- | --- | --- |
| | 38.3 | 15.8 | 5.5 | 1.8 | .524 | .462 |
Off to a good start
For the first two rounds of the 2010 NBA Playoffs, Lewis could do no wrong offensively against either the Charlotte Bobcats or the Atlanta Hawks. The numbers spoke for themselves — Lewis was ridiculously efficient on offense.
Against the Bobcats, Lewis had his way with Boris Diaw. Many times throughout the series, Lewis was able to use a jab-step effectively against Diaw to create room for himself to operate on offense off the dribble in isolation. And when Lewis wasn't busy doing that, he spotted up for threes on the perimeter and made Diaw pay for not closing out quickly enough. Quite simply, Lewis was a tad too quick for Diaw (which says a lot about how slow-footed Diaw is, actually) and was able to keep him off-balance defensively.


| vs. Atlanta Hawks | MP | PPG | RPG | APG | FG% | 3P% |
| --- | --- | --- | --- | --- | --- | --- |
| | 35.5 | 17.0 | 5.5 | 3.5 | .556 | .462 |
Success continues
Things were, more or less, the same against the Hawks. Even though Josh Smith is one of the better defenders in the league, his inability to cover Lewis on the perimeter proved to be a problem. Not only due to the fact that Smith, like Diaw, didn't close out in a timely manner against Lewis or, at the very least, run him off the three-point line but because head coach Mike Woodson's defensive philosophy of switching everything was a disastrous strategy that, more or less, cost him a job.
Many times, when Lewis wasn't busy making threes left and right, he was able to post up a small defender on the low block and scoring with relative ease. The Hawks made Lewis' job on offense way too easy and he was able to put up points on the board in a hurry. All that stopped against Kevin Garnett and the Boston Celtics, however.


| vs. Boston Celtics | MP | PPG | RPG | APG | FG% | 3P% |
| --- | --- | --- | --- | --- | --- | --- |
| | 36.2 | 8.2 | 5.8 | 1.8 | .339 | .174 |
Reality check
The main thing that Garnett was able to do against Lewis that Diaw and Smith were unable to do with any effectiveness was not lose track of him on the perimeter, as well as contest each and every shot he put up. Clean looks were hard to come by for Lewis and because, unlike in late January when he was able to break down Garnett off the dribble, he was unable to get past Garnett and compensate for his inability to knock down jumpers in spot-up situations.
Garnett, and assistant coach Tom Thibodeau for that matter, were cognizant of the type of damage Lewis was able to do in the first two rounds. As such, Garnett did an excellent job of staying close to Lewis at all times and not allowing him to create any separation whatsoever to operate offensively. People bemoan Lewis' struggles on offense, and dealing with flu-like symptoms against the Celtics certainly didn't help, but he was matched up against one of the best defenders in NBA history. Granted, Garnett isn't the defender he was a few years ago but he's still one of the best in the league when close to or at full health. It seemed like people's lasting memory of Lewis blowing by Garnett for a game-winning layup during the regular season diluted the realities of the situation. When able and willing, Garnett can shut down Lewis … and he did.
Does this make Lewis any lesser of a stretch four?
No.
It's curious, though, that head coach Stan Van Gundy didn't play Lewis at small forward more against the Celtics. This isn't to suggest that Lewis is more apt to switch back to his "natural" position but in the aforementioned comeback victory for the Magic on January 28, Lewis played at the three quite a bit in the fourth quarter and did okay on both ends of the court against Paul Pierce. Not sterling defensively, mind you, because there were moments in the period when Lewis showed why he struggles guarding small forwards like Pierce. For example, Lewis isn't quick enough to defend on the perimeter. But given what was at stake in the Eastern Conference Finals and the relative ease in which Lewis scored on post ups against Pierce on the rare occasions he got a chance to do so, some people wonder why Van Gundy didn't elect to utilize Lewis' skills on the low block more often.
It didn't make or break the series, given that Orlando could have beaten Boston if they got more production from other players, but it certainly fuels talk in the off-season as to whether or not Lewis will continue to play at power forward.
Should he? Yes, but that's another topic for another day.
_______
Stay tuned for Part Two tomorrow.