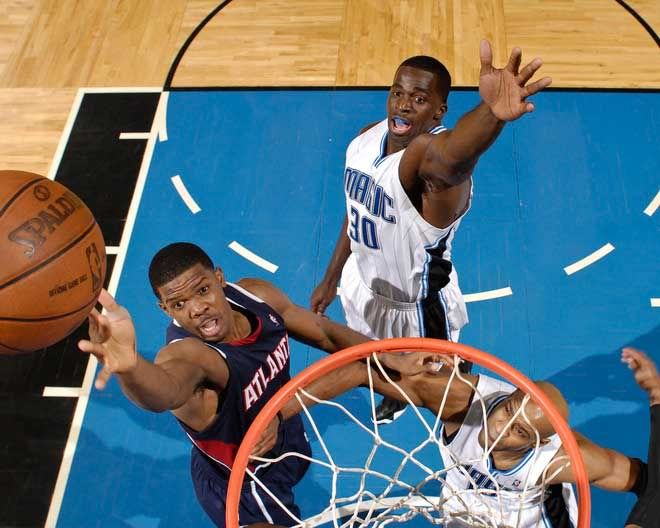 Photo by Fernando Medina/NBAE via Getty Images
Synergy-fueled player evaluations, with the help of other metrics, are always fun.
Today, the power forwards.
| 2009-2010 regular season | Brandon Bass |
| --- | --- |
| Games Played | 50 |
| Minutes Played | 13.0 |
| adj. +/- | N/A |
| net +/- | -4.9 |
| statistical +/- | -2.65 |
| PER | 16.5 |
| WARP | 1.1 |
| Win Shares/48 | .147 |
When Brandon Bass joined the Orlando Magic in the off-season as a free agent, it was assumed by nearly everyone that he was going to start at power forward and Rashard Lewis would move back to his "natural" position at small forward. The speculation concerning Bass' role with the Magic was fueled further when Lewis had to serve a 10-game suspension at the start of the regular season. People assumed, then, that Bass would get his opportunity to prove his worth right away by starting at power forward in place of Lewis.
That … didn't happen.
Bass didn't start and when he finally got a chance to start near the beginning of the year when Ryan Anderson went down with an ankle injury, Orlando struggled. In a sense, Bass' fate was sealed because his presence magnified how much the Magic needed a stretch four to be successful. Bass in the starting lineup disrupted the natural order of things with Orlando. Once Lewis returned from his suspension and Anderson recovered from his injury, Bass barely got any playing time and ended up capturing the hearts and minds of Magic fans imploring that he should have been getting more minutes.
Unfortunately for Bass, he was playing in front of two superior players. Sure, when Anderson would get in a slump, head coach Stan Van Gundy opted to insert Bass into the rotation to shake things up. But the decision would last for several weeks, at the most. Bass did get his chance to make an impact in the 2010 NBA Eastern Conference Finals against the Boston Celtics when Van Gundy was searching for some energy off the bench, though. Aside from that, however, Bass' season was full of disappointment. Not because he is a bad player, but simply because he isn't the right fit for Orlando.


Via Synergy Sports Technology:
| 2009-2010 regular season | | Time | Poss. | PPP* | Rank | Rating |
| --- | --- | --- | --- | --- | --- | --- |
| OVERALL OFFENSE | | 100% | 288 | 1.01 | 80% | Very Good |
| Post-Up | | 29.2% | 84 | 0.87 | 56% | Good |
| Spot-Up | | 16.3% | 47 | 1.19 | 93% | Excellent |
| Isolation | | 13.5% | 39 | 0.72 | 24% | Below Average |
| Offensive Rebound (put backs) | | 10.4% | 30 | 0.97 | 29% | Below Average |
| TS% | eFG% | TRB% | AST% | TOV% | USG% | ORtg |
| --- | --- | --- | --- | --- | --- | --- |
| .556 | .511 | 11.3 | 5.1 | 10.6 | 20.9 | 112 |
Offense
Despite centering his game around the most inefficient shot in basketball, the mid-range jumper, Bass was an efficient player offensively this year. For Bass, it helped that he was able to shoot those inefficient jumpers with proficiency.
If there's one thing that Bass likes to use on offense, it's the jab-step. At almost every opportunity, Bass will use the jab-step against his defender to create room for himself on offense to either pull up for a jump shot or attack the basket. Even though the move is predictable, it's effective because Bass' physique is imposing. Yet one of Bass' drawbacks on offense is that when he gets the basketball, more often than not, he's going to shoot the ball. At least Bass doesn't turn it over very much, so that's a positive.
Ultimately, the main issue with Bass on offense isn't necessarily his skill-set but it's the fact that when he's in the game, the Magic struggle to score because the spacing in 4-out/1-in offensive sets is compromised. Bass' inability to shoot threes allows defenders to take a few steps closer to the paint and have an easier time doubling Howard in the post or rotating to shooters because they aren't as spread out as much. Again, merely talking about Bass' offense in a vacuum, it's solid but not in the grand scheme of things with Orlando where spacing is always at a premium.


Via Synergy Sports Technology:
| 2009-2010 regular season | | Time | Poss. | PPP* | Rank | Rating |
| --- | --- | --- | --- | --- | --- | --- |
| OVERALL DEFENSE | | 100% | 237 | 0.93 | 30% | Below Average |
| P&R Ball Handler (Big Defender) | | 26.6% | 63 | 1.03 | 20% | Below Average |
| Spot-Up | | 23.6% | 56 | 1.09 | 21% | Below Average |
| Post-Up | | 21.9% | 52 | 0.92 | 40% | Average |
| Isolation | | 15.6% | 37 | 0.73 | 82% | Very Good |
| net def. +/- | dMULT | opp. PER | TRB% | STL% | BLK% |
| --- | --- | --- | --- | --- | --- |
| +3.29 | 0.916 | 13.0 (vs. PF's) | 11.3 | 1.0 | 3.1 |
Defense
Bass is already working behind the eight ball, with regards to his fit in the Magic's system offensively. The problems for Bass are exacerbated because of his struggles defensively. With Bass, the problem isn't his individual defense. If you stick a player in front of Bass, he'll have no trouble guarding him. The issue with Bass is his inability to execute team defensive schemes, like being unable to rotate properly on rotations or blow pick and roll assignments with regularity.
For whatever reason, Bass' acumen on defense when trying to understand and grasp concepts isn't there. People have always preached patience with Bass but this occurred when he was a member of the Dallas Mavericks, too. Playing time isn't going to magically fix the problem. Plus, Bass had ample time in practice and in the minutes he got in games this season to show improvement. But it never happened, despite Magic fans' obsession with wanting to see Bass play.
The situation is similar to J.J. Redick's conundrum in the past when he was struggling to earn playing time. At the end of the day, you have to be able to play defense for Van Gundy or else risk riding the pine. Bass certainly has the tools to be a good defender but his awareness is poor and that cost him minutes.
Closing thoughts
In retrospect, it's fair to wonder why general manager Otis Smith signed Brandon Bass. There's no question that Bass is a good player but he's the equivalent of being a round peg trying to be inserted into a square hole. Bass' strengths as a player are completely the opposite to what makes the Magic successful. For instance, even taking into account his efficiency on offense, Bass is the lone player on Orlando that bases his game around the mid-range jumper. Add to the fact that Bass was never able to learn the Magic's defensive schemes and there shouldn't be a surprise that he barely saw minutes this year.
Energy and intensity will only get you so far as a player. Those qualities mean nothing if you're always out of position defensively. Bass is seen as an intimidating figure and a banger, of sorts, yet he's the opposite. Perception is reality and it's easy to see why Bass is perceived as a player that can defend and rebound. Have you looked at Bass? Yet the numbers clearly show that he's a defensive liability and a poor rebounder. When comparing their total rebound percentages, for example, Matt Barnes was a superior rebounder to Bass this year.
It'll be interesting to see if Bass has a future with Orlando. It's a shame that a player of Bass' talent can't be utilized to the maximum with the Magic but it is what it is. Orlando may need to cut their losses and move Bass, if possible, to fill a greater need elsewhere. Again, that's not an indictment on Bass as a player. The Magic, in their present state, just isn't the team for Bass.
*points per possession
Grade: C