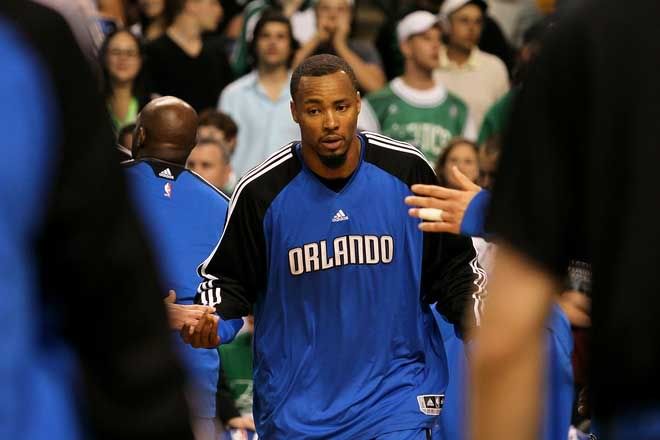 Photo by Jim Rogash/Getty Images
Synergy-fueled player evaluations, with the help of other metrics, are always fun.
Today, the power forwards.
| 2009-2010 regular season | Rashard Lewis |
| --- | --- |
| Games Played | 72 |
| Minutes Played | 32.9 |
| adj. +/- | -6.31 |
| net +/- | -0.8 |
| statistical +/- | +1.74 |
| PER | 14.0 |
| WARP | 2.5 |
| Win Shares/48 | .132 |
This needs to be stated right off the bat.
Rashard Lewis' demise, or whatever you want to call it, has been greatly exaggerated. Yes, Lewis had his plate full in the 2010 NBA Eastern Conference Finals … not only having to try to score on Kevin Garnett, easily one of the best defenders in NBA history, but also deal with flu-like symptoms that zapped him of his energy at the start of the series. People want to rant and rave about Lewis' struggles offensively but they completely ignore the fact that Lewis more than held his own defensively against Garnett. The same Garnett that had his way against Antawn Jamison in the Conference Semifinals. Jamison is widely known as a defensive sieve and sometimes so is Lewis but he shouldn't be labeled that, because he's not. Everyone also assumes that Lewis at the four ultimately fails because he gets exposed against other superior power forwards. That's not entirely true. For example, Lewis had his way offensively in the 2009 NBA Finals playing at the stretch four when he was being defended by Pau Gasol. However, it wasn't until Lamar Odom was matched up against Lewis that the tables turned. And the thing is, Odom is one of only a handful of players that can effectively defend Lewis. As for Gasol, he is arguably the most offensively skilled big man in the league. Lewis isn't the only player that can't stop Gasol. Matchups, not philosophies, are what allowed the Boston Celtics and the Los Angeles Lakers to prevail over the Orlando Magic in the last two postseasons when it comes down to it.
The Magic's issues aren't with Lewis. People look at Lewis' numbers this year and freak out, but they're looking at the wrong stats. If you compare Lewis' per 36 splits in 2009 and 2010, the only major differences are his shot attempts, which explains the decrease in scoring, and rebound totals. Those are some of the same reasons why Lewis' PER dipped. Other than those two things, Lewis produced exactly the same as he did last year. Lewis' statistics support this, given that his advanced shooting percentages and Offensive Rating were all basically the same last year and this year. Even the dip in his total rebound percentage and assist percentage shouldn't be seen as that big of a deal, in the sense that those particular numbers have been as low, if not lower, when Lewis was playing with the Seattle SuperSonics in his prime. To be frank, there's almost nothing that stands out from Lewis' statistics that should sound the alarm for Magic fans. Is Lewis a poor rebounder? Yes, but it makes no difference when Orlando can counteract this phenomena with the best rebounder in the league — Dwight Howard.
Lewis' dip production-wise can also be explained by the fact that he became, more or less, the fourth option on offense this season. In Lewis' first two years with the Magic, he was almost always the third option and wouldn't disappear as much in games because he was relied upon more. This year, with the arrival of Vince Carter as well as the infusion of more talent coming off the bench, Lewis was proned to vanish in games simply because he wasn't getting the ball as much as he used to. For instance, Lewis' usage rate this season was the lowest its been since 2001. Again, Lewis' "failures" are a product of his environment. Anyone who stated that Lewis regressed this year offensively has little to no evidence to support their argument. None.


Via Synergy Sports Technology:
| 2009-2010 regular season | | Time | Poss. | PPP* | Rank | Rating |
| --- | --- | --- | --- | --- | --- | --- |
| OVERALL OFFENSE | | 100% | 992 | 1.02 | 85% | Excellent |
| Spot-Up | | 42.9% | 426 | 1.22 | 96% | Excellent |
| Post-Up | | 12.4% | 123 | 0.94 | 74% | Very Good |
| Isolation | | 11.3% | 112 | 1.06 | 95% | Excellent |
| Transition | | 10.3% | 102 | 0.96 | 18% | Below Average |
| TS% | eFG% | TRB% | AST% | TOV% | USG% | ORtg |
| --- | --- | --- | --- | --- | --- | --- |
| .573 | .539 | 7.8 | 7.4 | 10.9 | 19.4 | 111 |
Offense
As he's almost always been, Lewis was a shooting machine this season. Say what you will about Lewis as a player, but he can flat-out shoot the ball for a man his size. That's why Lewis is the best stretch four in the NBA, because his ability to shoot such a high volume of threes at such an efficient rate is practically unrivaled.
But let's talk about Lewis' post-up ability.
Umm, Lewis needs to post up more. Does that mean that Lewis should move to small forward to expedite the process of moving him closer to the basket? Not necessarily. Head coach Stan Van Gundy just needs to make a concerted effort to utilize Lewis' skills on the low block. These are tools that are being neglected and if there's one thing that Orlando has failed to do with Lewis is that they're not making enough use of his ability to post up. Of course, there's a reason why this has been the case. Howard's presence in the lane has a lot to do with it. There's only so much room in the paint for two post players. However, if the Magic need to run 3-out/2-in offensive sets so that Lewis can do some damage on the low block, so be it. Because Lewis is such a threat with his back to the basket, even with the spacing being compromised a little bit, if defenders try to double-team him, he can simply dump it to Howard in the post or kick it out to the shooters on the perimeter. Lewis can really pass the ball out of the post, in case people didn't know.
The moral of the story is that everyone knows Lewis can shoot, but everyone seems to forget he can play big when he needs or wants to.


Via Synergy Sports Technology:
| 2009-2010 regular season | | Time | Poss. | PPP* | Rank | Rating |
| --- | --- | --- | --- | --- | --- | --- |
| OVERALL DEFENSE | | 100% | 898 | 0.88 | 54% | Good |
| Spot-Up | | 33% | 296 | 0.84 | 84% | Excellent |
| Isolation | | 18.3% | 164 | 0.98 | 22% | Below Average |
| Post-Up | | 16.9% | 152 | 0.93 | 39% | Average |
| P&R Ball Handler (Big Defender) | | 16.1% | 145 | 0.98 | 26% | Below Average |
| net def. +/- | dMULT | opp. PER | TRB% | STL% | BLK% |
| --- | --- | --- | --- | --- | --- |
| -0.51 | 1.068 | 17.0 (vs. PF's) | 7.8 | 1.7 | 0.9 |
Defense
This has been mentioned already, but one of the reasons why playing Lewis at power forward works is because he's become a solid defender. For many years, Lewis was a poor defender at small forward with the Sonics because of his lack of quickness hurting his ability to close out on shooters or chase players around screens. Yet with Lewis at power forward, his speed issue becomes irrelevant since he's usually dealing with slower-footed power forwards that can't beat Lewis off the dribble. Even though Lewis is slim for his size, he does have the strength and length to combat others at the power forward position. Once in a while, Lewis will face someone like Gasol and be bested but that happens. Lewis can be a net positive defensively at power forward. The same simply can't be said about Lewis at small forward, and there's years of data proving that last point.
Closing thoughts
The debate behind whether or not Lewis should play power forward or small forward has been the loudest its ever been in Orlando. People have picked both sides of the argument but unfortunately, no one will know what will happen with Lewis' position until next season rolls around.
Despite all the banter surrounding Lewis, he had a good year for the Magic. Lewis always does what is asked of him, and the same was the case this season. Lewis did eventually meet his match in the Conference Finals but other than that, he continued to succeed in his role as the premiere stretch four in the league.
*points per possession
Grade: B