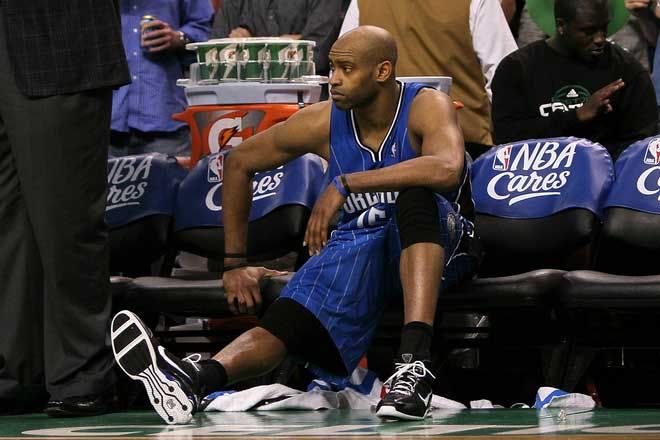 Photo by Jim Rogash/Getty Images
Welcome to the inaugural installment of Magic Basketball Mailbag.
_______
Will the Magic get rid of Vince? Can the Magic get rid of Vince?
'Will' and 'can' are two different words.
According to Hoopdata.com, Vince Carter is on the hook to be paid approximately $17.5 million next year, with a guaranteed salary of $4 million in 2011-2012 out of a contract that is $18.3 million. Carter is, more or less, an expiring contact but which team in the NBA would want him? Expiring contracts are always valuable commodities in the league but it's highly unlikely that general manager Otis Smith can trade Carter unless he's willing to part with players of value, like Marcin Gortat for example. That's a price Smith will have to pay to accommodate a move. If Smith is able to package Carter in a deal and find a trade partner, then yes, he will be traded but the odds of that happening are low.
Should the Orlando Magic get rid of Carter?
Yes. But if push came to shove and Vince Carter remained with the Orlando Magic in the off-season, it wouldn't necessarily be a bad thing. Despite his faults, Carter is still a good player and a starter in the NBA. Plus, Carter would have the benefit of playing with the core of Jameer Nelson, Rashard Lewis, and Dwight Howard for another year and adding to the chemistry and familiarity they each have with each other. More than anything else, Carter's chemistry with Howard in the 2/5 pick and roll may continue to blossom or it may not. Still, that type of familiarity can't be underestimated when it comes to players knowing their teammates' tendencies and what not. However, there are some red flags with Carter that are of concern.
Since 2007, Carter's field goal attempts at the rim and free-throw attempts have decreased year-by-year. Consequently, in that same timeframe, Carter has taken more shots from 10-15 feet as each season has gone by. It makes sense. As Carter gets older — he's 33 and will turn 34 in January — and his athleticism wanes, he's becoming more reliant on the jumpshot and that poses a problem. For whatever reason, Carter hasn't adjusted to this phenomena by becoming more savvy on the perimeter and drawing fouls on defenders like someone such as Paul Pierce. And it doesn't look like Carter will suddenly develop that particular ability any time soon. That is a problem, because Carter was brought in primarily to be a playmaker for the Magic.
From that perspective, Carter needs to be replaced sooner rather than later after he was unable to help Orlando return to the NBA Finals. Howard is slowly reaching the peak of his career and the time has come for general manager Otis Smith to pair the big fella with a second star in his prime to capitalize on the Magic's current championship window. No matter who it is, it needs to be someone that is relatively young so that he can become a part of Orlando's core for the next few seasons. Analyzing who that player should be is a topic for another day.
What can we expect from the Magic in the offseason? They made some bold moves last season that didn't quite pan out overall, particularly VC and Bass. VC had stretches of greatness during the season, but was far too inconsistent in the playoffs. Bass needs to be more involved. I understand he's not the perimeter shooter Lewis is, but he brings more toughness that would hopefully take some pressure off of Howard. They spent a lot of money to bring him, but for what?
With general manager Otis Smith, expect anything. Especially after last year.
That being said, one of Smith's top priorities will be to re-sign J.J. Redick. After Redick started and finished the season with a bang, there's no doubt that there will be many teams in the league that will be vying for his services. However, the Magic have a few things going for them … Redick is a restricted free agent, which means that Smith can opt to match any offer sheet. Also, Redick has stated many times that he'd like to remain with Orlando (the organization loves him, by the way) and would be more than happy maintaining his current role with the team rather than sign elsewhere and have a chance to start, particularly if he can't win as much with his new team as he could if he continued to play with the Magic. As long as Smith's hands aren't forced and the new contact is within reason financially, Redick should be back next year.
As for Matt Barnes and Jason Williams, both are unrestricted free agents and it's tough to tell whether or not they'll remain with Orlando. Though it should be noted that, according to John Denton of OrlandoMagic.com, the Magic want Williams back.
Finally, the issue with Brandon Bass is that he's not a good fit with Orlando. Toughness is irrelevant if you're unaware of schemes and plays, which was Bass' problem during the season. Many times, even during the Eastern Conference Finals, Bass would do some good things here and there but then undermine his ability to stay on the floor by blowing defensive coverages or running plays incorrectly on offense. There's no question that Bass' energy off the bench is a positive, but it makes no difference when he's usually caught out of position on defense and is unable to make a bigger impact for the Magic on offense since he's unable to spread the floor like Rashard Lewis and Ryan Anderson. Bass is a good player, but he's on the wrong team. The signing was a mistake, even if Smith won't admit it.
_______
Thanks for the questions!
If you have a question for the mailbag, you can reach me at eddy.rivera7 [at] gmail [dot] com