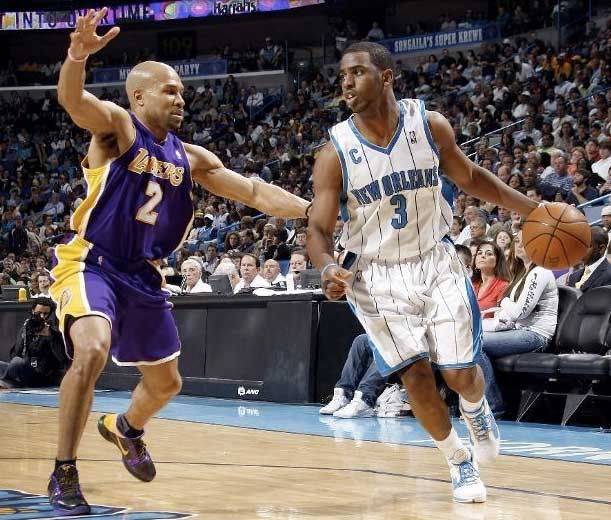 Photo by Layne Murdoch/NBAE via Getty Images
Via Ken Berger of CBSSports.com:
While those elite free agents prepare for an unmitigated frenzy set to begin at 12:01 a.m. Thursday, a certain gentle giant who's a couple years away from any such courtship is quietly beginning to formulate a plan that he'd like management to execute. And it turns out that Dwight Howard, the most physically gifted big man in basketball, wants to team up with the most physical gifted little guy in basketball: Chris Paul.

On the eve of the most anticipated free-agent signing period since 1996, when Howard was 10 years old, the Magic center has formulated a short list of players he'd like GM Otis Smith to pursue this summer. No. 1 on the list, according to a person with close ties to Orlando management, is Hornets point guard Chris Paul. […]

The Hornets have a point-guard-in-waiting, Darren Collison, who would mitigate the loss of Paul on the court, if not at the ticket office. Any team in the mix for Paul would have to agree to take back Emeka Okafor, scheduled to make $11.8 million next season and $53.2 million over the next for season. The last three seasons will come under a new collective bargaining agreement, in which owners are seeking to dramatically slash salaries. So the full magnitude of taking on such a contract is unknown at this point – but certainly not pleasant.

But one Western Conference executive called the scenario "plausible," if nothing else because the Magic have shown themselves to have "deep, deep pockets," the executive said.

To soften the blow from losing Paul, New Orleans would likely insist – and the Magic would agree – on the inclusion of Jameer Nelson in any such trade. Nelson was exposed as a liability in the Magic's conference finals loss to the Celtics, but could bridge the gap to Collison with a cap-friendly contract that pays him $8.1 million in each of the next three seasons. The Magic have internally explored including Vince Carter in various trades they're considering, sources say, but Carter's $17.5 million salary next season might require a third team to get involved or force the Magic to explore another deal for him.

Another player on Howard's short list, sources say, is Utah free agent Carlos Boozer, who would allow Howard to flourish as a defensive and rebounding force without having to handle the bulk of the scoring on the block, too. The capped-out Magic, of course, would have to acquire Boozer via a sign-and-trade arrangement. The Jazz might be enticed by Brandon Bass and free agent J.J. Redick, for starters.