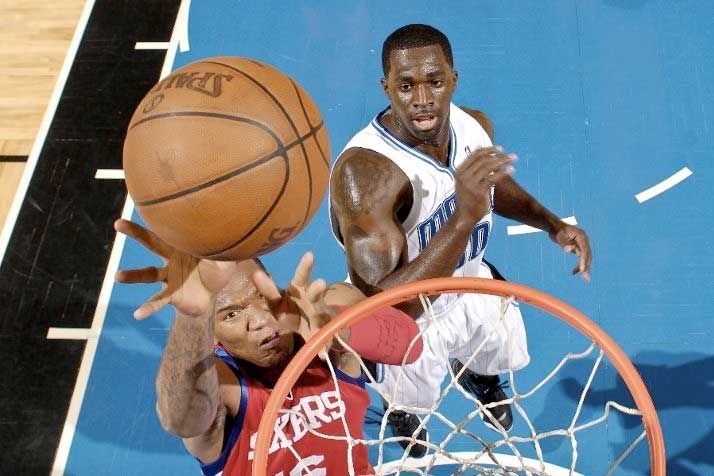 Photo by Fernando Medina/NBAE via Getty Images
Via George Diaz of the Orlando Sentinel:
What happens if the [Orlando] Magic trade Marcin Gortat, presumably to get an upgrade at power forward and move Rashard Lewis to small forward?

Who the heck is going to be the Magic backup center?

It's not going to be Daniel Orton. He was barely a presence at the University of Kentucky last season. He is looking at "redshirt" year in the NBA. Adonal Foyle is likely to retire.

I don't see anyone who fits the bill, with the possible exception of Brad Miller, who could command Orlando's mid-level exception. The Boston Celtics are reportedly targeting Miller to replace Rasheed Wallace.
The answer to that question might be Brandon Bass, believe it or not, the diminutive power forward that received little playing time this year yet ironically won over the hearts of Magic fans in the process.
Before arriving to the Orlando Magic as a free agent last season, Bass played back-up center for the Dallas Mavericks and the arrangement worked out okay. Or as well as you could expect it to work out at least, having an undersized power forward play at center. Part of the reason that Bass can get away with playing the center position is that he makes up for his lack of height with his athleticism and strength. Bass is just as strong as other centers but more importantly, he's quicker than them which can partially make up the fact that they have a size advantage over him.
But as was the case with the Mavericks, Bass gets in trouble defensively when trying to execute defensive schemes and rotations. This is not a new development by any means for Bass, who has struggled on defense the past several years. Plus, Bass is a below-average defensive rebounder — his defensive rebound percentage of 12.6 percent was less than the league average of 14.4 percent this year. If Bass were to play center and let's say, Rashard Lewis, was at power forward, the Magic would get pummeled on the boards. The only way Orlando could alleviate the problem, somewhat, would to have a strong rebounder like Matt Barnes at small forward, who could do his best to make up for the discrepancy. However, it's looking less likely that Barnes will return to the Magic, so that option may not be available.
There's no question that Bass would have his advantages on offense, given that his mid-range shooting is his greatest strength as a player and he also does well with offensive rebounds. Yet his weaknesses with defending, where he acts more on instinct than anything else, and rebounding the basketball undermine Bass' ability to play more than spot minutes at center.
If Marcin Gortat is traded, Diaz's question is a valid one.