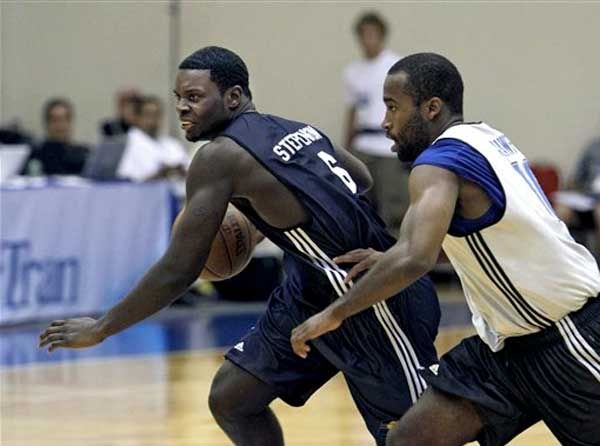 AP Photo/John Raoux
The Indiana Pacers were able to defeat the Orlando Magic by the score of 86-77 on the first day of the 2010 Orlando Pro Summer League. Lance Stephenson — the Pacers' second round pick — was spectacular, as he finished the game with 21 points on 8-of-10 shooting, four rebounds, and three assists. Indiana's lottery pick, Paul George, had a quiet day, with 12 points and four rebounds. The Magic were led by Jeff Adrien, who had 13 points and 10 rebounds in roughly 20 minutes of action. Patrick Ewing Jr. had 17 points for Orlando, but it took him 15 shots to get to that total.
The Pacers jumped out to an early lead in the first quarter and the Magic never seriously threatened in the game, despite being able to stay within striking distance throughout.
But let's talk about Daniel Orton, shall we?
Orton played roughly 13 minutes against Indiana, which is the ironically the amount of minutes he averaged at Kentucky. Unfortunately for Orton, his first game in a Magic uniform was a disaster — three points on 1-of-8 shooting, three rebounds, and four turnovers. Orton started off the day by air-balling a righty hook at the rim, and things snowballed from there. Nothing went right for Orton, as he committed several moving screens and got himself in foul trouble early in the first quarter. Luckily for Orton, you can't foul out in Summer League games. Another problem for Orton was that when he did have a chance to get points, he rushed himself and missed a number of easy hook shots and jumpers. There's no question that Orton has the tools to score, but he wasn't able to get the job done against marginal NBA talent like Josh McRoberts and company. Orton was able to make a few nice plays defensively and he was active in the paint on both ends of the floor, which is a good sign, but that was it.
Orton's bad outing got worse when he engaged in a scuffle with McRoberts after they got tangled up in the lane following a missed shot, and were ejected for engaging in extracurricular activities that consisted of pushing and shoving. Fortunately for Orton, there are four days left in the week so he'll have numerous chances to redeem himself on the court. A number of players have struggled in the past in this setting, yet were able to recover. This is, by no means, a death knell for Orton. It was a rough start, that's all.
Orlando's other draft pick, Stanley Robinson, didn't do much either, but he did have some positive sequences that are worth pointing out. In the second quarter, Robinson had a highlight-reel dunk off a missed lefty hook from Orton. And although his impact on the game was minimal, Robinson should be commended for playing within himself and not trying to force anything. Robinson made some good defensive plays here and there, like drawing a charge against George in the third quarter. Plus, Robinson finished the game with seven rebounds in 19 minutes of playing time. So even though his stat sheet wasn't sterling, Robinson was active when he played … especially around the basket.
The man that stole the show, though, was Stephenson. Indiana opted to start Stephenson at point guard and the decision paid off, as he played like a lottery pick on the court. Yes, Stephenson had the benefit of having a size and height advantage against the players that were guarding him, like 5'10" Jerome Randle and 6'3" Curtis Stinson, but it was still impressive seeing some of the things that he was able to do with the basketball in his hands. Stephenson was aggressive on offense, making jumpshots in half-court sets and layups in transition, but he played with the right balance and did an excellent job of getting his teammates involved whenever possible. Stephenson did it all, whether it was attacking the basket with authority, making step-back jumpers with ease, or displaying good court vision.
The two "wow" plays that Stephenson had came in the fourth quarter. On one possession, Stephenson laced a sharp one-handed pass off the dribble to Magnum Rolle for a reverse layup. On another possession, Stephenson was able to break down his defender, Stinson, with a crossover and weave-through in the lane for an uncontested one-handed dunk. Those are the example of NBA-caliber plays, and Stephenson was executing them effortlessly. Stephenson played with confidence, a pep to his step, and looked good playing point guard (his "natural" position is shooting guard).
For Stephenson and Orton, it was a tale of two games.