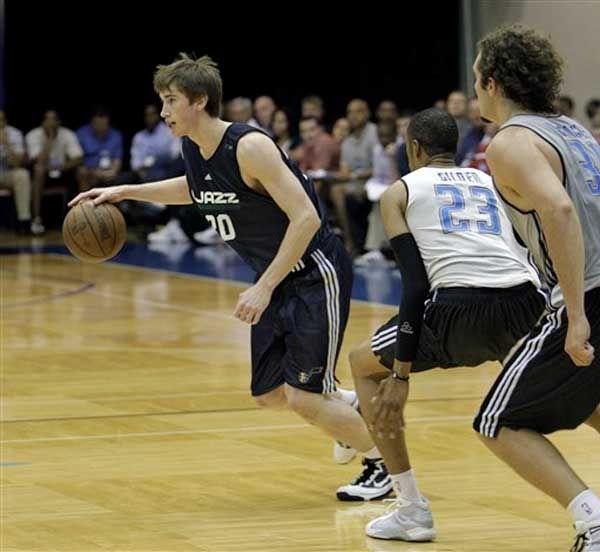 AP Photo/John Raoux
In a thrilling game that went down to the wire, the Utah Jazz were able to defeat the Orlando Magic by the score of 78-73 on the second day of the 2010 Orlando Pro Summer League. Gordon Hayward, the Jazz's lottery pick, led the way with an efficient 14 points on five shots and made a three-pointer with 30.2 seconds left in the game that sealed the deal. Kosta Koufos had an impressive outing for Utah, as well, with 13 points, 11 rebounds, and four blocks … thoroughly outplaying Daniel Orton when they were matched up head-to-head. Patrick Ewing Jr. got things going for the Magic, with a game-high 17 points on 7-of-12 shooting and two blocks. Paul Davis was an unsung hero for Orlando, with 13 points on six shots, five rebounds, and two blocks.
For a second straight day, Orton struggled. Orton did slow the game down for himself and he should be commended for that, given that he was playing 100 miles per hour against the Indiana Pacers. But it's clear, especially after Orton admitted as such, that his legs aren't there. As a result, Orton is not getting proper lift on his shot attempts. Excluding the rare moments that Orton was able to draw fouls and get to the free-throw line, his shots have been way off the first two days. Orton has been either missing badly on his hook shots and jumpers, or he's been air-balling them altogether. Most of the time, Orton has been operating on either the left or right block and he's been able to get himself in positions to score.
However, once Orton begins to engage in any type of offensive move, everything goes downhill from there. There were a pair of sequences in the third quarter that perfectly exemplified Orton's struggles on offense. On one possession, Orton posted up on the left block and attempted a right hook shot but he air-balled it. On other possession, Orton faced up on the right block and put up a jumper but he air-balled it, too. It's clear that a lack of explosiveness due to fatigue is affecting Orton, because the form on his hook shots and jumpers aren't bad. The issue, and this is becoming more apparent as time goes on, is that Orton isn't getting his feet under him and that's mainly why he's shooting 1-of-14 from the field in Summer League.
Before Orton was selected, people preached patience with him. It's time to be patient.
As for Hayward, he was impressive. Watching him play makes it clear that he's going to be a perfect role player for the Jazz. Hayward plays within the system and doesn't stray too far away from what he's supposed to do on the floor.
It should be mentioned that Hayward had his moments defensively, as he was able to block Ewing Jr. on a layup attempt in the first quarter. Plus, Hayward didn't seem to have too much trouble dealing with the athletic Stanley Robinson. There was one sequence in the second quarter from Hayward that stood out, even though it was a foul. Robinson had the basketball in the right corner and decided to drive baseline, but Hayward was able to anticipate and beat him to the spot. The referee called a blocking charge on Hayward, but that's an example where even though he's not as athletic as some other guys, he makes up for it with a high basketball IQ.
And the game-clinching play by Hayward is something that Utah will see plenty of times in the future. The Jazz ran a 1/4 pick and roll with Sundiata Gaines and James Augustine and Hayward set up in the corner. As the Magic's defense reacted to the pick and roll, Hayward slid to the right elbow on the three-point line, caught the ball, and cooly sank the three to put the Jazz up four to essentially clinch the win for them.
It's becoming increasingly clear that Hayward is a keeper.