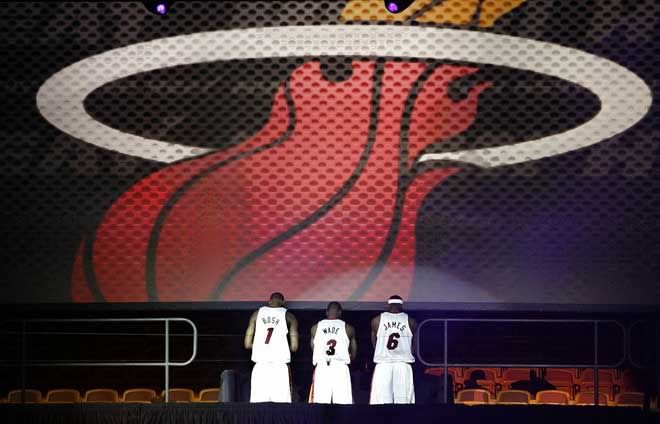 Photo by Marc Serota/Getty Images
Welcome to Miami Thrice.
There are a number of nicknames that are being used to illustrate the union of LeBron James, Dwyane Wade, and Chris Bosh. Some complimentary, some not. Yet there are a number of adjectives that can also describe the newly-formed trio. 'Unpredecented' is, perhaps, the most appropriate one to label an alliance that has shaken the foundation of the NBA at its core. Never before has the best player in the league during his time, whether it's James right now or Michael Jordan back then (this group is close), united with talents like Wade and Bosh in the prime of their careers. It's unheard of. Yes, there have been "Big Threes" that have been talented to varying degrees, but this triumvirate is in rarified air. And the epicenter of the earthquake that occurred yesterday was located in Miami and the tremors are emitting to Orlando.
| | adj. +/- | net +/- | stat. +/- | PER | WARP | Win Shares/48 |
| --- | --- | --- | --- | --- | --- | --- |
| Chris Bosh | +6.97 | +6.0 | +3.84 | 25.0 | 14.0 | .182 |
| LeBron James | +18.52 | +15.8 | +14.13 | 31.1 | 25.3 | .299 |
| Dwyane Wade | +16.09 | +14.1 | +10.77 | 28.0 | 20.0 | .224 |
| Dwight Howard | +24.97 | +10.2 | +7.21 | 24.0 | 19.2 | .223 |
Numbers for the 2009-2010 regular season.

In one felt swoop, the Miami Heat have transformed themselves from being a playoff team to a title contender — regardless of the seven players that will be needed to fill out the roster (Mike Miller appears to be accounted for, alongside Mario Chalmers). Likewise, after three years of reigning at the top of the Southeast Division with no legitimate challengers to dethrone them, the Orlando Magic have to deal with the Heat. The irony is that Miami was in the same boat from 2005 to 2007, but didn't have a challenge until the last year when the Washington Wizards finished three games behind them in the division. Just like the Magic this year with the Atlanta Hawks.
It's been said elsewhere but even though the rivalry between Orlando and Miami exists, given that they're in the same state, same division, and all that, the rivalry hasn't seen many fireworks over the years. The playoff duel in 1997 is one to remember, and when Shaquille O'Neal joined the Heat in 2005, that stoked the fires of the rivalry a little bit. Sure, there's some animosity between both franchises when head coach Stan Van Gundy chose to coach the Magic in 2007 and president Pat Riley demanded, and received, compensation to allow the transaction to go through, which strained the relationships of the two teams. Can't forget the storyline getting set up in the first place after Riley "replaced" Van Gundy in 2006, ultimately leading Miami to their first and only championship. Of course, there's the humorous history of players having played for both franchises at some point in their careers. A list that includes Ike Austin, Rony Seikaly, and others. The point is, there's always been skirmishes between Orlando and Miami. That's it.
Now?
The Magic and the Heat are elite teams. Together. Never before have Orlando and Miami competed for championships at the same time … until now. Rest assured, it's going to be a bloodbath. A slugfest. A war. Aside from the rivalry between the Boston Celtics and the Los Angeles Lakers, the Magic and the Heat have the makings of being one of the most intense rivalries not only in the NBA but in sports in general. All of the elements are there and in a way, Magic fans should enjoy watching the drama unfold. 'Beat the Heat' becomes a relevant chant again, for instance. Miami has always been Orlando's natural rival but it truly means something now. These are two teams vying for a title and three of the top five players in the league are going to be the actors in a script that everyone is dying to read.
So what does the Heat acquiring James, Wade, and Bosh mean to the Magic?
A three-headed monster has awaken
Orlando, and the rest of the NBA, is going to be dealing with a trio that has the potential to be the most devastating in league history. Sure, James, Wade, and Bosh become another "Big Three" in the company of other trios but statistically, we're talking about the best player in the NBA joining forces with a top five player and a top 15 player, respectively. In Wade's case, he could easily be considered the second-best instead of Dwight Howard but it's a fluid comparison. In any case, the most recent example of these types of players forming like Voltron was in 2008 when the Celtics acquired Ray Allen and Kevin Garnett to team up with Paul Pierce. Strictly from a production and skill standpoint, however, James, Wade, and Bosh are superior cumulatively. The disparity in the comparison is staggering, actually.
The only consolation that can be taken away from Boston's perspective is that Garnett, at the time, was the best defensive player in the league. However, James and Wade are no slouches defensively. Bosh is the weakest of the three and has never been known as a good defender, but James and Wade are All-Defensive First Team players and deservingly so. In today's NBA, perimeter defense is key and the Heat will have no issues there. That's for sure. It's true that Miami still has to figure out who's going to fill the center position for them. Though aside from Yao Ming, Pau Gasol, Howard, and a few other bigs, there's not many elite big men that the Heat will have to deal with. In the playoffs, it might be an issue.
Many people have tried to bring up the point, and it's a valid one, that the Heat don't have anyone that can guard Howard. Truthfully speaking, the only teams that have players that can defend Howard are the Celtics (Kendrick Perkins), Lakers (Andrew Bynum and Gasol), and Rockets (Yao). Unfortunately for those teams, their effectiveness defensively against Howard is lessening little by little. Miami isn't the only team in the league with personnel issues versus Howard.
However, the Magic don't have anyone that can guard James, Wade, or even Bosh for that matter. Remember, James almost single-handedly defeated Orlando in the 2009 Eastern Conference Finals. A bad matchup head-to-head, the incompetence of head coach Mike Brown, and an inferior supporting cast undermined James' brilliance. Now James has the benefit of playing with two infamous Magic-killers, Wade and Bosh. There are those that are skeptical that the arrangement will work, but it will. James, Wade, and Bosh are unselfish players.
| Career vs. ORL | MP | PPG | RPG | APG | BPG | FG% |
| --- | --- | --- | --- | --- | --- | --- |
| Chris Bosh (26 games) | 37.8 | 23.4 | 9.8 | 2.4 | 0.9 | .500 |
| LeBron James (30 games) | 42.3 | 29.2 | 7.3 | 6.7 | 0.9 | .469 |
| Dwyane Wade (21 games) | 38.6 | 29.9 | 5.4 | 6.4 | 1.2 | .522 |
It would be the assumption that Howard would be able to stop, or at the very least, slow down Bosh but historically, that hasn't been the case at all. Bosh has feasted on the Magic for years, whether it's been against Howard or Rashard Lewis. The scary part is that James and Wade now have their 'Pau Gasol' in Bosh. The similarities are striking statistically.
To be frank, there are a congruence of factors that have Orlando in a bind.
If Howard is in foul trouble, which there's a good chance of happening due to the uber-aggressive natures of James and Wade, then the Magic are toast. Howard is the best defender in the NBA, yet there was nothing he could do as he watched Pierce torch Orlando on the perimeter in the 2010 Eastern Conference Finals. Plus, Howard wasn't even dealing with an offensive threat. Lewis was able to contain Garnett and Perkins isn't known for his prowess on offense. If Pierce can have his way when Howard is zoning his area in the paint, then what's going to happen when he's going to have to cover Bosh while simultaneously trying to provide help-side defense against James and Wade? The Magic could do nothing to stop Pierce. Now Orlando has to deal with James and Wade, two scorers that are superior to Pierce. It's an absurd scenario to think about, actually.
This is what the matchups look like for the Magic on defense right now. Vince Carter on Wade, Mickael Pietrus on James, and Lewis or Howard on Bosh. Wade will feast on Carter and in the process, can potentially kill two birds with one stone by presumably getting him in foul trouble and knocking him out of the game. Assuming J.J. Redick returns, he would then have the responsibility of defending Wade. Redick isn't a liability on defense, but Wade would have a field day at this point. Pietrus is Orlando's best perimeter defender and was lauded for his efforts against James in the Eastern Conference Finals, but James still went off for 39 points, eight rebounds, and eight assists per game in the series two years ago. Even if Matt Barnes came back, he wouldn't make much of a difference defensively either.
In the Magic's current form, unless they acquire an athletic defender or two, they have almost no shot at defending James, Wade, and Bosh simultaneously with effectiveness. It's almost impossible. The Los Angeles Lakers would be interesting, in this case, because Ron Artest and Kobe Bryant would be able to defend James and Wade. Plus, the Lakers do have the length to bother Bosh. Unfortunately for Orlando, they do not have that type of defensive personnel. Regardless of the role players for the Heat, they are going to be a nightmare matchup for the Magic. Especially if Miami continues to add three-point shooters like Miller to flank the perimeter.
Finding chinks in the armor
With all that said, it's interesting to see what holes Orlando can exploit on offense. As has been mentioned before, James and Wade are two of the best defenders in the league. Versatile, too, as James and Wade are more than capable of defending more than one position if need be.
As such, there are three players that become extremely important for the Magic against the Heat. Jameer Nelson, Lewis, and Howard.
At this point, Mario Chalmers is the only point guard on the roster for Miami and even though he's a good defender, that is a matchup that Nelson will have to exploit. Nelson proved his offensive capabilities in the playoffs against the best defensive point guard in the NBA, Rajon Rondo, so there's no excuses. Rondo sets the bar on defense and Chalmers is several rungs below it. This is a matchup that Nelson needs to be dominant, whether it's against Chalmers or whoever else starts at the point, for the Magic to begin evening up the score against the Heat. The 1/5 pick and roll with Nelson and Howard will need to be relied upon consistently. Indeed, Orlando also likes to execute the 1/2 pick and roll with Nelson and Carter but against Miami, that play wouldn't work. It might succeed a few times but the Heat could easily foil it by either putting Wade on Nelson to anticipate the switch with Carter, or simply put James and Wade on Nelson and Carter. The Cavaliers did a similar thing, actually, in the regular season when they put James on Nelson to combat the play. Problem solved on Miami's end.
Lewis has gotten a lot of flack for his performance against Garnett and the Celtics. Some of it is undeserved, to be honest, but that's then and not now. It's been already stated that Bosh isn't a good defender and although he's capable of defending on the perimeter, this is where Lewis' abilities to thrive at the stretch four could pay dividends as it has in the past. This is a matchup that the Magic can exploit. Even if someone like James switched onto Lewis, which Cleveland did in the Eastern Conference Finals, that would leave Bosh exposed to Howard if he was in the game. If head coach Erik Spoelstra got creative, he could sit Bosh and have the Heat's center guard Howard while James is on Lewis. Howard would still probably have his way on offense, which might invite double-teams, but James would be able to limit Lewis' effectiveness and Miami wouldn't be exposed elsewhere with Wade's presence on the perimeter. That might be a case where the Heat would allow Howard to get his, if push came to shove, and concentrate on shutting down everyone else. For Orlando, there definitely would be a lot of chess matches involved.
As for Howard, his offense has been talked about a lot since the off-season began for the Magic. In Miami's current state (this applies against other teams), this is where Howard's development offensively is the key to whether or not Orlando has a chance to win a championship. This matchup is intriguing because even though the Heat would have numerous offensive advantages, perhaps too many to overcome, the Magic have the ability to counter with Howard on the low block. The underlying theme for Howard, more than anything else, is that he'll need to be dominant against Miami or whoever else. Howard needs to be unstoppable for the Magic to begin putting a dent in the matchup advantages the Heat have at their disposal. That's the next step in Howard's career and for him, it's a necessary step if Orlando wants to conjure up the possibilities of combatting Miami.
A rival has tipped the scales
The question that many Magic fans are asking is whether or not Orlando is good enough to beat Miami. The answer is no. However, if there's a year where the Magic can take advantage while the Death Star is still in development, this is it. Depending on how much James, Wade, and Bosh leave on the table, the supporting cast that will surround them will be Chalmers, Miller, and whoever else. No matter what, Orlando will have the advantage this season when it comes to the supporting cast. However, as great as James, Wade, and Bosh are, the battle of the role players might be irrelevant in the grand scheme of things. After this year, depending on how the new collective bargaining agreement shakes out for the NBA, the Heat will probably have exceptions (the mid-level, for example) available to them to continue to improve the roster as they see fit.
Do the Magic have to respond to these moves? Yes, more or less.
General manager Otis Smith talks a lot about how he doesn't react to what other teams do and that he's always looking to improve the roster as he sees fit. This was true last season, when the East engaged in an arms race and there was a wide assumption that he acquired Carter in response to Cleveland's acquisition of O'Neal. Not exactly. Orlando traded for Carter to improve as a team. The Cavaliers traded for O'Neal to try to beat the Magic and everyone saw that the plan didn't work thanks in large part because of the Celtics. It's important for Orlando to not get caught up in the hype and try to get the perfect player to match up with Miami.
However, the Magic will have no choice but to try to improve the roster. Given what's occurred with the Heat, maybe Smith will have a greater sense of urgency to do just that. To be honest, though, there's only one player that Orlando should consider trying to trade for, aside from acquiring from athletic perimeter defenders. It's admittedly a long-shot and doubtful of happening, but Chris Paul would give the Magic a chance to level the playing field a bit. Of all the top players in the league, that's the only one that make sense for Orlando. At his best, Paul is a top five player and when paired with Howard, that's the type of talent that can give the Magic a chance at winning a championship. Orlando still has a chance to win a title now, but the odds would be undoubtedly greater with Paul on board. As long as the Magic don't get worse in the process of acquiring Paul, of course. It's not all gloom and doom, though.
As currently constructed, Orlando's best chance to beat Miami is this year. After that, all bets are off. Even then, the Magic may not be good enough to beat the Heat this season. It'll be difficult, but not impossible. Supporting casts are important, sure, but its the stars that win or lose titles.
The Heat have three of them.