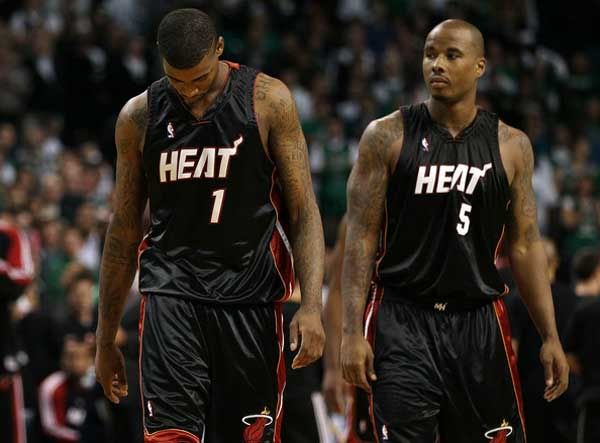 Photo by Elsa/Getty Images
Synergy-fueled player evaluations, with the help of other metrics, are always fun.
Today, Quentin Richardson.
| 2009-2010 regular season | Quentin Richardson |
| --- | --- |
| Games Played | 76 |
| Minutes Played | 27.4 |
| adj. +/- | +3.30 |
| net +/- | +6.0 |
| statistical +/- | +1.82 |
| PER | 12.9 |
| WARP | 1.4 |
| Win Shares/48 | .133 |
After exploring his options for a few weeks, general manager Otis Smith effectively shut the door on the short-lived Matt Barnes era by signing Quentin Richardson to a multi-year contract. Barnes' departure may bum out some Magic fans that appreciated the toughness and consistent energy he provided on a nightly basis, but players like him are a dime a dozen in the NBA and Smith was able to replace him with relative ease. Rather than give Barnes a raise, Smith chose an alternative option and went with Richardson in free agency.
Considering the type of player that Richardson is, there's no question that Smith knocked it out of the park with this signing. Richardson is someone that the Magic need and his arrival bodes well moving forward. There's a lot to like about Richardson, whether it's his physical defensive nature or his ability to shoot threes with his eyes closed. Although his defense isn't renowned, Richardson is another "three-and-D" player that Orlando values and needs, given that the Heat have upped the ante by pairing Dwyane Wade with LeBron James on the perimeter. Richardson won't stop them, by any means, but he can be a stronger defender on the wings for what it's worth. Aside from Mickael Pietrus this year, the Magic didn't have much of that defensively this season.
Some might praise Barnes' toughness and it was an asset, at times. But Barnes' slim frame got him in trouble against the likes of Paul Pierce and other physical scorers that could cause problems with their strength. Again, Richardson is not a world-class defender but he's 6'6" and has a muscular physique. In head coach Stan Van Gundy's defensive schemes, Richardson should be able to help slow down opposing scorers for Orlando.
Ultimately, there's no question that the Magic have upgraded on offense. Richardson is a perfect fit offensively with Orlando, and a superior shooter than Barnes (his lack of three-point shooting ultimately caused problems in the 2010 Eastern Conference Finals against the Boston Celtics). Going off from their stats this season, the Magic replaced their worst three-point marksman with a third 40 percent shooter in Richardson. That's an upgrade, ladies and gentlemen.


Via Synergy Sports Technology:
| 2009-2010 regular season | | Time | Poss. | PPP* | Rank | Rating |
| --- | --- | --- | --- | --- | --- | --- |
| OVERALL OFFENSE | | 100% | 649 | 1.05 | 89% | Excellent |
| Spot-Up | | 55.6% | 361 | 1.15 | 89% | Excellent |
| Transition | | 11.1% | 72 | 0.96 | 18% | Below Average |
| Post-Up | | 8.5% | 55 | 1.00 | 86% | Excellent |
| Isolation | | 5.9% | 38 | 0.50 | 4% | Poor |
| TS% | eFG% | TRB% | AST% | TOV% | USG% | ORtg |
| --- | --- | --- | --- | --- | --- | --- |
| .572 | .558 | 10.6 | 7.0 | 9.5 | 14.8 | 114 |
Offense
Richardson is efficient for two reasons: he shoots threes and takes care of the ball.
And with a team that demands three-point shooting from their perimeter players, Richardson is going to feel at home. In fact, Richardson immediately steps in and becomes one of the Magic's best shooters on the roster. Richardson may not achieve a career-high with his three-point percentage next year. Yet given that he's going to be on the most talented team offensively since his one-year stint with the Phoenix Suns in 2005, Richardson should have a field day since he'll be able to camp out on the perimeter and catch drive-and-kick passes from Jameer Nelson or kick-outs from Dwight Howard. In Orlando's 4-out/1-in offensive system, so much of the offense is reliant on a shooter's ability to make shots. Barnes' issue was that he couldn't do it consistently. Richardson won't have the same problem, as long as he stays healthy and keeps his weight down.
Because of his size, Richardson also has the underrated ability to post up on smaller guards when necessary. it's doubtful that the Magic will utilize Richardson a lot on the low block. However, the possibility is there for Orlando to run 1/2 or 1/3 pick and rolls with Richardson, depending on his position, and allow him to play with his back to the basket. The Magic did the same thing with Vince Carter as the season wore on — installing side pick and rolls to make use of his post-up ability — and it would be judicious for Van Gundy to execute a similar strategy with Richardson. It doesn't need to happen all the time, but it'd be foolish not to use that advantage if need be. There's so much to like about Richardson, simply for the fact that he's going to be a good fit with Orlando. Richardson likes to shoot threes, and the Magic like to have three-point shooters.
It makes no difference if Richardson is guarded or unguarded in catch-and-shoot situations, by the way, because he can fill it up regardless.
It's clear that this is a perfect marriage of team and player.


Via Synergy Sports Technology:
| 2009-2010 regular season | | Time | Poss. | PPP* | Rank | Rating |
| --- | --- | --- | --- | --- | --- | --- |
| OVERALL DEFENSE | | 100% | 705 | 0.94 | 27% | Below Average |
| Spot-Up | | 34.8% | 245 | 1.16 | 10% | Poor |
| Isolation | | 27.1% | 191 | 0.84 | 53% | Good |
| P&R Ball Handler | | 14% | 99 | 0.82 | 49% | Average |
| Off Screen | | 8.2% | 58 | 0.81 | 65% | Very Good |
| net def. +/- | dMULT | opp. PER | TRB% | STL% | BLK% |
| --- | --- | --- | --- | --- | --- |
| +0.66 | 1.000 | 15.8 (vs. SF's) | 10.6 | 1.8 | 0.7 |
Defense
As has been mentioned before, Richardson isn't that good of a defender but with Howard as the anchor defensively, he should be okay.
The main issues for Richardson is that he has specific weaknesses, depending on the position that he plays. Against shooting guards, Richardson has trouble sometimes staying in front of quicker players, given that he's a bigger guard and doesn't have the lateral quickness to stay in front of them consistently. Against small forwards, Richardson has trouble closing out on shooters because of his height. Given that Richardson spent most of his time at small forward this season playing alongside Dwyane Wade, it begins to make sense that Richardson struggled to defend in spot-up shooting situations. At small forward, Richardson is undersized for his position and players can shoot over him. Richardson can't use his strength as much, either. In almost all other defensive situations, Richardson is adequate.
Theoretically speaking, to maximize Richardson's strengths on defense, it'd be more apt to start and/or play him a majority of the time at shooting guard. Orlando is better off dealing with Richardson's issue of not keeping players in front of him, because they have the ultimate help defender in Howard to deter anyone from coming into the paint. The Magic, however, can't afford for shooters to have a field day on the perimeter because Richardson isn't able to close out on them. It's a major reason why Pierce was able to devastate Orlando in the Eastern Conference Finals, despite Howard's presence in the lane. The Magic's plan to have Richardson and Pietrus compete for the small forward position is fine but from a defensive aspect, it would behoove Van Gundy if he didn't let Richardson play some shooting guard from time to time.
Closing thoughts
Given that Richardson is coming in with a chance to start at small forward, it needs to be stated that his arrival to Orlando has no bearing on J.J. Redick's future. Because Richardson and Pietrus will be competing for the small forward position, that still leaves a vacant spot at back-up shooting guard and Redick — unless Smith has a change of heart — is likely to fill that role for the Magic next year. It's a bit puzzling that the mainstream media continues to suggest that Richardson's arrival may spell the end of Redick's career in Orlando. It doesn't. It spells the end of Barnes' career and that's it. For now, at least.
In any case, Richardson is going to be an excellent fit with the Magic. With Richardson, Orlando's worst three-point shooter is Carter and he shot 36.7 percent this season. In fact, now that Richardson is on board, the Magic possess five three-point shooters that have shot 40 percent or better in a season. For those that are curious, they are Carter, Rashard Lewis, Nelson, Redick (assuming he returns), and Richardson. That's an impressive lineup of shooters, which makes the Richardson signing a great one for what he is able to bring to the table. At this point in his career, Richardson is best served in a low-usage, high efficiency role like he was with the Miami Heat.
With Orlando, there's no doubt that Richardson will have an opportunity to continue in that role and thrive for the foreseeable future. The Magic are tailor-made for a player with Richardson's talents.
The key is for Richardson to stay in shape.
*points per possession