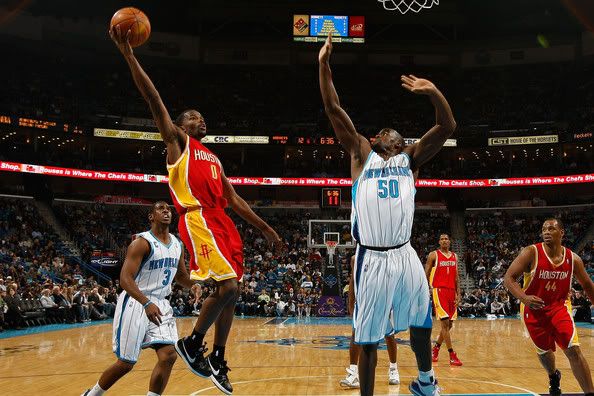 Photo by Chris Graythen/Getty Images
Since trade scenarios involving Chris Paul have reached a fever pitch recently, Ryan Schwan of Hornets247 felt it would be a fun exercise to open up the virtual bidding for the New Orleans Hornets' all-world point guard and see which TrueHoop Network writer could come up with the winning bid. Yesterday, I revealed my Godfather offer — as Ben liked to put it — to Schwan for Paul and if this was real life, Magic fans would be very happy right now.
Among my peers, my trade proposal turned out to be the best.
However, I do have to splash a dose of reality to everyone. Even though I tried to make my offer as realistic as possible, I wanted to make it clear that general manager Otis Smith probably wouldn't make the deal I made.
First, there's little chance that Emeka Okafor would make his way to the Orlando Magic. Okafor's four year, $53 million contract would be too much of a financial burden for the Magic to deal with in the long-term, even though their payroll wouldn't change much if Paul was acquired in a deal right now. Yes, Orlando has shown a willingness to spend but they have their limits, and carrying the contracts of Rashard Lewis, Dwight Howard, Paul, and Okafor would much too much to bear since they'll each continue to escalate in value in future seasons. Likewise, who knows what will happen with the collective bargaining agreement. Also, some people have suggested that Okafor and Howard can start together but they can't.
And it's the same reason why Marcin Gortat and Howard are unable to play in the same frontcourt, other than in spurts. Yeah, the Magic would benefit from the arrangement defensively and rebounding-wise but the spacing on offense would suffer. Like Gortat, Okafor has no range outside the paint and is not a credible threat offensively, which means that opponents would have an easier time either sending double-teams to Howard in the lane or rotating quickly to the shooters on the perimeter. Plus, Howard wouldn't have as much space to operate on the low block. If Okafor had a reliable mid-range jumper, then I could see the possibility of him starting at power forward. But Okafor doesn't have a jumpshot, and that's where the discussion ends.
Second, Posey has a 10 percent trade kicker. According to Hoopdata.com (data via ShamSports), Posey is expected to earn $6,478,600 million with the New Orleans Hornets. However, if Posey was traded, his salary would jump up to $7,126,460 in 2011 and $7,617,940 in 2012. To put that number in perspective, Jameer Nelson's contract remains static at $7.6 million until 2013 when he has a player option. That being said, Posey's pill is easier to swallow to compared to Okafor's salary but it's worth pointing out the type of money he would net if he were traded. Smith could manage with acquiring Posey alongside Paul, but not Okafor.
That's why a third team would have to get involved to help the Hornets unload Okafor somewhere and maybe Nelson, too, for that matter (the Darren Collison factor). The point of this exercise is to show how difficult it'll be for Orlando to pull off a trade for Paul.
It's not impossible, but Smith would need to be creative.