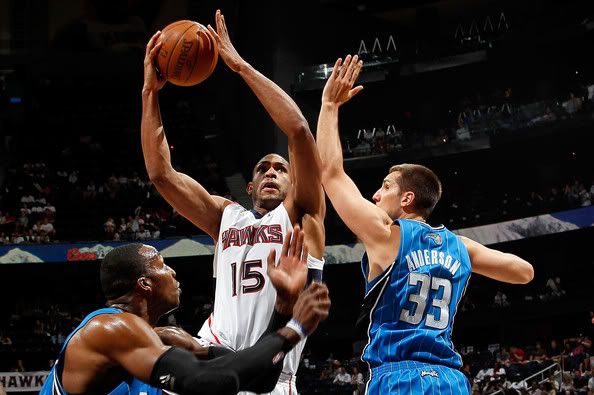 Photo by Kevin C. Cox/Getty Images
Via Dan Savage of OrlandoMagic.com:
This offseason has been all about blood, sweat and tears for Ryan Anderson.

Literally.

The [Orlando] Magic forward, who's about to enter into his third NBA season, recently emerged from the RDV Sportsplex training room with blood dripping down his brow. He'd been intensely working out all day and finally fatigue caught up with him. During an early afternoon lifting session, he banged a weight off the top of his nose, splitting the lower part of his brow.

While that incident might force some players to call it quits, Anderson paid it no mind and ventured off to his third workout session of the day, boxing at a local gym.

After all, It's now become habitual this offseason for Anderson to take part in a vigorous three-a-day training routine that features lifting, shooting and various cardio/core workouts. […]

The 22 year old has a lot he wants to accomplish before the start of Orlando's 2010-11 campaign, including physically developing his body to help him battle with some of the stronger players at his position.
Three-a-days! Whew.
There's no question that Ryan Anderson is doing everything he possibly can to make his summer a productive one from a basketball standpoint. And it's great to see that Anderson is trying to get stronger with the help of strength and conditioning coach Joe Rogowski — a name Magic fans should become more familiar with. In a recent edition of Magic Basketball Mailbag, a reader asked me what Anderson should work on in the off-season. My answer? Anderson needs to get stronger, more so to aid in his efforts defensively, and that's what he's doing. Smart.
People should be excited to see the end result of Anderson's hard work, especially with Rogowski pushing his body to the limits every day. One of Rogowski's claim to fame was his ability to chisel out a muscular physique for J.J. Redick, who now has the proper frame to handle the rigors of playing in the NBA.
The potential is there for Anderson to be stronger than ever, too.
If Anderson can put that new-found muscle to good use against opposing power forwards and battle them effectively one-on-one, where he tends to struggle the most defensively (his team defense is fine), then he's going to see plenty of time on the floor given his tremendous ability to score in a variety of ways on offense.