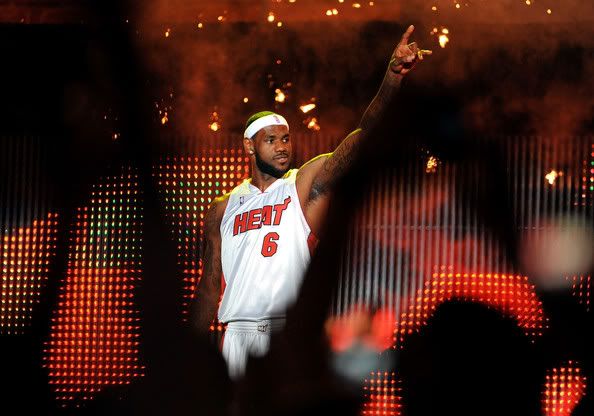 Photo by Doug Benc/Getty Images
Via Josh Robbins of the Orlando Sentinel:
The [Orlando] Magic will open their season — and play their first regular-season game at Amway Center — on Oct. 28, when they host the Washington Wizards at 8 p.m.

One night later in Miami, Orlando will play its first regular-season game against LeBron James, Dwyane Wade, Chris Bosh and the new-look Miami Heat.

The Magic will face the Heat three additional times: in Orlando on Nov. 24, in Orlando on Feb. 3 and in Miami on March 3. All four of Orlando's games against Miami will be televised nationally.
October 29, November 24, February 3, and March 3.
Circle those dates because that's when the Orlando Magic will face off against the Miami Heat in the regular season. Yes, there are 78 other games on the schedule that mean something — some more than others — but there's no question that when the Magic and the Heat go toe-to-toe with each other, it's going to be an event.
Many people are hoping that the matchups will live up to the hype.
Everyone keeps mentioning that Dwight Howard should have a field day going up against the likes of Joel Anthony, Zydrunas Ilgauskas, Juwan Howard, Jamaal Magloire, and whoever else that wants to volunteer. Yes, that's true. And Orlando's 4-out/1-in offensive system (at first glance) appears to matchup relatively well against Miami, given that Rashard Lewis has historically had good success against Chris Bosh at the power forward position, given his ability to spread the floor. Can't forget about Jameer Nelson in the 1/5 pick and roll with Howard, either.
But who on the Magic is going to stop LeBron James, Dwyane Wade, and Bosh?
That question has been addressed in the past, but it's going to be left somewhat unanswered until the games start to count. The wait couldn't be any longer, it seems like.