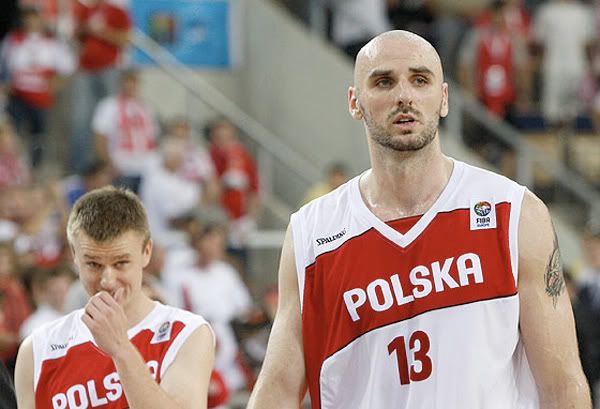 FIBA Europe / Castoria / Kulbis
Via Josh Cohen of OrlandoMagic.com:
Marcin Gortat may not care that he was, by and large, one of the best, most dominant players during EuroBasket qualifying action in August. The Polish Machine averaged 18 points, nearly nine rebounds and more than two blocks per game for his country.

But, Gortat understands that his individual achievements are very immaterial after learning Poland did not qualify for EuroBasket 2011.

Poland suffered a devastating 70-67 defeat to Belgium on Sunday – allowing Georgia to eclipse the Poles in the standings and earn an automatic bid to next year's competition. Poland finished Group C in fourth place. […]

In addition to Belgium and Georgia, Montenegro, Great Britain and Israel also advanced to EuroBasket 2011. The remaining 10 teams that did not qualify will have one more opportunity to advance during another qualifying round next August. One team from that bunch will earn a bid to Lithuania.
For Marcin Gortat and his fellow countrymen, that's a shame.
Nevertheless, be on the lookout for another highlight video of Gortat in the EuroBasket qualifiers at some point tomorrow. It'll be an overview of Gortat's performance against Bulgaria on August 23, in which he finished the game with 23 points, nine rebounds, and three blocks.
In cased you missed it, I posted highlights of Gortat's match against Georgia last week. If anything else, it's a rare opportunity to see Gortat being the best player on the floor.