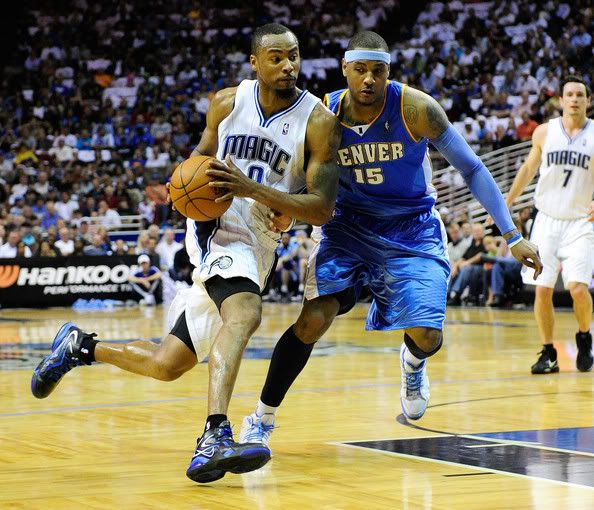 Photo by Sam Greenwood/Getty Images
Fact or Fiction presents both sides of key issues the Orlando Magic will face in the upcoming season.
Statement
The Orlando Magic need to shift Rashard Lewis to the small forward position and run a "more traditional" scheme if they want to be able to advance to the NBA Finals and win.
_______
Fact
Want to spark a debate?
Mention the name 'Rashard Lewis' to Magic fans and it's like pouring gasoline on a fire. Aside from Brandon Bass, there's not another player for the Orlando Magic — maybe Dwight Howard — that brings so much intense discussion to the table than Lewis.
It's true that Lewis struggled a bit offensively against the Boston Celtics in the 2010 NBA Eastern Conference Finals. The Magic were unable to advance to the NBA Finals for a second consecutive year, partly because Lewis was neutralized by Kevin Garnett — one of the best defenders in league history. And the fact of the matter is that Orlando has yet to win a championship with Lewis at the power forward position. It's been three seasons, and the Magic have ultimately come up empty-handed in the playoffs. This isn't to say that it's impossible for Orlando to win the "gold ball" with Lewis at power forward. It just hasn't happened.
Those are some of the facts.
If Orlando was able to acquire a premiere power forward then yes, moving Lewis to small forward wouldn't be such a bad idea. Maybe, then, change can come.
It wouldn't mean that everyone in the debate would be satisfied, though.
Fiction
The problem is that the top power forwards in the NBA, that could facilitate a switch of positions for Lewis, are on new teams — Chris Bosh with the Miami Heat, Amar'e Stoudemire with the New York Knicks, and Carlos Boozer with the Chicago Bulls. It's highly unlikely that any of those players will relocate anytime soon. So in a sense, the Magic need to continue to play the hand that has gotten them this far and keep Lewis at power forward if they want a chance to win the title.
Why?
As has been mentioned before, Lewis is incapable of defending small forwards. Lewis doesn't have the quickness to chase small forwards on the perimeter or the dexterity to fight through screens on a nightly basis. Plus, it's difficult for Lewis to keep players in front of him because he can't move laterally fast enough.
Some people may look at Lewis' frame and assume he can't defend power forwards but for the past three years, he's proven that he can. Lewis' athletic weaknesses are masked when he's at power forward because, for the most part, he's dealing with a slower-footed players that primarily operate on the low block. Lewis can use his lanky wingspan to alter their shots, he has enough athleticism to stay in front of them, and he has the strength to body 'em up. Also, it really helps that Lewis has Howard on the weakside in the paint. That's important because Howard is the anchor on defense and if he's forced to help on the perimeter, which would be the case if Lewis were defending small forwards, that would be a problem. Howard's presence is needed in the lane defensively. It's worth mentioning, too, that Lewis is a good team defender and does a great job of defending pick and rolls.
Given the position that he plays, it's important that Lewis is able to fulfill that responsibility.
In the end, it's all about matchups and there's not a lot of teams in the league that can stop Lewis at power forward. Unfortunately for Orlando, they have ran into teams in the postseason that had the personnel to stop them. That's how it goes sometimes.
Two years ago, the Magic were a nightmare matchup for the Cleveland Cavaliers and they were able to advance to the Finals because of it. When it comes to winning a championship, a little luck is involved because the matchups have to be just right for a team to go all the way.
Boston proved that point last season.
Looking ahead to this year, there's no question that Lewis needs to remain at power forward if the Magic want to beat the Miami Heat. Historically, Lewis has had a lot of success against Bosh and he will need to play out of his mind if Orlando wants to overcome Miami in a seven-game series. It can't be understated that the 4-out/1-in philosophy on offense works in the Magic's favor against the Heat, though it still may not be enough.
As for the Celtics, Garnett might shut down Lewis again but this is where Van Gundy needs to adjust. The argument that Lewis needs to be at small forward or power forward is irrelevant because the point is that he needs to play at both positions, depending on the situation. This is a prime example. Van Gundy will need to think outside the box when it comes to facing off against Boston because it's unlikely that Lewis will have much success against Garnett (assuming he's healthy).
One solution, as been brought up before, is to put Lewis at small forward against Paul Pierce for brief stretches at a time. Lewis will probably have his struggles defensively against Pierce, but that's a price Van Gundy may have to pay to create an advantage of some sort.
As for the Los Angeles Lakers, that's looking too far ahead.
_______
Lewis needs to remain primarily at power forward.
However, it's true that Van Gundy has to utilize Lewis more at small forward. Lewis isn't just a spot-up shooter, because he has a low post game that is lethal yet underused. The most important thing, more than anything else, is that Van Gundy needs to put Lewis in positions to succeed.
Whether it's at small forward or power forward, it makes no difference.
Or let's just stray away from conventional wisdom with slotting players in traditional positions.
Verdict: Fiction