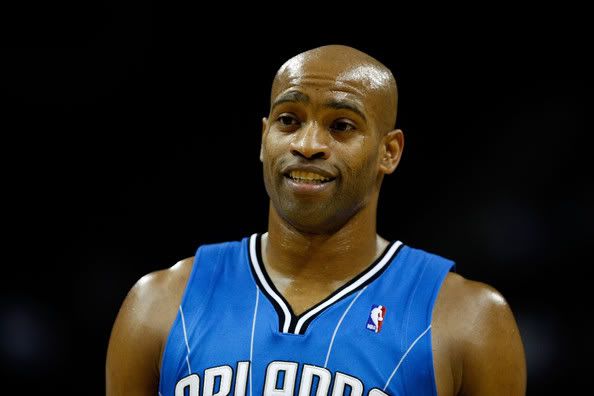 Photo by Streeter Lecka/Getty Images
Fact or Fiction presents both sides of key issues the Orlando Magic will face in the upcoming season.
Marcin Gortat, Vince Carter, and Brandon Bass will all finish this season in a Magic uniform.
_______
Fact
It can be argued, even if it's — admittedly — not the strongest argument, that the Orlando Magic are better off keeping the roster as is. Remember, the Magic were first in efficiency differential (+9.25) during the regular season last year and they bring back the same group of guys, sans Matt Barnes after he signed with the Los Angeles Lakers as a free agent. The only new faces that will be in the rotation, for the time being, are Quentin Richardson and Chris Duhon. Plus, given that Richardson will likely be an upgrade from Barnes, especially on offense, and Duhon is projected to have a good season as Jameer Nelson's back-up, it's safe to say that Orlando shouldn't miss a beat. Why make a trade just for the sake of making a trade?
In the grand scheme of things, the Magic are still one of the best teams in the NBA as currently constructed. It might be in the best interest of general manager Otis Smith to leave the roster alone and let the players try again.
It's called a second chance.
Vince Carter and Brandon Bass will get the benefit of playing in head coach Stan Van Gundy's system for another season. In Carter's case, the hope is that he can develop more synergy with Dwight Howard in pick and rolls but it's a wait-and-see approach. As for Marcin Gortat, there is the expectation is that he'll bounce back from a sub-par year and play with more energy, as well as cut down on the turnovers — two minor issues that plagued him in 2010.
And at the end of the day, Howard must take his game to the next level if Orlando wants to win a title with their current outfit of players.
Even if the Magic were to acquire someone by trading Gortat and/or Carter and/or Bass, Howard has to open Pandora's box on offense or else it's a moot point.
The pressure isn't on Gortat, Carter, or Bass to produce, which means that they may stick around even if they fail to contribute by their standards.
Fiction
On the other hand, it's quite possible that Gortat, Carter, or Bass are traded by the deadline. But it all, ultimately, depends on how Orlando is faring during the regular season. If it's clear that the Magic are no match for the Miami Heat and the reloaded Celtics or a core player suffers an injury, then Smith may be forced to make a move to keep pace with the competitors.
Likewise, speculation continues to marinate concerning the futures of Gortat, Carter, and Bass because each of them have value. Gortat and Bass are affordable, young players in the prime of their careers, while Carter is an expiring contract ($4 million guaranteed in 2012) that could allow a team to shed salary if they wish to do so.
Also, there have been rumors that have been linked to Gortat, Carter, or Bass since the off-season began for Orlando. A few months ago, there was a report that the Magic would not hesitate to move Gortat in a deal if it meant acquiring a superstar. There were also some rumblings that Bass would like more playing time and if he didn't get it, he would liked to be traded. Lastly, Carter had been linked in scenarios involving trades for Gilbert Arenas and Chris Paul.
There's no question that Gortat, Carter, and Bass have tenuous futures with Orlando, in some ways, and there's no guarantee they'll be around much longer. Especially Bass, who was rumored to be involved in a deal for D.J. Augustin before talks were scrapped after the Charlotte Bobcats also asked for J.J. Redick. It's no secret that Bass' future with the Magic definitely isn't set in stone out of the trio. Is it likely that Bass will be traded? Who knows. It's possible.
However, the same could be said about Gortat or Carter. It's hard to predict something like this, because it's speculative. There's too many variables involved, too.
_______
This is a scenario that could go either way, to be honest.
That being said, an educated guess is that the odds are low that Gortat, Carter, and Bass will be with Orlando until the end of the season. There have been trade chatter attached to each player, at various points in time, and Smith has a track record of making trades in mid-season.
Smith doesn't make blockbuster trades, but he makes some moves nevertheless (most notably, the Rafer Alston acquisition in 2009) and it wouldn't be much of a surprise if he traded Gortat, Carter, or Bass at some point.
Verdict: Fiction