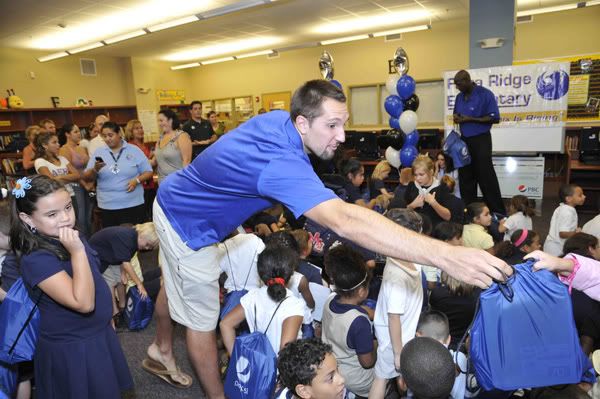 Gary Bassing/Orlando Magic
Via the Orlando Magic:
On Wednesday, September 8, Pepsi Beverages Company (PBC) joined forces with Ryan Anderson of the Orlando Magic to fill 750 backpacks with healthy snacks and school supplies. The backpacks were donated to the students of Flora Ridge Elementary School as part of the Backpack Giveaway Agenda. Along with the backpacks, PepsiCo generously provided the school with a $1,000 check to aid in the purchase of student uniforms.

The day began with the stuffing of 750 backpacks with healthy goodies and school supplies by Derek Lewis, Senior Vice President and General Manager, PBC, and two Orlando Magic Dancers. Later in the afternoon, Orlando Magic Forward Ryan Anderson and Magic Community Ambassadors Nick Anderson and Bo Outlaw arrived with the loaded backpacks at the Flora Ridge Elementary School Media Center where they greeted the school's principal and the eagerly awaiting students. Ryan Anderson led the way, distributing the backpacks to the excited and grateful students. The day was capped off by a photo and autograph session.

The backpacks were provided to benefit the Flora Ridge Elementary students in need. 87 percent of the children are on a free or reduced lunch plan and 50 percent speak English as their second language. Studies have shown that one in four children does not have an adequate amount of food and more than 15 percent of local parents said their kids skipped meals because there was not enough money for food.

Thanks to the efforts of both Pepsi Beverages Company and the Orlando Magic, these children were fueled with food and supplies to ensure a good start for the new school year.