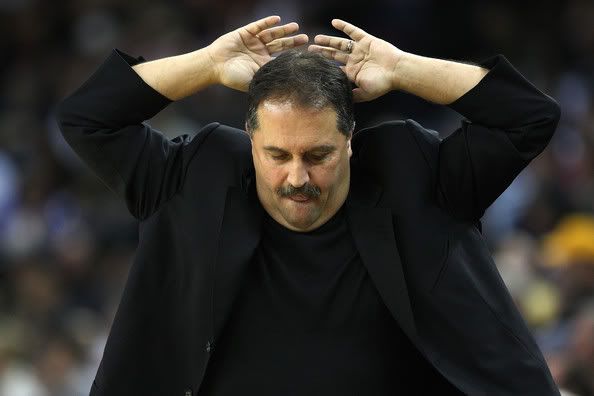 Photo by Jed Jacobsohn/Getty Images
Via George Diaz of the Orlando Sentinel:
Geez, I go off to Richmond to cover a NASCAR race for a few days and look what happens:

We're all going to need protective fire suits to cover the NBA this season. The Orlando Magic and the Miami Heat are going old-school nasty, making like Richard Petty and David Pearson, rubbin' tires and tradin' paint before the season even starts.

To briefly recap, Magic general manager Otis Smith called out LeBron James, questioning his competitive desire after signing with the Heat. Magic coach Stan Van Gundy ripped Chris Bosh, calling him Dwayne Wade's "lapdog." Then Miami Heat President Pat Riley shot back, ripping Smith and Van Gundy.

Then Van Gundy lashed back at Riley. […]

For once, nobody can blame the media for trying to stir the pot. The pot's already boiling over with contentious crossfire.

And that's how it should be.

The best rivalries need a few obvious ingredients: Two great competitors (check), a contempt for each other's lifestyle (check), and a lively volley of words between both sides (double-check).

Think Frazier-Ali, Celtics-Lakers, Yankees- Red Sox. Dare we add Magic-Heat to the mix?

The Three Amigos/Axis of Evil have already pranced and danced on stage at their coming out party in South Florida in July, complete with pyrotechnics and pose downs like they were part of a WWE show. They are the alpha dogs who are going to take a whizz on everybody's lawn, including the one by that fancy-schmantzy new place in Orlando.
Another writer chimes in on this feud.