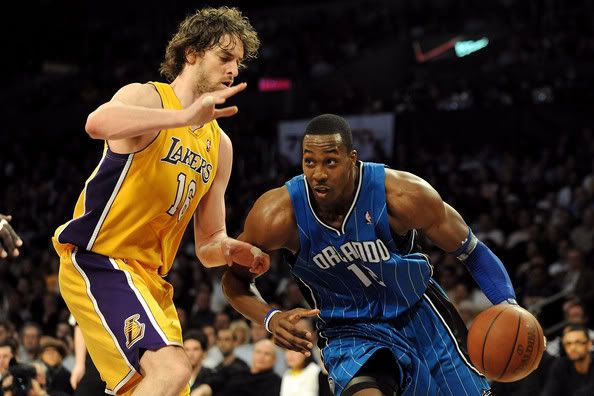 Photo by Harry How/Getty Images
"Does Orlando still have a window open to win an NBA championship?"
This question was asked last week and even though the answer may be obvious to some, it's a topic that's worth exploring as the Orlando Magic get ready to start training camp next week at the Amway Center. Yes, the Magic have a chance to win a title.
But it's an opportunity that has been nearly vanquished after the Miami Heat pulled off — arguably — the greatest free-agent haul in league history by signing LeBron James, Chris Bosh, and a bevy of other players. Not only that but the Boston Celtics continued to add pieces to their core, bringing in Jermaine O'Neal and Shaquille O'Neal (no relation). And then there's the Los Angeles Lakers, a team in the middle of building a dynasty after winning the last two championships.
These are the teams that are primary threats to Orlando by varying degrees.
Rather than talk about a number of external factors that may or may not allow the Magic to win a championship in the immediate future, let's direct the attention elsewhere.
There are a multitude of reasons why Orlando is still an elite team and a title contender for the time being, but probably lower on the totem pole compared to teams like the Heat, Celtics, and Lakers.
A coach without a tie
Say what you will about head coach Stan Van Gundy, someone that is not afraid to give or receive criticism when the situation arises, but there's no question that he is one of the best coaches in the NBA and does an excellent job of getting the maximum out of almost all of his players. Sure, there are exceptions to the rule (hence the use of the word 'almost') but when it comes down to it, there is little doubt that the Magic are almost always well-prepared and tactically sound on the basketball court with Van Gundy on the sidelines.
If you've ever seen Van Gundy's legendary whiteboard, you'll know what I mean.
Does Van Gundy get out-coached sometimes? Indeed he does, but that happens to any head coach in the league — even Phil Jackson, someone that will probably go down as the best coach in NBA history when it's all said and done.
Nevertheless, Van Gundy is a great coach because of his insane attention to detail.
That is his modus operandi.
Van Gundy's ability to quickly define rotations so that team continuity is established right away, develop players' potential, and formulate schemes that work on both ends of the floor are just a few examples of his coaching acumen. Whenever Orlando steps on the court against an opponent, they are usually going to play to the best of their abilities and that has a lot to do with Van Gundy.
Demanding perfection and creating the expectation of winning on a nightly basis is the type of culture that Van Gundy has brought to the table since arriving in 2008, and those are things that matter for the Magic as they continue to chase a championship.
The one they call Superman
First off, Howard is a top five player in the league. Plus, a convincing argument can be made that only LeBron James is better than him when taking into account the impact Howard makes on both ends of the floor. Not only that but in the NBA you need stars to win and fortunately for Orlando, they have one of the most dynamic players that roams the parquet floor.
Like the case with other elite players, as long as Howard is healthy, the Magic are a championship-caliber team practically by default. It's true that Howard's offense still needs some sharpening and refinement, but it's not in such a dilapidated state as some would like for you to believe. No, Howard may never be like Hakeem Olajuwon with a basketball in his hands but at the same time, he is one of the most gifted defenders the league has seen in quite a while.
It's been stated before but Howard is the "LeBron of defense" because of his dominating ways, and there's a number of reasons why that's the case. Howard's presence on the court forces opposing teams to alter their strategies offensively. When taking a look back at how Orlando has defended in recent years, all signs point back to Howard one way or the other.
| | eFG% | DRB% | FT/FGA | DRtg | At Rim FG% |
| --- | --- | --- | --- | --- | --- |
| 2007-2008 regular season | .484 (6) | .748 (6) | .217 (12) | 105.5 (5) | 60.3 (12) |
| 2008-2009 regular season | .465 (1) | .759 (2) | .209 (4) | 101.9 (1) | 56.5 (1) |
| 2009-2010 regular season | .477 (1) | .774 (1) | .205 (3) | 103.3 (3) | 57.4 (2) |
Team ranking in parentheses.

Because of Howard, the Magic are an excellent rebounding team.
Because of Howard, opponents are unable to reach the free-throw line a lot, shoot threes very well (though the opposite was the case in 2010), or attack the rim with great success.
Did I mention that those are the three most efficient shots in basketball? Defense indeed wins championships and Orlando has the very best defender in the league today.
An excellent supporting cast
You're only as good as your teammates are.
Michael Jordan, the greatest basketball player ever, learned this the hard way for six seasons before he was finally able to win the first of his six championships in 1991 in his seventh year.
For the Magic, Howard has the type of supporting cast that can win a title.
Yes, even with Vince Carter on the roster. Carter is still a good player, though he hasn't been able to endear himself to Magic fans after his performance in the 2010 NBA Eastern Conference Finals against the Celtics. Jameer Nelson, at his very best, is an All-Star caliber player. Rashard Lewis, despite being shut down by Kevin Garnett in the Conference Finals, has proven his playoff mettle time and again. Orlando isn't lacking for excellent role players like J.J. Redick, either.
Many writers like to say that the Magic are stacked and when looking at the rotation, it's easy to see why they say that. When Brandon Bass is the 11th man on the depth chart, you know you have an embarrassment of riches.
But are these factors enough for Orlando to win a championship?
It's too early to say, but the Magic have a chance.
Even if it's a slim one.
Remember too, this is the practically the same roster that led the NBA in efficiency differential last season. One way or the other, this is still a great team.