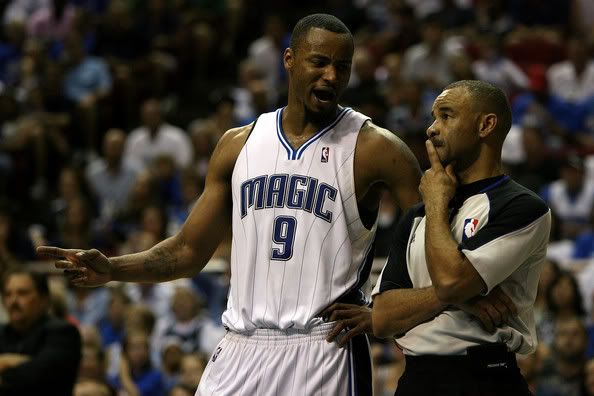 Photo by Doug Benc/Getty Images
Fact or Fiction presents both sides of key issues the Orlando Magic will face in the upcoming season.
Statement
The Orlando Magic will show that the 4-out/1-in offensive scheme and a more traditional style of basketball can co-exist by using each at the correct time to exploit the other team's weakness.
_______
Fact
The centerman in this entire discussion is Rashard Lewis.
When it comes to figuring out whether or not the Orlando Magic are going to play a more traditional style of basketball, Lewis is the player that starts and ends the domino effect because of his ability to play at either forward positions at an All-Star caliber level when he's at his best.
And in case you haven't heard, head coach Stan Van Gundy has stated that he is deliberating internally on how much time he's going to feature Rashard Lewis at the small forward position.
Then the next logical step would be to decipher whether or not Ryan Anderson or Brandon Bass should be primarily paired with Lewis. But rather than open that can of worms, let's save that discussion for another day once a decision is made by Van Gundy.
Even though a contingent of Magic fans hope that Lewis starts at small forward, it's unlikely that will occur. That being said, Lewis does need to be featured more at the small forward position when favorable matchups present themselves on the court.
This is something that needs to happen because Lewis is such a talented and versatile player offensively, yet not many people realize it or forgot because he's been asked to be primarily a spot-up shooter in the Magic's 4-out/1-in offensive system to maximize the spacing on the floor and provide Dwight Howard with plenty of room to operate on the low block.
Sure, there have been instances where Lewis has seen a considerable amount of time in the low post (see Game 6 against the Philadelphia 76ers in the first round of the 2009 NBA Playoffs). But those occurrences have been few and far in between for the last three years since Lewis arrived as a free agent in 2008 from the Seattle SuperSonics.
Yet everything could change this season.
Knowing that the road to an Eastern Conference championship and appearance in the NBA Finals is tougher than ever before for Orlando, it's clear that Van Gundy is going to have to find different ways to maximize the roster's potential for success this year. A number of people have critically panned the Magic's off-season because general manager Otis Smith didn't dramatically improve the team (ie: didn't dominate the headlines and made splashy moves like last season), but improvements were still made. Chris Duhon is projected to be an upgrade at back-up point guard over Jason Williams, and Quentin Richardson is expected to be a much better fit at the wing position than Matt Barnes. And if there's one factor that nearly everyone isn't taking into account, it's that improvement may also come through continuity and familiarity with Van Gundy's system.
Vince Carter, Anderson, and maybe Bass, players that will be with Orlando for a second year, may improve because they've had a season to get accustomed to different schemes and what not. Plus, the chaos of integrating five new players (like last year) to a 10-man rotation isn't there either. Instead, only Duhon and Richardson will be the newbies trying to fit in.
That's much more manageable.
Ultimately though, the utilization of Lewis will be one of the things that will determine how successful the season will be for the Magic.
Fiction
With Lewis primarily at power forward, Orlando is 170-76 (a winning percentage of .691) with three consecutive Southeast Division titles, an Eastern Conference title, and an appearance in the NBA Finals. If it ain't broke, don't fix it.
That's one way to look at the argument — that the Magic need to play traditionally when going up against the likes of the Miami Heat, Boston Celtics, and Los Angeles Lakers. For Lewis, he's getting a bad rap for his performance in the 2010 NBA Eastern Conference Finals against the Celtics because Kevin Garnett was able to shut him down. Yet in the Conference Finals a year prior, Lewis' fortunes were the opposite against the Cleveland Cavaliers. Lewis was a Cavs-killer in the series, hitting a game-winner in Game 1 and another clutch shot late in Game 4 that were key plays in allowing Orlando to advance to the Finals.
There will be times when the matchups are favorable and vice-versa. It happens.
That's what the NBA is all about and it's a main reason why Boston was able to make an improbable run to the Finals last season. Yes, the Celtics flipped the switch but they also matched up extremely well with the Cavaliers and the Magic.
When looking at the matchups closer, Lewis at power forward would probably pay dividends against the Heat and the Lakers.
Lewis has had success against Bosh in the past and before Lamar Odom slowed him down, Lewis was very productive against the Lakers in the Finals two years ago — including a monster 34-point, 11-rebound, seven-assist performance in Game 2. Given what happened last season, only the Celtics would have the personnel to completely stop Lewis.
Even then, Lewis would not be the x-factor in that series or in any of them. Howard would be.
Why change it up?
_______
Orlando needs to find more balance offensively, depending on the matchups.
Against Boston, this is a prime example where featuring Lewis heavily at small forward and playing a more traditional style may be the combination that works for the Magic. It's no guarantee, but that's what the regular season is for.
To figure it out.
Verdict: Fact