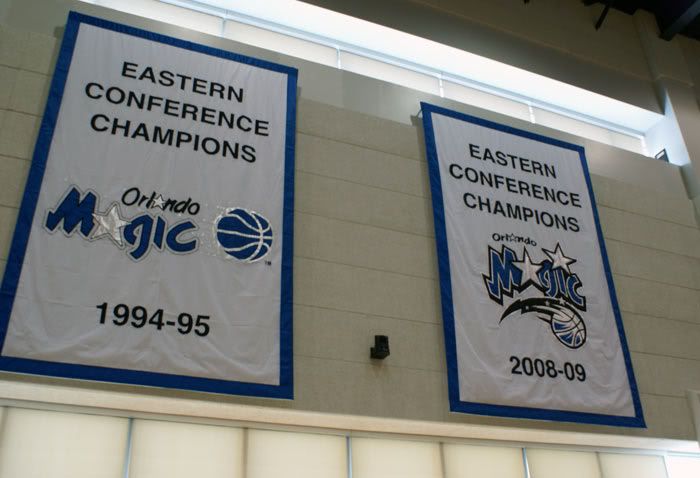 Kristy Cannon/Orlandomagic.com
The statistical revolution in the NBA continues to evolve, but one person that's been at the forefront of the new wave of numbers and deserves more limelight is Neil Paine of Basketball-Reference.
Paine is one of the brightest minds in the APBRmetrics community, with some of his most notable contributions including the introduction of statistical plus/minus — which was a regression invented by Dan Rosenbaum — to a widespread audience and daily upkeep of the BBR Blog that includes a lot of insightful analysis of the NBA (including some articles that have sparked intense debate).
I'm also proud to say that I've collaborated with Paine in the past, conducting some quick-and-dirty research on Grant Hill and the 'what if' scenario involving the Orlando Magic. Click here for more information if that description is either interesting, vague, or both.
I've interviewed Paine in the past, but this is the first time I've conducted a Q/A with him since Magic Basketball was born nearly seven months ago. As always, it's a pleasure to chat with Paine and gather his musings whenever possible.
A few days ago, I was able to ask Paine a few questions about the Magic, how they stack up against the Miami Heat and Boston Celtics in the Eastern Conference, and more.
_______
A lot of people have said that the Orlando Magic matchup favorably with the Miami Heat because Jameer Nelson and Dwight Howard are superior to their counterparts on the other side of the coin, assuming that either Carlos Arroyo or Mario Chalmers is the starter at point guard. What's your take on that? Is that advantage enough to overcome the enormous advantages the Heat have at the other three positions?
The Magic definitely have certain areas where they are stronger than the Heat, and Dwight Howard in particular creates an interesting matchup for a Miami team that (I'm assuming) is going to be one of the most aggressive rim-attacking squads of all-time. One major question is whether Howard has improved his ability to make a defensive impact without fouling; if so, his presence inside could alter Miami's game plan and take them away from some of their strengths. As for point guard, I'm not entirely sure [Jameer] Nelson's advantage matters so much as long as Miami finds somebody who can defend the position, because on offense LeBron is basically going to be their de facto PG.
The biggest advantage Orlando has is that they have a strong defense — led by a truly great defensive coach — which could possibly serve as the antidote to Miami's #1 strength, their all-world offense. And at the other end of the court, the Magic have a solid offense that could take advantage of Miami's biggest unknown quantity, their D.
I know it's cliche to ask, but what do you make of the Heat for the season? I know at Basketball-Reference, you've marveled at the trio that Pat Riley assembled with LeBron James, Dwyane Wade, and Chris Bosh. How do you think things will play out on the court for Miami?
Yeah, it is cliche by now to say this, but this is obviously some of the most talent ever assembled on a single roster. Teams have put together comparable groups of stars in the past — West/Chamberlain/Baylor (and later O'Neal/Bryant/Payton/Malone) in L.A., Pierce/Garnett/Allen in Boston, Drexler/Barkley/Olajuwon in Houston, etc. — but none of those examples featured all 3 players in their primes the way Miami's trio does. Add the fact that they covered some of their weaknesses with complimentary players like Miller, and this team should easily win 60-65 games (or more if they apply themselves to winning as many regular-season games as possible).
What are the potential pitfalls for the Magic against the Heat?
The Heat's ridiculous setup on the wing is going to cause issues for every team, Orlando included. They don't have a Matt Barnes anymore to stick on Wade or James, and while [Mickael] Pietrus is a solid defender, I don't think anyone has confidence that [Vince] Carter, [J.J.] Redick, or [Quentin] Richardson can hinder whichever Heat superstar they have to guard. Also, Bosh is not a conventional glued-to-the-paint big man, so he's going to force Howard and/or Lewis to make some tough choices when they're defending him. Miami has so many different ways to beat you offensively that even a good defensive team like the Magic will probably struggle for answers at times.
Can't forget about the Boston Celtics, either. It's no secret that the Celtics matchup extremely well with Orlando. Assuming Kendrick Perkins is healthy in the playoffs, what will it take for the Magic to get over the hump and beat them in a series?
As you know, I'm a Celtics fan, and I thought that the Magic could have easily been up 2-0 instead of down 0-2 in their series last May if not for just a few plays going Boston's way down the stretch. If that happens, the series is entirely different — and to be honest, it wouldn't have surprised me if they had gone on to beat L.A. in the Finals.
So, no, I don't think it's going to take some kind of magic bullet to get Orlando past the Celts. If anything, I have my doubts as to whether Boston can replicate what they did last spring.
Will Shaquille O'Neal be a help or a hindrance to the Celtics?
I think Shaq can certainly still contribute to a team like Boston, since all they're asking him to do is fill up space in the middle and rebound the basketball. Jermaine O'Neal will probably give them more by virtue of being younger and having more left in the tank in terms of minutes, but both of those guys are just being asked to keep Perkins' seat warm and play above the replacement level. As far as veteran stopgaps go, I think you could do worse.
Lastly, where do you see Orlando finishing in the standings when it's all said and done? Is there a route out there that leads them to a championship?
I think they're probably the 2nd-best team in the East right now. What Boston did last year was remarkable, flipping the switch after a mediocre final 50 games, but this may be the year their collective age finally catches up to them. And Miami is — on paper — the league's best team, but the jury is still out until they actually start to play some games together. At the very least, Orlando is going to give the Heat a good fight if they find themselves in the Conference Finals.
_______
I like to thank Neil for taking the time to answer my questions.