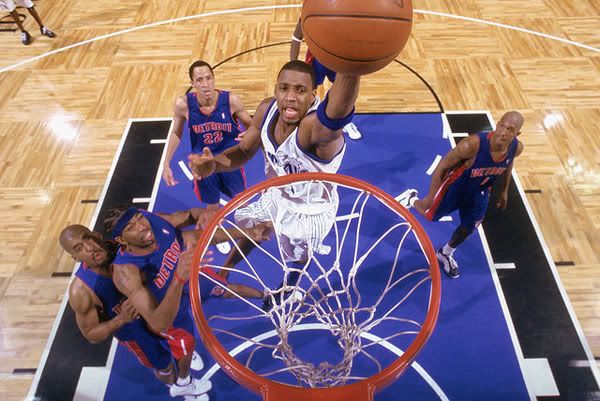 Fernando Medina/NBAE via Getty Images
In late July, I made note that DSMok1 — a member of the APBRmetrics community — introduced a new metric to the fray. And that is advanced statistical plus/minus, which has been tweaked since it was first introduced a few months ago.
This particular statistic shouldn't be seen as an be-all end-all, but more so as complementary to a lot of metrics out there like adjusted plus/minus, net plus/minus, statistical plus/minus, PER, WARP, and Win Shares/48 minutes. With that said, I thought it'd be fun to take a look at the top 10 leaders in franchise history for the Orlando Magic.
| Franchise Leaders | |
| --- | --- |
| Tracy McGrady (2003) | +9.87 |
| Shaquille O'Neal (1995) | +7.50 |
| Shaquille O'Neal (1994) | +7.32 |
| Tracy McGrady (2002) | +6.41 |
| Penny Hardaway (1996) | +6.11 |
| Tracy McGrady (2001) | +6.06 |
| Shaquille O'Neal (1996) | +5.96 |
| Dwight Howard (2010) | +5.89 |
| Darrell Armstrong (1999) | +5.80 |
| Jameer Nelson (2009) | +5.53 |
Three quick notes:
— Is there any doubt that Tracy McGrady took his game to another level in 2003 for Orlando? For those that watched McGrady play that year, you witnessed the most dominant individual season in Magic history. By the way, the picture above seems appropriate — McGrady taking on five Pistons defenders by himself.
— It's intriguing to see Darrell Armstrong and Jameer Nelson make cameo appearances. It's unfortunate that the 1999 NBA All-Star Game wasn't held due to the shortened 50-game regular season, because Armstrong should have been named an All-Star. Armstrong's numbers across the board were very impressive, and advanced statistical plus/minus merely reinforces that fact.
— As for Nelson, 2009 was a special year for him and it's a shame that he was nowhere close to 100 percent in the NBA Finals against the Los Angeles Lakers. It makes you wonder if the end result would have been different for the Magic had Nelson been at full strength. We'll never know.