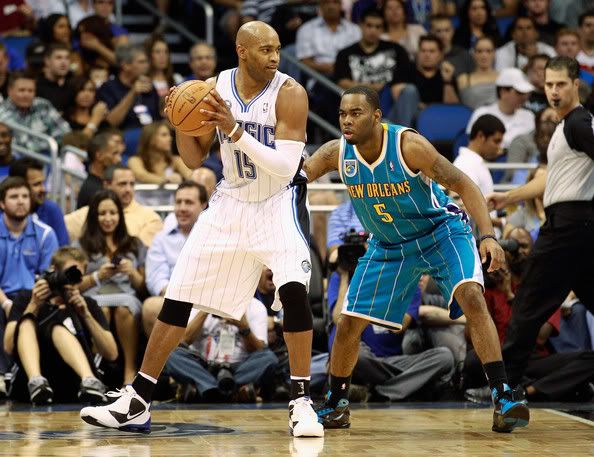 Photo by Sam Greenwood/Getty Images
Here's another installment of the Magic Basketball Mailbag.
_______
With Vince Carter declining and an inconsistent Rashard Lewis coming off a down year, will the Magic get enough scoring from the wings to compete for a championship?
In my opinion? Yes.
It'll be tough because of his age but as Kevin Pelton of Basketball Prospectus pointed out in his chat on Friday, Vince Carter has a chance to have a bounce-back year this season. There are a number of factors as to why this may be the case.
First, Carter in his second season in head coach Stan Van Gundy's system so the continuity and familiarity is there for him when it comes to his role in the offense for the Orlando Magic. At this stage in his career, Carter knows that he's no longer the primary scoring option. That designation goes to Dwight Howard, as it should. Second, with Van Gundy making a concerted effort to install more post-up opportunities in the Magic's playbook, that should allow Carter to utilize his low post skills and get some easy buckets with his back to the basket against smaller guards. Third, Carter realizes — because his teammates told him — that he needs to be more aggressive and attack the basket with regularity. I know it's pre-season and things can change in a hurry, but Carter has altered his approach offensively and is making a more concerted effort to get into the paint. It hasn't translated to more free-throw attempts, but it has gotten him easier looks at the rim.
As for Rashard Lewis, he should be more involved on offense this year as opposed to last year. One of Van Gundy's primary goals in pre-season is to give Lewis plenty of minutes at small forward so that his skills can be utilized on the low block. Magic fans have grown so accustomed to seeing Lewis as a spot-up shooter, that they forget his other abilities offensively.
When Lewis is at the small forward position, Van Gundy wants him to post up at every opportunity because he's a lethal weapon and can score with relative ease.
Because of these factors, I think Carter and Lewis will have more success on offense this season.
Who is going to be the underused player this year?
I'm not sure, to be honest.
With Van Gundy revealing that he'll most likely go with a nine-man rotation to start the regular season, that's going to prevent a number of players from seeing time on the floor. It's hard to pinpoint one person.
Will anyone besides Dwight Howard be an All-Star?
No, most likely not.
After Howard, the Magic are such a balanced team, it'll be tough for a second player to put up the numbers to garner All-Star consideration.
Sure, Orlando could have a great record and get "rewarded" a second All-Star bid but that doesn't necessarily mean that player will deserve the honor. Winning breeds All-Stars. That's the reality, though it's something I vehemently disagree with.
Is Orlando that good or is New Orleans that bad? And is this all a result of Dwight's improved offensive game?
I think the first quarter score is indicative of the talent gap between the Magic and the New Orleans Hornets. Granted, David West was out of the game for the Hornets, which didn't help matters. And New Orleans could have used West, given that he's torched Orlando in recent years so he probably would have been able to make a difference of some sort. But at the end of the day, the Hornets can't match the Magic's depth and that's where the disparity is.
It's hard not to feel bad for Chris Paul because he's in the same situation that Tracy McGrady was in years ago. There's not a lot of talent around Paul and unfortunately for him, the ownership for New Orleans isn't willing to spend for a winner. Plus, general manager Dell Demps is trying to wash away the bad contracts that have plagued the Hornets for multiple seasons. As a top five player in the NBA, there's only so much Paul can do to make New Orleans a competitive team.
If Orlando makes one huge deal before the deadline, who would you like to get?
Realistically speaking? Chris Paul.
Is having too much depth a bad thing for the Magic?
No, not at all. Having a lot of depth is a necessity in the regular season, given that the 82-game schedule is a grind and the Magic are invariably going to deal with injuries — knock on wood.
Plus, it gives Orlando the ability to experiment in the regular season and go with different 5-man combinations that they might want to use in the playoffs when the time comes.
You can never have too much depth. Ever.
_______
Thanks for the questions!
If you have a question for the mailbag, you can reach me at eddy.rivera7 [at] gmail [dot] com