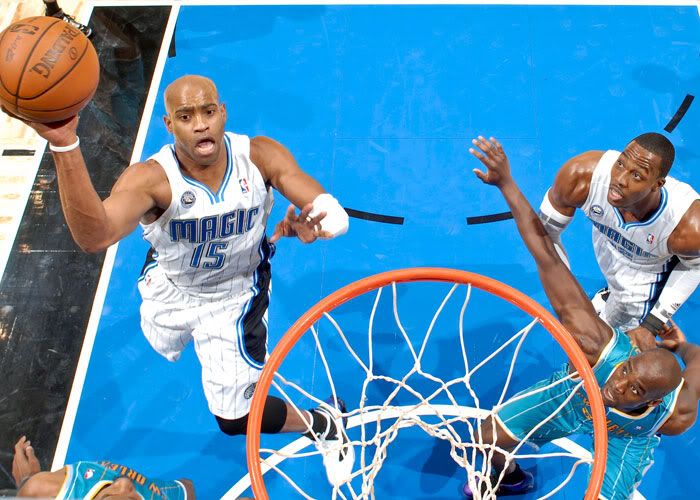 Photo by Fernando Medina
| | adj. +/- | net +/- | stat. +/- | PER | WARP | Win Shares/48 |
| --- | --- | --- | --- | --- | --- | --- |
| Ryan Anderson | +0.65 | +1.8 | +1.97 | 18.1 | 2.7 | .161 |
| Brandon Bass | N/A | -4.9 | -2.65 | 16.5 | 1.1 | .147 |
| Vince Carter | +1.95 | +7.5 | +2.62 | 17.1 | 4.3 | .154 |
| Chris Duhon | -2.02 | +1.0 | -2.41 | 10.7 | -0.5 | .045 |
| Marcin Gortat | +13.73 | -7.8 | -1.73 | 13.9 | 2.3 | .151 |
| Dwight Howard | +24.97 | +10.2 | +7.21 | 24.0 | 19.2 | .223 |
| Rashard Lewis | -6.31 | -0.8 | +1.74 | 14.0 | 2.5 | .132 |
| Jameer Nelson | -4.14 | +1.5 | +0.22 | 15.5 | 3.0 | .130 |
| Mickael Pietrus | -9.32 | -7.2 | -0.36 | 11.9 | -0.1 | .103 |
| J.J. Redick | -9.19 | -6.1 | +0.99 | 15.0 | 2.1 | .173 |
| Quentin Richardson | +3.30 | +6.0 | +1.82 | 12.9 | 1.4 | .133 |
| Jason Williams | -2.59 | -1.4 | -0.45 | 12.9 | 2.1 | .127 |
Stats are from the 2009-2010 regular season. To learn more about adjusted plus/minus and other metrics, please refer to the Advanced Statistics 101 page.
Last year's record: 59-23
Key losses: Matt Barnes, Adonal Foyle, Anthony Johnson
Key additions: Malik Allen, Chris Duhon, Daniel Orton, Quentin Richardson, Stanley Robinson
Playbook: Click here to learn more about the offense
What significant moves were made during the off-season?
Despite rumblings that the Orlando Magic were in the running to acquire Gilbert Arenas, then Chris Paul, then Carmelo Anthony, general manager Otis Smith resisted shaking up the core because he felt that the roster needed tweaks and adjustments, not wholesale changes. Hence the additions of Quentin Richardson and Chris Duhon, who are expected to serve as upgrades from the players they replaced in head coach Stan Van Gundy's rotation — Matt Barnes and Jason Williams, respectively.
Richardson, eloquently known as Q, is expected to be a better fit in the Magic's 4-out/1-in offensive scheme than Barnes. Richardson's ability to hit three-pointers at a proficient rate (36 percent for his career) is key for Orlando because it'll make it difficult for opposing defenses to cheat off of him as they did with Barnes. There are a myriad of reasons why the Magic lost to the Boston Celtics in the 2010 NBA Eastern Conference Finals last season but rest assured, Barnes' failure to make threes with consistency — allowing the Celtics to sag off him — was one of them.
With Richardson, that problem is solved in theory. Likewise, Richardson is a much more versatile player offensively than Barnes. No, you're not going to see Richardson break down his defender off the dribble any time soon, but you will see him involved in post ups on the low block. Richardson has the strength and size to exploit smaller guards when the matchups present themselves, which is a new wrinkle in Orlando's offense that wasn't available to them last year. When Richardson isn't busy doing that, he'll display his spot-up shooting prowess for all the world to see.
Defensively, the Magic shouldn't miss a beat with Richardson at the small forward position. Last season, Barnes was inaccurately pegged as Orlando's best perimeter defender (that designation goes to Mickael Pietrus) and his exploits were overrated, partly due to his antics against Paul Pierce, Kobe Bryant, and others in marquee games. Those scuffles were seen as displays of "toughness" but they didn't matter much in the grand scheme of things. Pierce blitzed the Magic in the playoffs, and there wasn't much Barnes could do to stop him. That being said, Richardson is a capable defender at small forward and despite being undersized, he makes up for it with his physical frame. Also, Richardson is nearly as good of a rebounder as Barnes.
As for Chris Duhon, his value comes primarily from what he offers on defense. Duhon thrived defensively when he was with the Chicago Bulls under then-head coach Scott Skiles, and now he's in a similar situation with Van Gundy who eats, breathes, and sweats defense. With Dwight Howard and even Marcin Gortat as the anchors defensively, Duhon should be able to make an impact on that end of the floor. Plus, Duhon should be able to thrive in Orlando's system offensively because of his ability to execute the pick and roll with effectiveness. That skill-set, which he acquired while he played under head coach Mike D'Antoni with the New York Knicks, will come in handy. Duhon is a good three-point shooter also, so that works out in his favor as well.
And a significant move, that may not be seen as one, was the fact that Smith didn't make a major transaction in the off-season. While the Miami Heat were busy little bees, signing LeBron James and Chris Bosh in free agency to pair with Dwyane Wade and the Boston Celtics felt one O'Neal wasn't enough, but signed two of them (Jermaine and Shaquille), the Magic stood pat. That strategy really irked some Magic fans, who felt that Orlando was being left in the dust by the moves made by Miami and Boston. But lest those same people forget that the Magic were the darlings of the summer last year and it didn't get them a title.
Smith's patient approach should pay dividends for Orlando because it allows second-year players like Ryan Anderson, Brandon Bass, and Vince Carter to further get acclimated under Van Gundy, while maintaining the continuity and familiarity that was lacking at times last year. A lot isn't said about the Magic's chemistry in their NBA Finals run two seasons ago, but it's a big reason why they got that far in the postseason that year. The hope is that better chemistry, combined with internal improvement from the roster, is an upgrade in itself and enough to put Orlando over the top.
What are the team's biggest strengths?
The defense.
Since Van Gundy arrived in 2008, the Magic's defense has been the staple of the team. It also helps that Howard has transformed into the NBA's best defender in recent seasons, as exemplified by his back-to-back NBA Defensive Player of the Year awards. It starts with those two personalities, but it's worth noting that every other player for Orlando buys into what Van Gundy is selling and is willing to put in the work defensively. Defense is a lot about effort and desire and for the Magic, they are not lacking in those departments. So what makes Orlando's defense so good?
It starts and ends with Howard.
Last year, the Magic were first in the NBA in opponent effective field goal percentage, first in defensive rebound percentage, third in opponent free throw rate, and second in opponent's field goal percentage at the rim.
Want more? Last season, opponents attempted 22.7 shots per game from 16-23 feet and nine shots per game from 10-15 feet. Orlando ranked third and first in those categories, respectively.
Howard has his fingerprints all over those rankings, folks.
Because of Howard, the Magic force teams to take the most inefficient shots in basketball. Just think of the common scenario where someone attacks the basket against Howard, sees him, and has to either pull up earlier than expected for a jumpshot or alter their foray at the rim. Howard's presence is felt in so many ways, it's a shame that people don't celebrate defense as much as they do in the mainstream media. Face it, Howard is the LeBron of defense. His impact is that seismic.
The offense, in contrast, thrives on taking the most efficient shots available (the three-pointer, the layup, and the free-throw). Last year, Orlando was first in three-pointers attempted, fifth in shots at the rim, and seventh in free-throw rate. Everyone always wants to talk about the Magic taking a ton of threes but it's by design. Orlando doesn't take threes just to take them, they seek out the corner three in their offensive sets because it's the most efficient three-pointer to attempt.
As such, the Magic's penchant for efficiency on offense also makes it a strength.
Of course, Orlando's greatest identity is their 4-out/1-in offensive scheme. It creates a myriad of matchup problems for teams because Rashard Lewis is, arguably, the best stretch four in the NBA due to his ability to hit three-pointers efficiently with great volume. Of course, the scheme has been shut down by teams that are able to single-cover Howard and account for all the shooters on the court. That may change this year for the Magic. Why?
We finally may be witnessing an evolution in Howard's offense, thanks to his off-season workouts with Hakeem Olajuwon in Houston. Howard has developed a newfound confidence in his mid-range jumper, thanks to Olajuwon, and he's made an effort to expand his offensive repertoire to include more moves and countermoves in the low post. Add to the fact that Howard has improved his footwork, and everything is shaping up for him to have his finest year on offense.
Another strength on offense is Orlando's ability to use a variety of pick and roll variations.
Typically, the Magic execute their pick and rolls with either Nelson or Carter as the ball handler and Howard as the roll man. Once in a while, Nelson and Carter will engage in pick and rolls. Can't forget about the pick and pops with Lewis, either. Additionally, Van Gundy is making a concerted effort to add more post up opportunities for Carter, Richardson, and Lewis alongside Howard.
Unpredictability in the offense is something that Van Gundy is stressing this season.
What are the team's biggest weaknesses?
It's not so much that the Magic can't score with their perimeter players, but when Orlando needs a bucket, who do you give it to? Carter? Nelson? See the problem?
Nelson has proven he can be a go-to guy for the Magic on the perimeter, but the problem is that he can't do it consistently enough. No one is sure if Carter can fulfill that responsibility, for the simple fact that he's no longer the player that he once was. Yeah, Nelson and Carter can create shots for themselves but they don't get to the free-throw line a lot, like a Wade or a Pierce, which makes their margin of error to score much higher than it needs to be.
This is where Howard's evolution needs to be completed, to mask this weakness for the Magic. If Howard can become the go-to scorer for Orlando, something that he's always been capable of doing, then the Magic should be fine. But if he can't, then there are going to be times when Orlando will be looking for someone to score and having a hard time getting the result that they want.
What are the goals for this team?
Win a championship.
Predicted record?
60-22