_______
Shaquille O'Neal's stat line against the Timberwolves — 53 points, 18 rebounds, 2 steals, 2 blocks.
Here's Part II of my interview (click here for Part I) with Matt Guokas, the television color analyst for the Orlando Magic. In this segment, Matt talks about the Magic's quest for a championship this season and more.
_______
Do you think that Matt Barnes' inability to hit threes at a proficient rate compared to his teammates was an achilles heel for the Orlando Magic in the Eastern Conference Finals against the Boston Celtics?
Yeah. One of the big problems, Eddy, was … the Magic were not really … the way the schedule broke, they did not get a lot of competitive games in the last 41 [regular season games]. Maybe four or five tough games. The teams were hurt or resting people when they played the good teams or they just weren't playing competitive teams. And then even in the first two rounds, Charlotte and Atlanta just seemed totally unprepared. They did not put up any resistance whatsoever and I'm not saying that's an excuse, but I think the Magic kind of got into a routine of saying 'hey, this is pretty easy.' And then by not winning one of those first two games in the Boston series, that's what kind of cost them. That's what hurt. Boston just brought it. They were riding the high. I think they were more surprise than anybody that they were able to get by Cleveland and they saw that fold in Game 5. They looked like the most shocked team in the world. They were like, 'they're just going to give this to us' and Cleveland basically did, so now Boston was playing with a little bit of confidence. And then by winning the first two in Orlando, that obviously set the direction of the series but I would not point a finger at Matt Barnes for poor three-point shooting in the Boston series. I thought it was more about giving Boston more credit and the fact that the Magic weren't as mentally ready as they normally would be had they been tested a little bit more
Fernando Medina/NBA/Orlandomagic.com
Via the Orlando Magic:
270,181,975
Pounds of concrete used to build the Amway Center.

9,400,000
Pounds of total steel used to build the Amway Center, including six, 380-foot, 150-ton roof trusses which were locally fabricated just six miles from the arena site. The total length of all arena steel roof framing equals 55,287 feet or 10.5 miles.

9,000,000
Number of LED lights in the center-hung videoboard, the tallest and most high-definition in an NBA venue measuring in at 42 feet high and weighing in at 80,000 pounds.

875,000
Square footage of the new Amway Center – almost triple the size of the old 367,000 square foot arena.

800,000
Gallons of water saved annually in the environmentally-friendly building which employs a rain water collection system for irrigation and high-efficiency water flow fixtures in restrooms. Water consumption will be reduced by 40 percent over a comparably sized building.

750,000
Estimate dollars in annual energy savings because of the high efficiency "green" systems in place in the Amway Center. Overall the environmentally-friendly systems will cut energy consumption by 24 percent over a comparable, code compliant, designed building.

20,000
Maximum number of seats in the flexible Amway Center. Orlando Magic seating will be 18,500.

13,000
Number of light fixtures in the building.

10,000
Number of parking spaces within a 10-minute walk of the arena.

7,000
Number of Magic tickets priced $25 or less, including the first-time ever introduction of $5 tickets (while supplies last).

2250
Number of construction workers who built the Amway Center.

1,196
Number of plumbing devices in the building, including 563 toilets/urinals.

1,100
Number of high-definition video displays in the new Amway Center.

470
Combined number of devices used (240) to make the Amway Center wireless, and touch screen control-based units (230) for patrons to order food, beverages and merchandise.

340
Number of pieces of art work (140 original pieces and 200 museum quality photographs) in the Amway Center, as part of the public arts program for the building. Fourteen Central Florida artists contributed an estimated 110 pieces to the collection.
Fernando Medina/NBA/Orlandomagic.com
For Magic fans, Matt Guokas is a legend of sorts. Guokas will forever be linked with the beginning of the Orlando Magic, serving as the head coach of the 1989 expansion team that featured the likes of Terry Catledge, Jerry "Ice" Reynolds, Reggie Theus, among others, and remaining with the team until 1993 when Brian Hill replaced him after Shaquille O'Neal's rookie year.
Fast forward to today, Guokas is the television color analyst for the Magic and will be teaming up with play-by-play announcer David Steele for their seventh year as a tandem. It should be noted that Guokas is a forward-thinking analyst, not afraid to cite metrics like team efficiency, pace, and whatever else. For team announcers, amidst the statistical revolution in the NBA, that's still a rarity.
Did I mention that Guokas played with Wilt Chamberlain, Billy Cunningham, and Hal Greer with the Philadelphia Sixers, winning a championship alongside them in 1967 against the then-San Francisco Warriors? Good times.
Needless to say, Guokas' experience and knowledge of the league is impeccable.
Yesterday, I was able to speak with Guokas about a variety of topics, including his thoughts on the new-look Miami Heat, Dwight Howard's continued development as a player, and more.
_______
What's your take on the Miami Heat now that they have LeBron James, Dwyane Wade, and Chris Bosh?
Anytime you have three very, very talented guys like that, it's going to be good.
They're going to make some of the lesser players better, although there are big question marks with the other seven or eight guys that are going to have to do a lot of the playing. Most of them are veterans, have been around, and certainly can contribute like Mike Miller. Mario Chalmers has a few years under his belt.
They'll be good. They're still going to have … there's going to be a lot of pressure obviously from being under the microscope. Any time there's a game, there's going to have to be all kinds of explanations as to how can a talented team do this and all that. I think they'll be well-guided in terms of not paying so much attention to what it is they do record-wise in the regular season. They're going to win a lot of games anyway. It's just how they come together as a team and what their results are in the playoffs.
Via the Orlando Magic:
Orlando Magic guard Jason Williams will undergo arthroscopic surgery tomorrow on his left knee, General Manager Otis Smith announced. Williams is expected to miss approximately four weeks of action.

Williams (#44, 6'1", 190, 11/18/75) played in all 82 games last season for the Magic, averaging 6.0 ppg., 3.6 apg. and 1.5 rpg. in 20.8 minpg., while shooting .380 (84-221) from three-point range. He started in 18 outings, averaging 8.6 ppg., 5.1 apg., 2.7 rpg. and 1.11 stlpg. in 29.6 minpg. during that span. Williams ranked seventh in the NBA in assists-to-turnover ratio (3.43, 298/87). He also appeared in all 14 playoff games, averaging 2.6 ppg. and 1.6 apg. in 13.7 minpg.

Originally selected in the first round (seventh overall) of the 1998 NBA Draft, Williams has played in 761 career NBA regular season games with Sacramento, Memphis, Miami and Orlando, averaging 10.8 ppg., 6.0 apg., 2.3 rpg. and 1.21 stlpg. in 30.1 minpg. He has also played in 67 career playoff contests, averaging 8.3 ppg., 3.3 apg. and 1.9 rpg. in 25.9 minpg. Williams was named to the NBA All-Rookie Team in 1998-99, currently stands as Memphis' all-time leader in assists (2,041) and helped Miami capture the 2005-06 NBA Championship.
Fernando Medina/NBA/Orlandomagic.com
Fact or Fiction presents both sides of key issues the Orlando Magic will face in the upcoming season.
Statement
Jameer Nelson will be an All-Star this year.
_______
Fact
One of the arguments in Jameer Nelson's favor is that he's been an All-Star before.
In 2009, Nelson had a phenomenal campaign in the first half of the regular season and put up some absurd numbers offensively. For example, Nelson's True Shooting percentage was .612 percent as a point guard – ranked 10th in the NBA that year.
Nelson was, without question, the second option on offense for the Orlando Magic and able to take his game to new heights with an aggressiveness and swagger not seen before.
For Nelson, that second year jump in head coach Stan Van Gundy's system was noticeable and it showed in his stats. Nelson was as efficient as they come, though his statistics were unsustainable when taking a closer look at how he manufactured his points. For example, Nelson shot 52 percent from 16-23 feet (league average was 40.1 percent). Nelson's ability to hit long two's at an obscene rate fueled his high shooting percentages and landed him on the All-Star team.
Unfortunately for Nelson, he suffered a shoulder injury on February 2 in a game against the Dallas Mavericks and was out for the remainder of the season, though he did make a cameo appearance in the NBA Finals against the Los Angeles Lakers as many Magic fans know. Nelson readily admits he was nowhere close to 100 percent in the series.
As a result, Nelson had to shake off the rust in training camp last year and was able to do so in time for the regular season. Nelson even had a standout performance against the Toronto Raptors early in the year. However, Nelson injured his left knee on November 16 in a game against the Charlotte Bobcats and that took him back to square one.
It wasn't until the second half of the season, after Nelson was able to get some rest at the All-Star break, that he was able to show glimpses of the player he was the previous season. And it wasn't until the 2010 NBA Playoffs commenced that Nelson was able to perform at his absolute peak.
At his best, there's no doubt that Nelson is the second-best player for the Magic.
When Nelson is healthy, he has proven he can produce at an All-Star level.
And guess what?
Nelson is fully healthy heading into the season. That's a key factor.
Another factor is that Nelson's competition at point guard in the Eastern Conference isn't fierce.
It's a safe bet that Rajon Rondo and Derrick Rose will be All-Stars at point guard and depending on if one of them is named a starter, that opens up a slot on the bench for a player like Nelson to jump in and take it. Yes, Nelson will likely compete against the likes of Gilbert Arenas and Devin Harris but they are players that will need to prove they can return to form.
It should be noted, too, that Nelson will be competing against other players at different positions if he's seeking one of the last reserve spots in the East. But one bright side is that the competition will be nowhere as extreme as it would be if Nelson was in the Western Conference, where he would have little chance of making the roster barring a ridiculous first-half performance.
All in all, Nelson has a shot at being an All-Star for a second time in three years.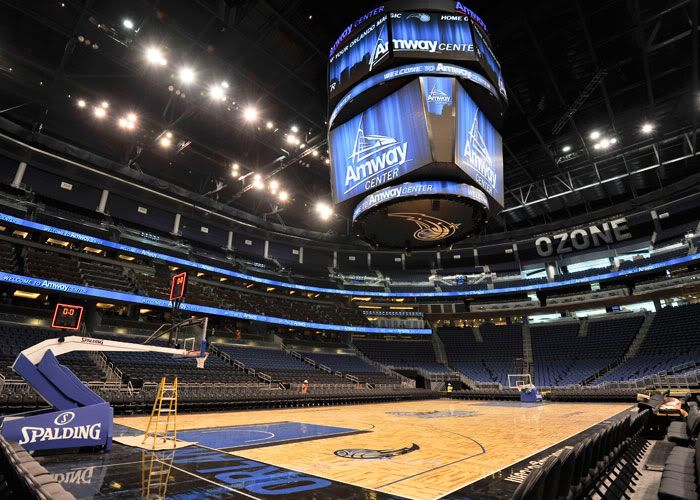 Fernando Medina/OrlandoMagic.com
Via the Orlando Magic:
WHO: Orlando Magic fans, Magic Community Ambassadors Nick Anderson and Bo Outlaw, STUFF the Magic's mascot and the Orlando Magic Dancers

WHAT: The Magic will host a Select-A-Seat event where fans are invited to see available seats for the upcoming 2010-11 season. This is the inaugural Amway Center seat selection event where the general public can come and select the best remaining seats for the 2010-11 season. This is the last opportunity for Magic fans to guarantee seats to see the Miami Heat, L.A. Lakers or Boston Celtics before they go on sale to the general public.

Event is free
First opportunity to see the Orlando Magic court down in the Amway Center
Plans offered at this event will include full season, half-season and 15-game ticket plans
Fun, interactive games on-site will include: STUFF's Magic Castle presented by Club Wyndham interactive area and face painting
Select retail locations will be open for the purchase of Magic merchandise
STUFF and the Magic Dancers will be in attendance to sign autographs and take photos
Magic Community Ambassadors Nick Anderson and Bo Outlaw will be signing autographs
Free popcorn and soda will be available for all guests
Free parking will be available in the GEICO garage on a first-come, first-serve basis

WHEN: Sunday, October 3, 2010, 1 – 4 p.m.

WHERE:
Amway Center
400 West Church Street
Orlando, 32801
Photo by Christian Petersen/Getty Images
Clippers: Clips Nation | SBNation Recap
Kings: Sactown Royalty | Cowbell Kingdom | SBNation Recap
Lakers: Silver Screen and Roll | Forum Blue & Gold | NBAtipoff | SBNation Recap
Suns: Bright Side Of The Sun | SB Nation Arizona | ValleyoftheSuns | SBNation Recap
Warriors: Golden State of Mind | SBNation Recap
Recaps: All Previews