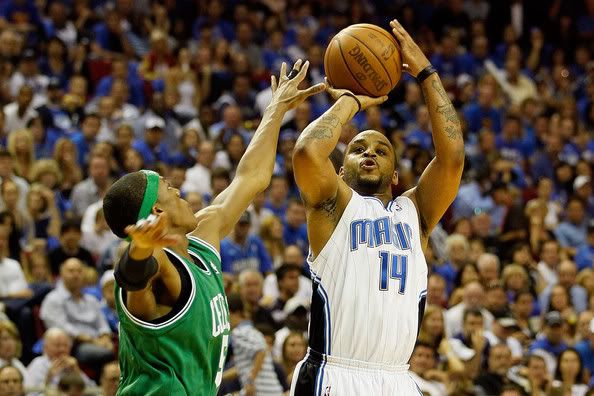 Photo by Kevin C. Cox/Getty Images
Over the last three years, the three-point shot has been used by the Orlando Magic as one of the primary weapons of choice in their offensive attack. There are many critics that bemoan head coach Stan Van Gundy's dependence of the three-pointer in the Magic's philosophy on offense, yet they ignore the fact that threes are one of the most efficient shots in basketball — to be more specific, the corner three.
Why take a long two?
It's no coincidence, then, that Orlando led the NBA in three-pointers made and attempted, while also putting up less shots from 16-23 feet than any other team. It should be noted that the Houston Rockets, noted for their basketball analytics, were second in the latter category. The Magic, too, dedicate themselves to the numbers, so there's a method to the madness when it comes to their three-point happy ways.
A lot of people assume that the method primarily surrounds just chucking up threes and seeing what happens, but that's not the case. Orlando makes an effort to seek out the corner three-pointer when executing some of their sets offensively. It's why the Boston Celtics, in the 2010 NBA Eastern Conference Finals, made sure to not allow the Magic to get those shots.
It's an easy thing to overlook because nearly everyone remembers the end result when it comes to certain plays. But like Bret "Hitman" Hart, Orlando takes pride in the excellence of execution. There is a grand design taking place when the Magic go through the motions on each possession on offense, trying to find the optimum shot to take as the situation presents itself.
How does Orlando maneuver the offense to create corner three-point shots?