_______
Shawn Kemp, Steven Hunter, and Pat Burke on the floor at the same time with McGrady? Egads.
Photo by the Orlando Magic
21 years.
The Orlando Magic have been in existence for 21 years and in each of those years, David Steele has handled the play-by-play duties and called the action on the floor — first on radio for nine years, then on television for 12 years and counting. As such, Steele's breadth of knowledge with the Magic is impeccable. And Steele has always been one of the very best at his craft, so it should have came as no surprise that he was named the NSSA Florida Sportscaster of the Year in April. The award was the first of Steele's career. A long overdue but well-deserved honor, without a doubt.
Did I mention that Steele is a reader of Magic Basketball?
Steele is a man of the people and was more than willing to provide his opinion on what went wrong for the Magic in the 2010 NBA Eastern Conference Finals, as well as recollect some of his fondest memories at Amway Arena, and more.
_______
In your opinion, what happened to the Orlando Magic against the Boston Celtics in the Eastern Conference Finals?
Well first, I think you have to talk about what Boston did. We caught a team, just like we caught Atlanta at a time when we were playing extremely well … I just felt like Boston was on a major roll and played outstanding basketball. Rondo was at the very top of his game, Pierce was unstoppable, and I give them a lot of credit. Perkins has always been a tough matchup for Dwight [Howard], just because he's so big and strong. I think he does as good of a job defensively against Dwight as anybody defensively in the league, so you got that matchup. You had Pierce on a roll. You had Rondo on a roll. Allen was good. I just felt we played a very hot team.
Photo by Jim Rogash/Getty Images
Via George Diaz of the Orlando Sentinel:
I had a nice conversation with Magic Bob Vander Weide — now the chief executive officer and vice chairman of the franchise — following Wednesday's press conference. Glib and insightful as always, Vander Weide addressed the team's style of play last season.

Not surprisingly, Magic fans can expect some changes.

As many people have barked about in columns, blogs and casual conversations, expect to see Brandon Bass get a lot more playing time at power forward [four slot], a switch that will allow Rashard Lewis to shift to the small forward [three] slot in the lineup. [...]

"In our post-season conversation, Stan [Van Gundy] said he should have practiced Rashard more at the three because on the baseline he's probably the best post-up three when he plays that position, although we love him at four the majority of the time. If you don't practice it, you don't play it."
Via the Orlando Magic:
Orlando Magic Chief Executive Officer/Vice Chair Bob Vander Weide has announced that Alex Martins has been promoted to Team President and Otis Smith has been promoted to President of Basketball Operations. In addition, Head Coach Stan Van Gundy has agreed to a multi-year contract extension. All contracts run through the 2012-13 season. Per team policy, other terms of the deals are not disclosed.

"Alex, Otis and Stan have brought great energy, dedication, leadership and vision to our organization," said Vander Weide. "As a team, both from a basketball and business standpoint, they have us moving in a very positive direction and toward our ultimate goal of winning an NBA Championship."

Since re-joining the organization in June of 2005, Martins has led the Magic in its business operations, while overseeing a ticket sales effort which saw the largest increase in attendance in the NBA, the growth of the Magic season ticket sales base to its largest point in team history, the most new sales and season tickets sold in the league in two of the last four years, the largest group sales effort in team history and the team's highest season ticket renewal rate over the last seven years. Martins was also instrumental in helping to secure the new state-of-the-art Amway Center in Orlando, which is scheduled to open in October 2010.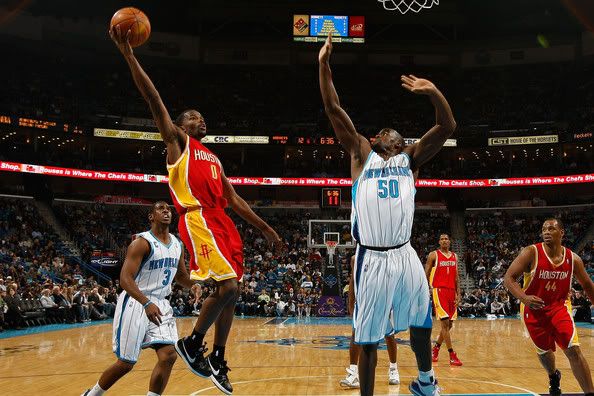 Photo by Chris Graythen/Getty Images
Since trade scenarios involving Chris Paul have reached a fever pitch recently, Ryan Schwan of Hornets247 felt it would be a fun exercise to open up the virtual bidding for the New Orleans Hornets' all-world point guard and see which TrueHoop Network writer could come up with the winning bid. Yesterday, I revealed my Godfather offer — as Ben liked to put it — to Schwan for Paul and if this was real life, Magic fans would be very happy right now.
Among my peers, my trade proposal turned out to be the best.
However, I do have to splash a dose of reality to everyone. Even though I tried to make my offer as realistic as possible, I wanted to make it clear that general manager Otis Smith probably wouldn't make the deal I made.
First, there's little chance that Emeka Okafor would make his way to the Orlando Magic. Okafor's four year, $53 million contract would be too much of a financial burden for the Magic to deal with in the long-term, even though their payroll wouldn't change much if Paul was acquired in a deal right now. Yes, Orlando has shown a willingness to spend but they have their limits, and carrying the contracts of Rashard Lewis, Dwight Howard, Paul, and Okafor would much too much to bear since they'll each continue to escalate in value in future seasons. Likewise, who knows what will happen with the collective bargaining agreement. Also, some people have suggested that Okafor and Howard can start together but they can't.
And it's the same reason why Marcin Gortat and Howard are unable to play in the same frontcourt, other than in spurts. Yeah, the Magic would benefit from the arrangement defensively and rebounding-wise but the spacing on offense would suffer. Like Gortat, Okafor has no range outside the paint and is not a credible threat offensively, which means that opponents would have an easier time either sending double-teams to Howard in the lane or rotating quickly to the shooters on the perimeter. Plus, Howard wouldn't have as much space to operate on the low block. If Okafor had a reliable mid-range jumper, then I could see the possibility of him starting at power forward. But Okafor doesn't have a jumpshot, and that's where the discussion ends.
Second, Posey has a 10 percent trade kicker. According to Hoopdata.com (data via ShamSports), Posey is expected to earn $6,478,600 million with the New Orleans Hornets. However, if Posey was traded, his salary would jump up to $7,126,460 in 2011 and $7,617,940 in 2012. To put that number in perspective, Jameer Nelson's contract remains static at $7.6 million until 2013 when he has a player option. That being said, Posey's pill is easier to swallow to compared to Okafor's salary but it's worth pointing out the type of money he would net if he were traded. Smith could manage with acquiring Posey alongside Paul, but not Okafor.
That's why a third team would have to get involved to help the Hornets unload Okafor somewhere and maybe Nelson, too, for that matter (the Darren Collison factor). The point of this exercise is to show how difficult it'll be for Orlando to pull off a trade for Paul.
It's not impossible, but Smith would need to be creative.
Photo by Doug Benc/Getty Images
Via Brian Schmitz of the Orlando Sentinel:
The Orlando Magic will put their title hopes into the hands of coach Stan Van Gundy and General Manager Otis Smith for a while longer.

The Sentinel has learned that the Magic will announce Wednesday that Van Gundy and Smith have had their contracts extended through the 2012-13 season.

While technically the general manager, Smith has a new title: president of basketball operations.

The club also has promoted Chief Operating Officer Alex Martins to team president and his contract runs through 2012-13.

Bob Vander Weide, who held the title of club president and is the son-in-law of owner Rich DeVos, is now the chief executive officer and vice chairman of the franchise.
Well-deserved extensions and promotions.