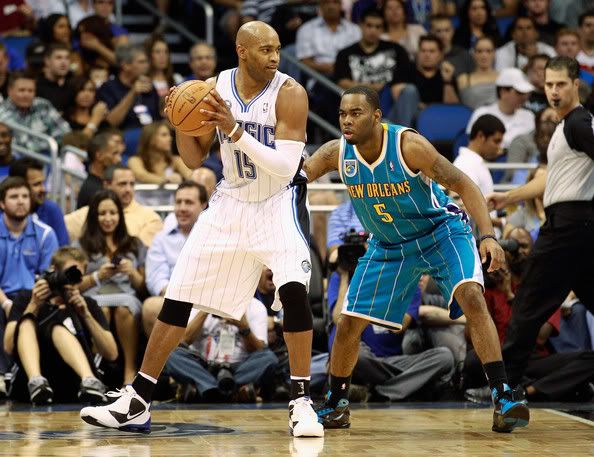 Photo by Sam Greenwood/Getty Images
Here's another installment of the Magic Basketball Mailbag.
_______
With Vince Carter declining and an inconsistent Rashard Lewis coming off a down year, will the Magic get enough scoring from the wings to compete for a championship?
In my opinion? Yes.
It'll be tough because of his age but as Kevin Pelton of Basketball Prospectus pointed out in his chat on Friday, Vince Carter has a chance to have a bounce-back year this season. There are a number of factors as to why this may be the case.
First, Carter in his second season in head coach Stan Van Gundy's system so the continuity and familiarity is there for him when it comes to his role in the offense for the Orlando Magic. At this stage in his career, Carter knows that he's no longer the primary scoring option. That designation goes to Dwight Howard, as it should. Second, with Van Gundy making a concerted effort to install more post-up opportunities in the Magic's playbook, that should allow Carter to utilize his low post skills and get some easy buckets with his back to the basket against smaller guards. Third, Carter realizes — because his teammates told him — that he needs to be more aggressive and attack the basket with regularity. I know it's pre-season and things can change in a hurry, but Carter has altered his approach offensively and is making a more concerted effort to get into the paint. It hasn't translated to more free-throw attempts, but it has gotten him easier looks at the rim.