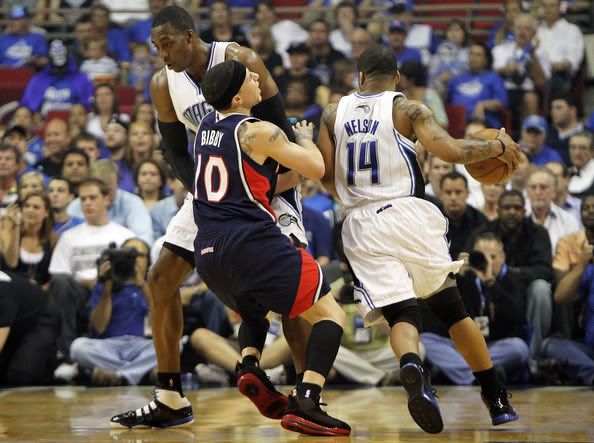 Photo by Doug Benc/Getty Images
The 4-out/1-in offensive scheme that the Orlando Magic employ is the foundation of an offense that features Dwight Howard, Jameer Nelson, and others. But there are also other plays that the Magic run with frequent regularity.
Like the 1/5 pick and roll.
The pick and roll is like a common household appliance — every team in the NBA runs it to varying degrees of success. The analogy is probably not the best one, but the point is that pick and rolls are the bread-and-butter of many offenses in the league. Head coach Stan Van Gundy has made it his job to utilize the pick and roll as much as possible. And its worked for Orlando.
Up to this point, the Magic of this era are best-known for riding the 3/5 pick and roll with Hedo Turkoglu and Howard all the way to the NBA Finals in 2009. The zenith of the play's effectiveness was displayed against the Cleveland Cavaliers in the Eastern Conference Finals, where Turkoglu had a field day initiating Orlando's offense from the pick and roll. The Cavaliers were helpless to stop it.
However, a lot of people forget the devastation caused by the 1/5 pick and roll with Nelson and Howard in the first half of the 2008-2009 regular season. Before Nelson suffered a torn labrum in his right shoulder, he was the proprietor of the pick and roll and it fueled his All-Star campaign. After Nelson got hurt, it took a while for him to get back to that same level but he reached it in the 2010 NBA Playoffs.
That's where the 1/5 pick and roll will be examined.