_______
Dwight Howard spent a week in Houston to work out with Hakeem Olajuwon. This is their story.
Can you smell it?
Do you feel it?
The NBA is back in business after a full slate of pre-season games, headlined by the SuperFriends, were completed earlier tonight.
And for the Orlando Magic, their quest towards a championship began at a little-known city in Texas named Hidalgo. So far, so good, as the Magic were able to defeat the Houston Rockets by the score of 97-88. Dwight Howard led the way for Orlando with a dominating performance, finishing the game with 19 points, 12 rebounds, and three blocks. Vince Carter and Rashard Lewis chipped in with 14 and 12 points, respectively. Courtney Lee, a former rookie for the Magic, had 12 points for the Rockets in a losing effort.
There's a few things that stood out from this matchup.
First, even though it was a pre-season game and sometimes he faced off against a Yao Ming that is not in tip-top form, Howard looked awesome. In the first quarter, Orlando ran a lot of 4-out/1-in offensive sets for Howard to establish his presence in the low post. Needless to say, watching Howard go to work on the low block was a beauty to behold. Howard showed no hesitation with his moves and it created fluid, captivating sequences on offense that left Magic fans drooling. On one possession, Howard executed a spin move on Yao and finished with a righty hook shot. On the very next possession, Howard jab-stepped Yao and made a bank shot that would make Tim Duncan proud. A few minutes later, Howard made another jumper.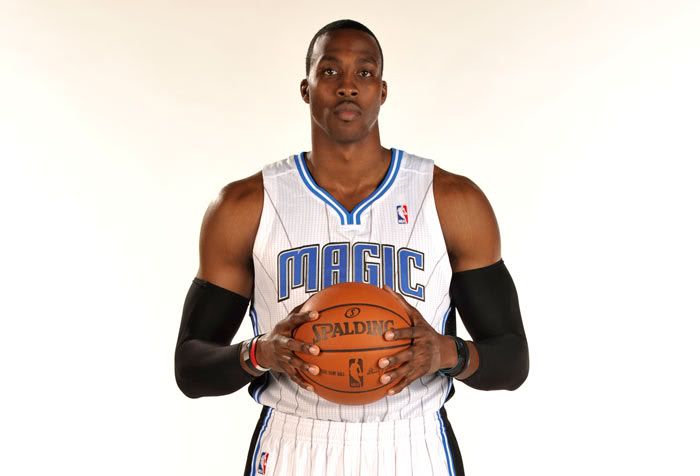 Fernando Medina/NBA/Orlandomagic.com
Last shameless plug of the day.
For a second year in a row, I was tabbed by Kevin Pelton of Basketball Prospectus to provide brief analysis on the Orlando Magic (alongside Ben Q. Rock of Orlando Pinstriped Post) for the latest edition of Pro Basketball Prospectus series.
Here's what I wrote:
In the state of Florida, all eyes will be on the Miami Heat. But if there's somebody that is worth keeping tabs on for the Orlando Magic, it's Dwight Howard. After losing to the Boston Celtics in the 2010 NBA Eastern Conference Finals, Howard enlisted the help of Hakeem Olajuwon during the summer so that he could continue to expand and improve his low-post game. Given what's at stake for the Magic, Howard must take his skills to the next level if he wants to lead his team to the promised land. Howard is the best defensive player in the NBA, but there's no question that he needs to be equally as dominant on offense for Orlando to win a championship. Olajuwon's wisdom is invaluable, in this case, because he's been telling Howard not to be afraid to use his full arsenal of moves and not hesitate from doing anything on the floor. Can Howard fully evolve into a devastating two-way player? We'll find out soon enough.
Make sure to pick up a copy of Pro Basketball Prospectus 2010-11.
It's worth the investment. You'll become a smarter NBA fan after reading the book.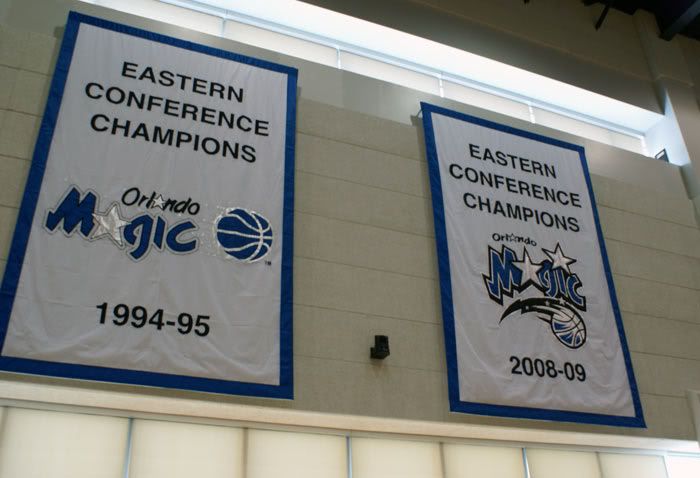 Kristy Cannon/Orlandomagic.com
The statistical revolution in the NBA continues to evolve, but one person that's been at the forefront of the new wave of numbers and deserves more limelight is Neil Paine of Basketball-Reference.
Paine is one of the brightest minds in the APBRmetrics community, with some of his most notable contributions including the introduction of statistical plus/minus — which was a regression invented by Dan Rosenbaum — to a widespread audience and daily upkeep of the BBR Blog that includes a lot of insightful analysis of the NBA (including some articles that have sparked intense debate).
I'm also proud to say that I've collaborated with Paine in the past, conducting some quick-and-dirty research on Grant Hill and the 'what if' scenario involving the Orlando Magic. Click here for more information if that description is either interesting, vague, or both.
I've interviewed Paine in the past, but this is the first time I've conducted a Q/A with him since Magic Basketball was born nearly seven months ago. As always, it's a pleasure to chat with Paine and gather his musings whenever possible.
A few days ago, I was able to ask Paine a few questions about the Magic, how they stack up against the Miami Heat and Boston Celtics in the Eastern Conference, and more.
_______
A lot of people have said that the Orlando Magic matchup favorably with the Miami Heat because Jameer Nelson and Dwight Howard are superior to their counterparts on the other side of the coin, assuming that either Carlos Arroyo or Mario Chalmers is the starter at point guard. What's your take on that? Is that advantage enough to overcome the enormous advantages the Heat have at the other three positions?
The Magic definitely have certain areas where they are stronger than the Heat, and Dwight Howard in particular creates an interesting matchup for a Miami team that (I'm assuming) is going to be one of the most aggressive rim-attacking squads of all-time. One major question is whether Howard has improved his ability to make a defensive impact without fouling; if so, his presence inside could alter Miami's game plan and take them away from some of their strengths. As for point guard, I'm not entirely sure [Jameer] Nelson's advantage matters so much as long as Miami finds somebody who can defend the position, because on offense LeBron is basically going to be their de facto PG.
The biggest advantage Orlando has is that they have a strong defense — led by a truly great defensive coach — which could possibly serve as the antidote to Miami's #1 strength, their all-world offense. And at the other end of the court, the Magic have a solid offense that could take advantage of Miami's biggest unknown quantity, their D.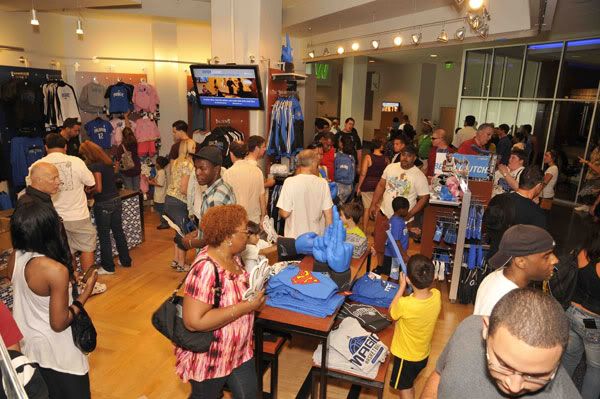 Gary Bassing/Orlando Magic
Via the Orlando Magic:
Approximately 45,000 Central Floridians attend the Amway Center community open house on Saturday, October 2, 2010.  The event was free and open to the public and gave Orlando residents a first-hand look at the multiple fan amenities and state-of-the-art technology at the new Amway Center.

Central Floridians peruse the Orlando Magic Team Shop presented by adidas during the Amway Center community open house on Saturday, October 2, 2010.  The event was free and open to the public and gave Orlando residents a first-hand look at the multiple amenities and state-of-the-art technology at the new Amway Center.
Via John Denton of OrlandoMagic.com:
When Mickael Pietrus got word this summer that Orlando Magic coach Stan Van Gundy was flying to Paris to chat with him, the good-natured, but sometimes quirky Magic swingman got somewhat worried. After all, it was Pietrus who vowed that he would be "sleeping with one eye open," this summer because he feared an offseason trade that would have him playing elsewhere.

But much to Pietrus' delight, he and Van Gundy spent much of their time in the City of Lights munching on French pastries. They met with Pietrus' family, they joked and made small talk and even took a brief tour of some of the tourist sights in Paris. And in the midst of the get-to-know-you-better session, they even talked some basketball.

For Pietrus, a thoughtful type who deeply values friendship and family, the visit from Van Gundy meant everything to him. And it's the Magic who are now reaping the benefits with Pietrus feeling fully welcomed to the Magic and playing as well as any wing player in training camp. His eyes light up when up the topic turns to his meeting with Van Gundy and the effect it had on his mindset.

"It meant so much to me. I'm not going to lie to you, I was very surprised that he came,'' said Pietrus, a native of the French-speaking Caribbean island of Guadeloupe and a Paris resident in the offseason. "What I liked about it was that when coach came to Paris it wasn't like we were talking about why I wasn't playing more or why I was only getting a few shots. It was about coach coming to see me like a member of my family. I showed him how people love me in France. I took him on a tour of France. We ate a little French cake."

"We talked about basketball and the upcoming season,'' Pietrus said. "I've never had a problem with coach, to me he's a great coach and he's a part of my family. We've always had a great relationship, but we needed a deeper relationship.''

That relationship has seemed to spark Pietrus and bring out the best in him so far. Van Gundy has talked openly to Pietrus about the need for him to shoot for becoming an All-Defense selection this season. He wants him to solve the mystery that has made him an erratic enigma at times in Orlando and become a consistent rock that the Magic can count on nightly.
It's safe to say that Mickael Pietrus is going to be a very important player for the Orlando Magic this season, now more than ever. The argument behind whether or not Pietrus should start at small forward for the Magic is somewhat irrelevant. What matters is that Pietrus plays to the best of his abilities when he's on the court.
Pietrus' calling card, when he performs at his peak, is three-point shooting and defense. Pietrus, like the Bruce Bowen's of the world, is a prototypical "three-and-D" player that is on the floor to provide the requisite perimeter defense required to slow down the likes of LeBron James, Dwyane Wade, and other elite scorers in the NBA. And with the extremely harsh reality that the Miami Heat have the aforementioned James and Wade on their roster, while Paul Pierce and Kobe Bryant handle the main scoring duties for the Boston Celtics and Los Angeles Lakers respectively, it becomes clear that Pietrus' defense will need to be at its best if the Magic want to beat these teams.
What's fascinating is that head coach Stan Van Gundy, by making a visit to Paris during the off-season, may finally coerce all the latent potential that has resided in Pietrus since he arrived in the league in 2003.
Pietrus is a player with enormous physical gifts and athleticism, yet his worst enemy has been himself. Consistency, as well as the random injury here and there, has always been an issue for Pietrus, which is why it's a pleasure to watch him play when he's locked in on both sides of the ball (just watch the 2009 NBA Eastern Conference Finals against the Cleveland Cavaliers).
That's the player the Magic need this season — a lights-out shooter and a rugged defender that makes the likes of James work hard for their points.
It's early, but it'll be interesting to see if Pietrus can transfer his "unbelievable" effort in training camp to the regular season when the time comes.
Pietrus is unequovically Orlando's best perimeter defender and since last year, one of his goals has been to be named to the All-Defensive team.
Can Pietrus do it this year? Time will tell.
Via the Orlando Magic:
The Orlando Magic have announced the launch of ElOrlandoMagic.com, the new and improved Spanish website which serves as the official source for the Hispanic community to obtain original content and coverage of the Magic, including in-depth game coverage, breaking news, features, video clips, photo galleries, podcasts and more.

In an effort to further connect to the growing Hispanic fan base in Central Florida, the new site features up-to-the-minute news articles, press releases and team information in Spanish.

The new site features a design and a homepage similar to OrlandoMagic.com. The look and functionality of the new site was a collaboration between the Orlando Magic's web team and the NBA's internet services team.

The new site will feature:

A clean design that makes the page easy to navigate.
An expedient and eye-catching navigation field that will include information about tickets, team, and community events.
A well-located news board that includes news articles, features and the latest press releases.
An area where fans can find information about upcoming contests, the latest photo galleries, Spanish podcasts by Magic radio broadcasters Joey Colón and Ramón Rivas and videos created for our Spanish community.
The homepage will feature a top story media player with in-depth coverage of all news related to the Orlando Magic, including feature articles, community events and blog postings.
Up-to-the-minute scores on recent games and information on upcoming Magic contests through our social media outlets including Twitter (@El_OrlandoMagic) and Facebook (Orlando Magic en Español), both updated in Spanish.
The most recent Twitter messages generated by ElOrlandoMagic.com poured directly onto a section on the homepage for quick and easy viewing.
A section that will showcase video analysis after each home game by Joey Colón.
A direct link to the Orlando Magic Team Store, presented by adidas, where visitors can purchase the latest Orlando Magic merchandise.
A direct link to the Spanish site for AmwayCenter.com