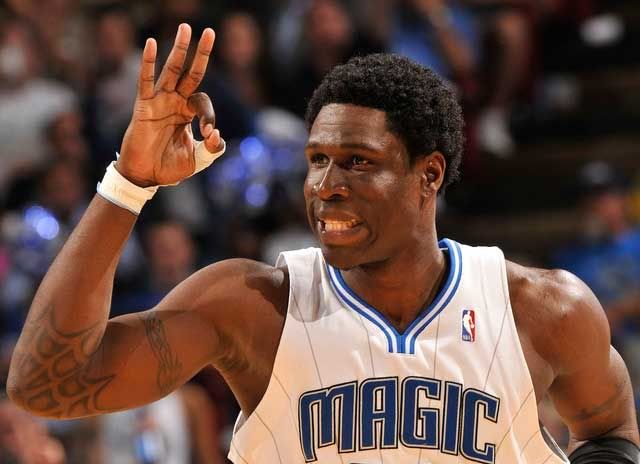 Photo by Fernando Medina/NBAE via Getty Images
With the Orlando Magic halfway home to their goal of winning a championship, it seems more than appropriate to conduct a progress report on each player that has been in head coach Stan Van Gundy's 10-man rotation (excluding Ryan Anderson, due to lack of minutes) since the start of the 2010 NBA Playoffs. The reports will serve to track a player's performance at the midway point of the postseason.
There will be no grades handed out, just comments attached.
Today, the reserves.
_______
Mickael Pietrus (24.8 minutes per game):
| PER | TS% | eFG% | TRB% | AST% | STL% | BLK% | TOV% | USG% |
| --- | --- | --- | --- | --- | --- | --- | --- | --- |
| 11.9 | .555 | .540 | 7.4 | 4.7 | 1.6 | 1.4 | 10.5 | 18.0 |
| 17.7 | .662 | .657 | 5.3 | 7.9 | 1.6 | 1.8 | 7.5 | 18.9 |
Ah, "Planet Pietrus." At this point, there's no question that Pietrus lives for playoff basketball. For a second straight postseason, Pietrus has taken his game to another level on both ends of the court. Yes, Pietrus' primary objective when he's on the floor is to check the opposing team's best wing player and he usually does a good job of doing it. However, his impact on offense is too great to ignore. Pietrus' shooting percentages have been off the charts and the main reason has been because he, up to this point, is shooting an absurd 51.2% from the three-point line (21/41).
When the Magic need a big shot late in games, Pietrus hasn't been afraid to step up in crunch time. Already in the playoffs, Orlando has benefitted from Pietrus' marksmanship more than anything else. As such, there's no question that when Pietrus is focused and prepared for the task at hand, he becomes a dynamic player and unquestionably the Magic's sixth man extraordinaire coming off the bench. And given his track record last year, Pietrus is more than capable of maintaining his high level of play as the postseason continue to progress.